Starbucks is going green this spring, as the coffeehouse and brewery chain reveals a new collection of eco-friendly glass cups, cat paw cups, tumblers, and more.
Featuring green stickers on the front, the new cups and tumblers are made up of 100% recyclable materials and offer a guilt-free way to enjoy your favorite coffee beverages. Joining the chain's core collection, the new cups and tumblers will be available in stores starting March 7.
Unlike the occasional and seasonal collections, the core collections are often available for a long time at the chain stores. Fans will be able to grab new eco-friendly cups and tumblers from the nearest store or online.
Also hitting stores this week is the chain's new Spring Collection of 2023. The spring collection features reusable cups that help reduce the number of single-use cups for coffee and other beverages. Both the core and spring collections will be available in stores all across the country
While core collections rarely run out of stock, eco-friendly cups and tumblers are always said to be high in demand. Therefore, fans who don't want to miss out on the new collection are advised to get them at the earliest from the nearest store.
---
Starbucks' eco-friendly cups and tumblers feature a plain white theme
Surpassing all expectations every season, the coffeehouse chain never ceases to amaze its fans with seasonal merchandise, but it isn't always that the chain goes all out for its core range merchandise.
Thanks to Starbucks' commitment towards becoming a resource-positive brand, fans can now get their hands on 100% recycled eco-friendly cups and tumblers from the chain.
While the new core collection may not be as vibrant as the seasonal collections, there's no denying that it has a class of its own.
Available in a number of options, the new eco-friendly core collection features a plain white theme. The new collection also comes with a sustainable white mug and at least three hot tumblers that will be available in different sizes.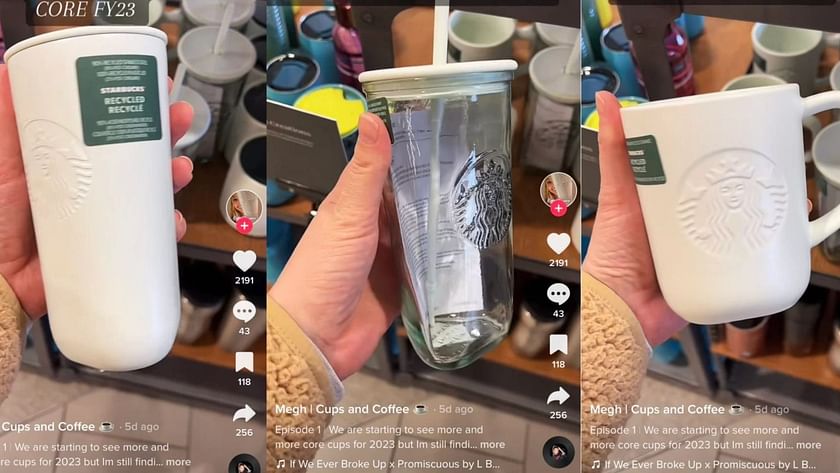 Though it is yet to be confirmed, the highlight of the sustainable collection is a recycled glass cold cup that is expected to come with a white lid and straw. If rumors are to be believed, the glass cold cup will also be available at Starbucks stores along with the new sustainable core collections.
Featuring green stickers on the front, the eco-friendly cups, mugs, tumblers, and more, are all made with 100% recycled materials and are comparatively good for the environment. Recyclable and reusable cups go a long way both in terms of usability and environmental friendliness.
---
Founded in 1971, Starbucks Corporation is an American multinational chain of coffeehouses and roastery reserves. Headquartered in Seattle, Washington, it is the world's largest coffeehouse chain, with 34,317 stores in 84 countries.
As a coffeehouse and roastery reserves chain, Starbucks specializes in coffee and coffee-based beverages, but the chain also serves smoothies, teas, baked sweets, quick snacks, and sandwiches.