Gwen Brunelle, a 27-year-old Idaho woman, has been missing for nearly a week. Brunelle reportedly left Boise, Idaho, on June 26, and was last seen near a Sinclair gas Station in Jordan Valley, Oregon, on June 27.
In a Facebook post, Gwen Brunelle's family expressed concern for the missing woman after her car was abandoned on Succor Creek Rd. 0.4 miles west of Highway 95 in Malheur County on Friday, June 30.
In a desperate bid to find the missing woman, her father, Andy Brunelle, took to social media and shared an image of his daughter, who has not been seen since June 27. In the Facebook post, Andy said Gwen may have wandered off or been abducted.
Shortly after her car was located on June 30 in Malheur County, local law enforcement, alongside several rescue crews, including the Idaho Mountain Search and Rescue unit, as well as Ontario Fire, searched the area to find the missing woman.
---
Online community rallied around Gwen Brunelle's family in the wake of her disappearance
In the Facebook Post, Gwen Brunelle's family described her as 5 ft. 7 in. tall and 160 lbs with brown eyes and medium brown hair. Andy also revealed that she may be disoriented.
The post stated:
"Gwen is 27 years old, 5'7" tall and 160 lbs. with brown eyes and medium brown hair and brown eyes. She may present as disoriented."
In the wake of Gwen Brunelle's disappearance, the online community rallied behind the family, offering support in the search for the missing 27-year-old.
The Facebook post shared by Gwen's family has been shared over a thousand times with scores of people helping to amplify the message around the country.
Several people offered prayers and good wishes hoping for the safe return of the missing young woman, with many inquiring if they could personally assist the family in search for Gwen.
A user commented:
"Put her on a prayer chain in my hometown parish and Ron and I are also praying for her safe return. Let us know how we can help."
Another said:
"I hope Gwen finds Andy soon. You and your family are in my thoughts and prayers."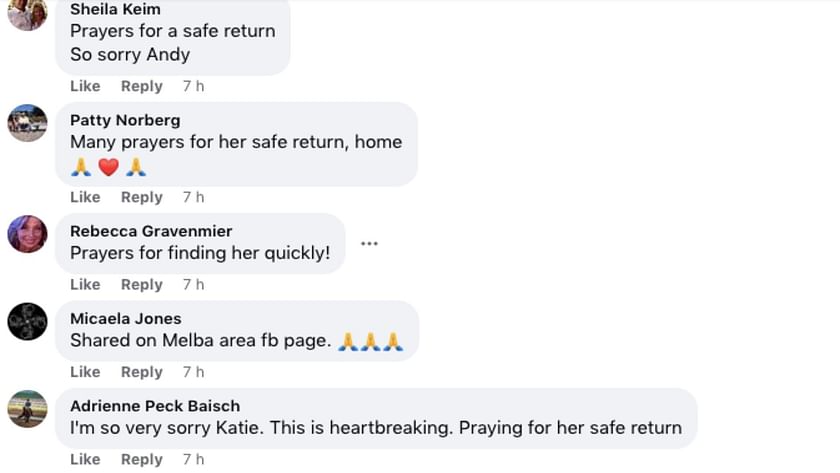 A user named Miren Arozamena expressed sympathies for the family's plight and stated:
"This is so heartbreaking. Praying for you Andy and Betsy and Gwen's safe return home."
According to the National Missing and Unidentified Persons System (NamUs) database, there are 600,000 people declared missing every year. As per the statistics cited in the report, a large portion of the missing is found immediately after the disappearance.
While authorities continue to search for the missing woman, Gwen Brunelle, anyone with information on her whereabouts was requested to call Boise Police at 208-377-6790 or Malheur County Sheriff at 541-473-5125.
Edited by Anushree Madappa