With a fresh "Setsubun" revamp, the classic Nike Dunk Low model is ready to spice up your treasure trove of sneakers. These low-top sneakers have a color pattern of White Onyx/Court Purple-Khaki-Cacao Wow-Coconut Milk-Metallic Gold.
These shoes, which are inspired by Japanese festivals, have namesake designs.
Nike Dunk Low "Setsubun's" release was earlier planned for February 2022. The shoe will finally be released on February 3, 2023, after being postponed for an entire year. Men's sizes of these shoes will be available for $120 at retail in Nike stores, SNKRS locations, and select specialized shops throughout the world.
---
Nike Dunk Low "Setsubun" shoes have purple swooshes and brown overlays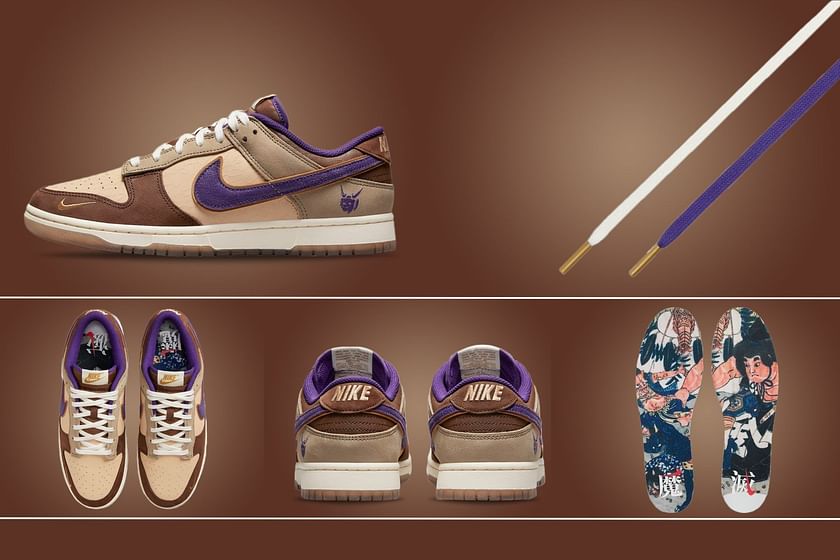 Tanabata, celebrated in July, and Hinamatsuri, celebrated in March, are just two of Japan's many annual cultural celebrations. Events are celebrated annually in Japan in a diverse range of regionally specific customs, each with its own history and meaning. Setsubun is one of these traditional Japanese holidays.
At Setsubun, a festival celebrating the end of winter, people eat and hurl beans at one another in an effort to ward off the evil spirits that are believed to be responsible for accidents, illnesses, and other misfortunes.
Japan celebrates the Setsubun festival as springtime approaches. Throwing handfuls of soybeans at oni (demons) is a common practice in Japanese houses, temples, and shrines. As a commemoration of this event, Nike released a pack of Nike Court Visions in 2008, and in 2023, the coveted Nike Dunk Low underwent a themed makeover.
Nike's homepage explains the thought process that went into developing the Nike Dunks:
"From backboards to skateboards, the influence of the Nike Dunk is undeniable. Although introduced as a basketball shoe in 1985, its flat and grippy soles were perfect for a neglected sports community—skaters."
The description further continues:
"Uncovering a subculture craving creativity as much as function, the Dunk released decades of countless colorways that continue to capture the soul of skaters from coast to coast."
The khaki suede around the eyelet and heel and the dark brown suede placed on the mudguard of the Nike Dunk Low "Setsubun" complement the earthy aesthetic of the shoe, which has a light brown tint reminiscent of soybeans. The Nike swoosh logo is embroidered on the back heel tab to add a touch of brand recognition.
The mudguard features a little Nike Swoosh in a color scheme that matches the base's soybean hue. Wrapping from the heel counter down the medial aspect of the foot is a purple Nike Swoosh with tan detailing.
A purple Japanese demon is positioned below the Swoosh's tip. The insoles have artwork from Japan's Edo era depicting a folk hero pushing devils away with soybeans to strongly underline the Setsubun motif.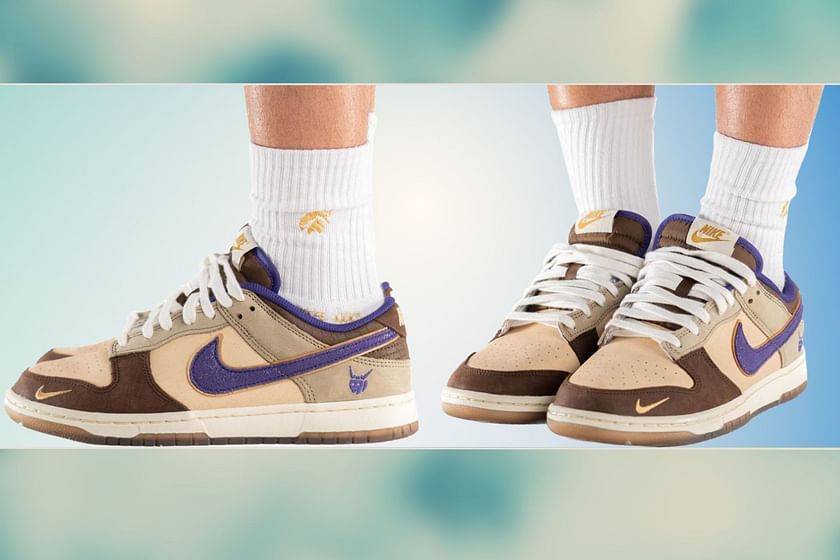 The semi-translucent tan rubber outer sole unit completes the entire look.
---
Readers are encouraged to sign up for Nike's mailing list in order to be notified of the release date of the Nike Dunk Low "Setsubun" shoes. Customers interested in learning more about this drop and upcoming Dunk Low releases can also download the SNKRS app.