Chrisean Rock just announced that she is expecting a baby with Blueface.
After the infamous drama that happened during the interview, where Rock was literally picked up by security and shown the gate, Chrisean has now shaken the world with the news of her pregnancy. She announced the news through her Instagram stories, where she uploaded a picture of a couple of pregnancy tests, and wrote:
"Guess how many heartbeats?"
Additionally, she uploaded a few more videos of herself in the hospital, where she went for a few tests. Chrisean can be seen interacting with the staff before the test, and asking them if she would be able to hear the baby's heartbeat already.
She also uploaded videos of herself feeling emotional after getting to know from the hospital staff that she really is pregnant.
The news of Rock's pregnancy has astonished netizens, many of whom have taken to the internet to express their shock. One user wrote:
"Hellll nahhhhh.. that's scary and sad."
---
Netizens shocked at Blueface claiming that he is not the father of Chrisean Rock's baby
Just after Chrisean Rock announced the news of her pregnancy, Blueface dropped another bomb on social media, claiming that he is not the father of the baby and that the two have broken up.
In an initial post, he talked about their breakup and said:
"To answer y'all questions yes me an rock are officially done it's strictly business I tried it an clearly it wasn't giving before she announces…she's pregnant with somebody else's child not mine."
He further went on to claim that Rock has had encounters with 10 men in the last year and demanded to see a DNA test. He said:
"Rock has had encounters with 10 different men in the last year until I see DNA test then it's not mine"
This led to a verbal spat between the two on Twitter, and Chrisean Rock responded to Blueface's comments by saying how she has not been s*xually active with anyone other than Blueface. She said:
"So what happens wen you eat all ya evil words … I haven't s*xually been active with no one but u n plus there's can a DNA test"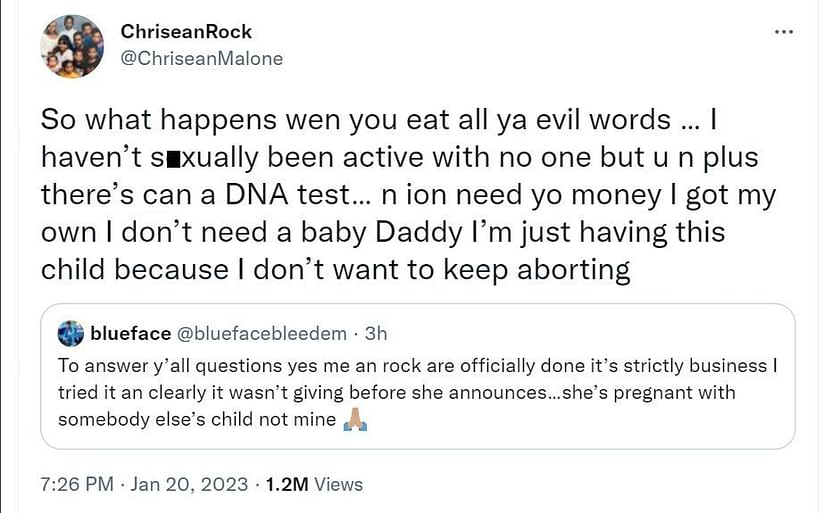 She further tweeted about how she will get a DNA test done, but will not take a "cent" from Blueface:
"Promise you. I don't need a cent from u . Then wen we do a DNA test and it's yours just know I'll tell my children you died so u wouldn't have a exuse to be in the child life. This my baby n dats dat"
The back-and-forth surrounding Chrisean Rock's pregnancy left netizens surprised and concerned.
---
"Maybe the baby will save them": Netizens react to Chrisean Rock's pregnancy news
Chrisean Rock and Blueface's relationship has always been in the limelight. This time, however, social media users are more concerned than ever, as many consider their relationship to be hostile and toxic. One user commented on the news and said:
"Maybe the baby will save them."

Several others also felt that the duo might "traumatize" the baby.
While many netizens congratulated the new mom, most social media users are of the belief that the news is just adding more fuel to the fire for the couple.