Social Media star Caryn Marjorie has created a digital copy of herself, called CarynAI, a chatbot that pretends to be a "virtual girlfriend." The influencer launched the chatbot on Tuesday, May 2, 2023, for beta testing and charged users $1 a minute for the service.
The AI-powered doppelganger is available for all kinds of virtual interactions ranging from casual conversations and making plans to engaging in NSFW discussions. According to Fortune, CarynAI generated a whopping $71,610 in revenue in a week, with almost all users being men. The magazine cited an income statement provided by Marjorie's business manager.
Caryn a.k.a. @cutiecaryn was born in Omaha, Nebraska, in January 2000, and later moved to Los Angeles, California. The 23-year-old first rose to fame on the social media platform Snapchat in 2016. Her following rate was bolstered after she frequently interacted with her fans using YouNow. By 2018, she expanded to YouTube - frequently sharing comedic videos, daily vlogs, and stories.
She currently boasts a following of 1.8 million subscribers on Snapchat and is managed by Ishan Goel of Goel Strategies.
---
Caryn Marjorie's virtual persona was developed by the AI company, Forever Voices
CarynAI provides real-time conversations through messaging which can be accessed anywhere and at any time.
Forever Voices states that they have end-to-end encryption so that the chat remains confidential and secure. According to CarynAI's website, the company spent over 2000 hours designing and coding "Caryn's language and personality into an immersive AI experience," to create a flawless clone (a deepfake) of the influencer.
The description of the AI states:
"Using her unique voice, captivating persona, and distinct behavior, CarynAI brings you a dynamic, one-of-a-kind interaction that feels like you're talking directly to Caryn herself.
According to Fortune, several of the 23-year-old influencer's now deleted videos from her YouTube channel were layered with "OpenAI's GPT-4 API technology." OpenAI is an artificial intelligence research laboratory that developed ChatGPT.
In her interview with Fortune, Caryn Marjorie explained that she could make up to $5 million in a month if just 20,000 of her 1.8 million followers on Snapchat sign up for the service. She claimed that the chatbot would provide the experience of having a "real-life" partner. She remarked:
"Whether you need somebody to be comforting or loving, or you just want to rant about something that happened at school or at work, CarynAI will always be there for you."
When questioned about the idea of authenticity, Caryn Marjorie explained that the virtual doppelganger can never replace the real her. However, she added that it would be "an extension of her consciousness," which would be accessible to everyone as it can speak in multiple languages.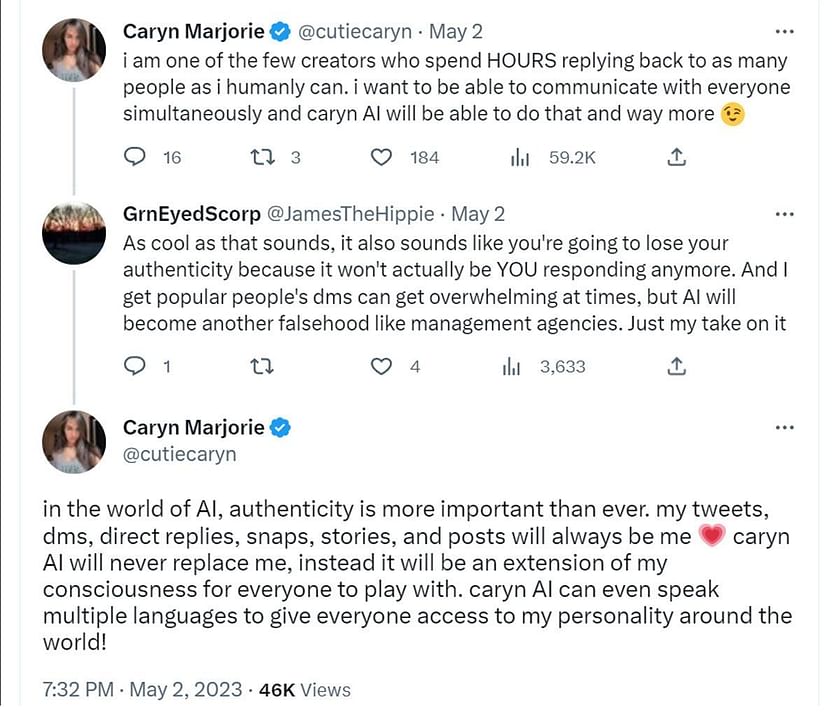 Because of the ease with which the AI chatbot can be misused, Forever Voice's CEO John Meyer stated that they plan to appoint a chief ethics officer who would look into such matters.
Speaking about her future plans, the 23-year-old social media star told Fortune:
"I want CarynAI to outlive me and impact generations beyond the world today."
While Caryn Marjorie claims that she's the first creator to be turned into an AI, it sure seems like a trend that would catch on real soon.