A Michigan school board member, Kesha Hamilton, is facing calls to resign over her social media posts, which include a tweet where she stated that "whiteness is evil." She also talked about white people being "more dangerous" than animals. It all happened after Kesha tweeted on December 18, saying:
"Whiteness is so evil.. it manipulates then says, I won't apologize for my dishonesty and trauma inducing practices and thinks you should applaud it for being honest about its ability to manipulate and be dishonest."
In a separate post on December 3, 2022, she also tweeted and said:
"The last thing you have to worry about is an animal- though that could be a very real threat.. more dangerous are any white folk you may see on the trail.. be safe!"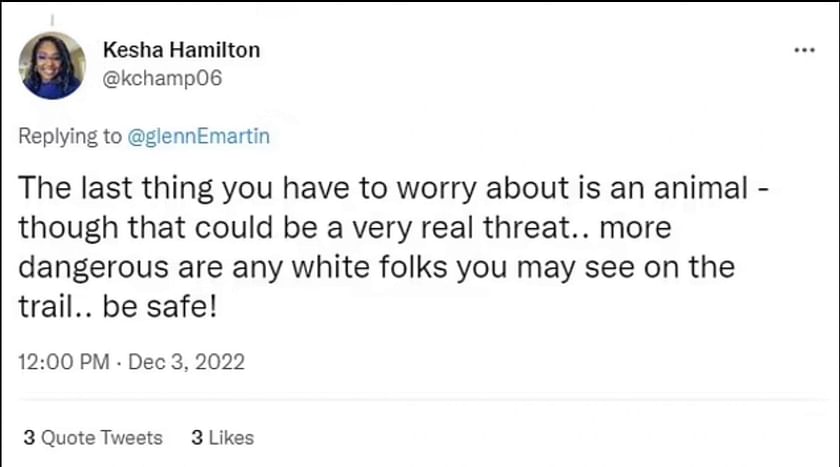 Following the tweet, the school received many phone calls from parents who are now calling to demand the resignation of the Michigan school board member. Kesha Hamilton is the co-founder and the current Co-Chair of Racing 4 Equity, a social justice organization based in Jackson, Michigan. Furthermore, she also runs her consultancy, Diversity Minds Consulting LLC, which tackles racism.
---
Calling Kesha Hamilton "angry and bitter," parents blasted the board of education after seeing the racist tweets made by Hamilton
Kesha Hamilton, the school board member, was blasted after parents revolted against her "anti-white" tweets. Allegedly, Hamilton's ex-husband is white, but Kesha did not delete the tweets even after the fiasco. Furthermore, it was also reported that the school had to call in extra security due to intense protests at the school by a far-right group.
As per Fox News, she further defended her statements and said:
"Whiteness defined is 'white racialized identity (which) refers to the way that white people, their customs, culture and beliefs operate as the standard by which all other groups are compared."
She further asserted that her post, which called out white people as the most dangerous, was meant to highlight the difficulties that black people continue to experience in the US. However, many parents called her post "angry and bitter," and said:
"Someone in her influential position must be held to a high standard. She must be a representative for all students in the JPS system. Her racist comments should not be condoned. How can all kids feel safe when physical characteristics over which they have no control are being called evil and dangerous."
Other parents also talked about the "hurtful remarks" and said:
"You are not addressing the disparities, you are adding to them by your hurtful remarks. Your words are not unifying our community. Your words are dividing our community."
However, many other members of the board decided to stand by Kesha Hamilton, as Jackson High School teacher Paris Anderson said:
"Never once in these five years has she questioned me, a white man – a conservative Christian white man at that – in regards to teaching her children about their history, a history that is not mine."
Kesha, on her website, claims that since she was married to a white man, she has mixed-race children. She has also served on the board of Jackson Public Schools since 2020.