5 best opening pairs of all time in ODI cricket
630.65K //
Timeless
Batting opening pairs in ODIs often define the fortunes of a team. When the openers give the team a good start and stability at the top, the team invariably does well. Well begun is half done and nothing proves that better than a sound opening partnership.Whether it is weathering a new ball on a spicy pitch against an intimidating bowler or setting the tempo on a flat batting track, openers, especially in ODIs have to be adept both at attack and defence. Openers are also tested a lot technically, considering almost every team opens its bowling with one of its best bowlers.Moreover, the best openers generally also build innings, sometimes carrying on right through to help putting up a big score. In other words, the best opening pairs generally have excellent century makers - people capable of both attacking and defensive cricket.In modern day cricket, this is even more important considering how scoring at a fast pace is as much an essentiality as it is to be technically sound. It is not easy to judge opening pairs in ODIs based on sheer volume of runs. That is because, some opening pairs have done well away from home, some have done well at home, some have piled on runs with greater consistency while some did it with greater gusto and fire.Here are the best opening pairs in ODIs based on all those factors put together. Pairs like Sanath Jayasuriya-Romesh Kaluwitharana and Aamer Sohail-Saeed Anwar, who took the 1996 World Cup by storm don't make it to the top 5 largely on the basis of total runs compiled. The former had a lower average than most world-class opening pairs, considering their brand of cricekt was generally playing with fire more than with caution.
#5 Virender Sehwag, Sachin Tendulkar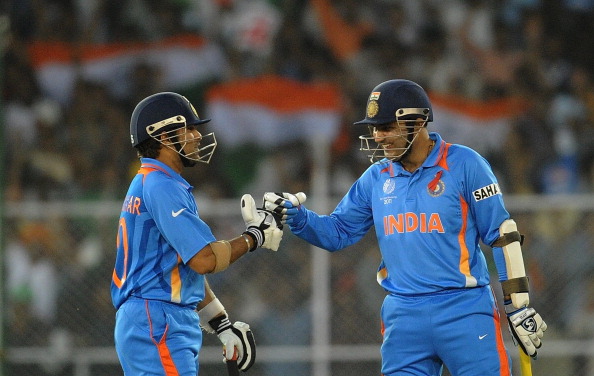 The pair that terrorised bowlers in the 2011 World Cup - smashing even the best bowling line-ups from South Africa, Pakistan and England - Virender Sehwag and Sachin Tendulkar were an amazing pair.
Almost lookalikes at one time, the two batsmen though had different approaches to the game. Sehwag kept it really simple – see it and smash it was his mantra. Tendulkar, on the other hand, went about his business building the innings. Between 2002-2007, Tendulkar had partnered both Ganguly and Sehwag based on different strategies.
In 93 innings, the pair compiled 3919 runs at an average of 42 with 12-century stands. The average is slightly lower largely because Sehwag didn't believe in hanging on when it wasn't really going his way. However, one could be confident that whenever this pair were at the crease, they'd score at almost a run a ball if not more.
The average is slightly lower away than at home, but that was because Sehwag, showed most of his murderous form on better batting wickets in India.
#4 Adam Gilchrist, Mark Waugh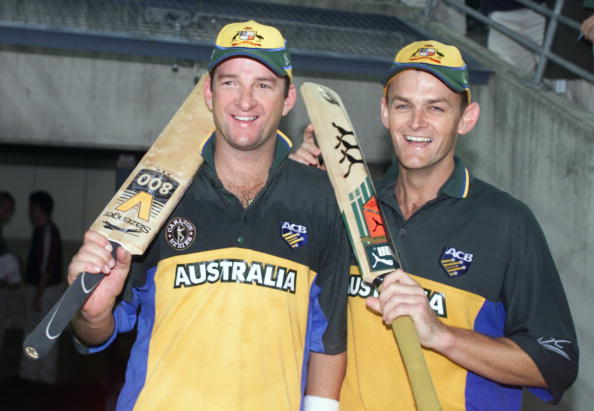 Between 1998-2002, a time when a lot of ODIs were played including the 1999 World Cup, the era that started the Australian invincibility – something that would go on until the end of 2007 World Cup – Adam Gilchrist and Mark Waugh formed a very productive opening partnership.
Left and right-hand combination apart, they were poles apart in the way they approached the game. Adam Gilchrist generally inclined towards playing blitzkrieg innings, smashing the leather of the ball in a way no wicketkeeper-batsman ever did in cricket, until MS Dhoni came into his own.
On the other hand, Mark Waugh was elegance personified, a touch player who managed to caress and coax the ball to all corners of the ground. Between them, they managed 3853 runs in 93 innings. They are 5th on the all-time list in terms of opening runs aggregate, with 8-century stands and an average of over 40. They averaged slightly higher at home, around 44, while away from home, their average dipped a hint below 40.
#3 Adam Gilchrist, Matthew Hayden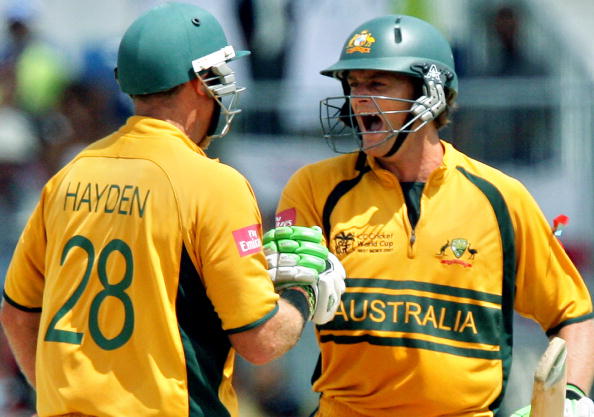 The opening duo of Australia's invincible team in the noughties was one of cricket's most destructive pairs. On their day, which was on most days, they went out about their jobs with ruthlessness rarely seen on the cricket field. Both aggressive left-handers, Gilchrist and Hayden never meant to deal in half-measures and went all out against any bowling attack.
5372 runs in 114 innings, put them second on the list of highest partnership runs. 16-century partnerships, 29 half-century partnerships and a breathtaking average of over 48 at almost run a ball, hold testimony to how successful this batting pair was.
More importantly, they were phenomenal at the World Cups too, especially in 2003. The phenomenal duo had a 50+ average away from home, making them a high-quality duo anywhere in the world. Like Sachin Tendulkar who formed productive partnerships with both Sourav Ganguly and Virender Sehwag, Gilchrist too had partnered very successfully with two batsmen in Mark Waugh and Hayden.
Hayden and Gilchrist featured in 87 Australian victories, in which they garnered 15-century partnerships at the top.
#2 Gordon Greenidge, Desmond Haynes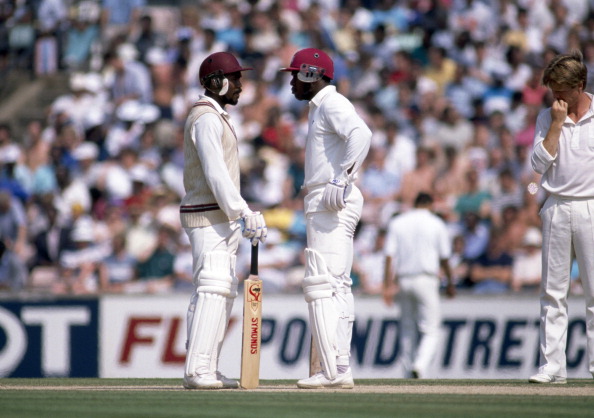 Between 1979 and 1991, these two opening batsmen terrorised the best bowlers, including top pacers from Pakistan, Australia and England. In 102 innings, the pair stacked up 5150 runs at a stupendous average of 52.55, the only pair with a 50 plus average amongst all who have scored more than 2000 runs.
Of their 15-century partnerships, 13 came away from home, next only to the Tendulkar-Ganguly pair. More than the runs, it was the manner in which they scored that made them a nightmare for fast bowlers around the world. They were particularly brutal against India and Pakistan and until late in their careers didn't do their best against Australia.
Apart from that one small flaw in their partnership record, it was as immaculate as a good batting pair could get, scoring runs around the world, against the most menacing of bowling attacks.
#1 Sachin Tendulkar, Sourav Ganguly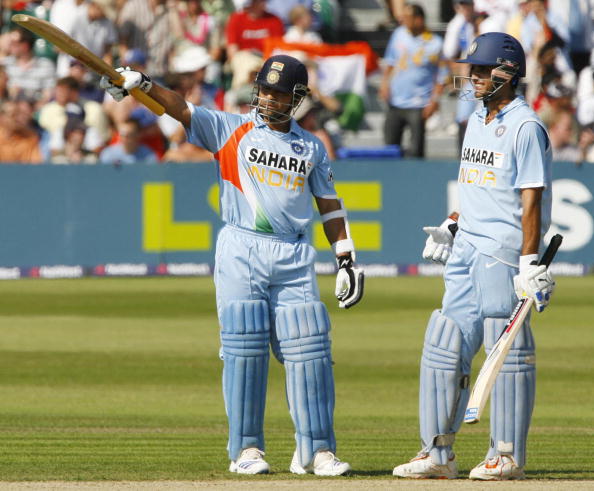 There are plenty of records that were set by the famous opening pair of Sachin Tendulkar and Sourav Ganguly, one of the most feared openers of all time in ODIs. Over 11 years, the left-right pair scored 6609 runs in 136 innings, with the highest of 258 runs, the 4th highest opening partnership of all time. They have also put on 23 half-century partnerships and 21-century partnerships, the highest by a fair distance, the next best being 16.
That is not all. Their partnership average of 49.32 is the second highest average for any opening pair that has scored more than 2000 runs together. Moreover, the pair of Tendulkar and Ganguly are amongst the few pairs who have done well both at home and away – 4697 away from home in 100 innings, most by any pair and more than 1900 runs at home, 3rd highest on the list.
They also hold the record for most opening partnership runs in victories, 65 out of 136, averaging 67.95 exceeding even the legendary pair of Haynes and Greenidge. As if the runs weren't enough to prove their authority, another argument that goes in their favour, is that unlike their nearest rival pairs on this list, they had to face the most feared bowling combinations of their era, something Gilchrist-Hayden and Haynes-Greenidge pairs benefited from.