5 most iconic World Cup performances by Indian batsmen
38.40K //
Timeless
Over the 10 editions of the Cricket World Cup, with the inaugural edition having been held back in 1975, there have been a plethora of memorable performances by Indian batsmen which will live with us for years to come. These knocks were special not just because of the quality of strokeplay that was witnessed, but also because of the fact that they came in the high-pressure situation of a World Cup.Here are the 5 most iconic World Cup performances by Indian batsmen:
#5 Rahul Dravid & Sourav Ganguly\'s 318 vs Sri Lanka, 1999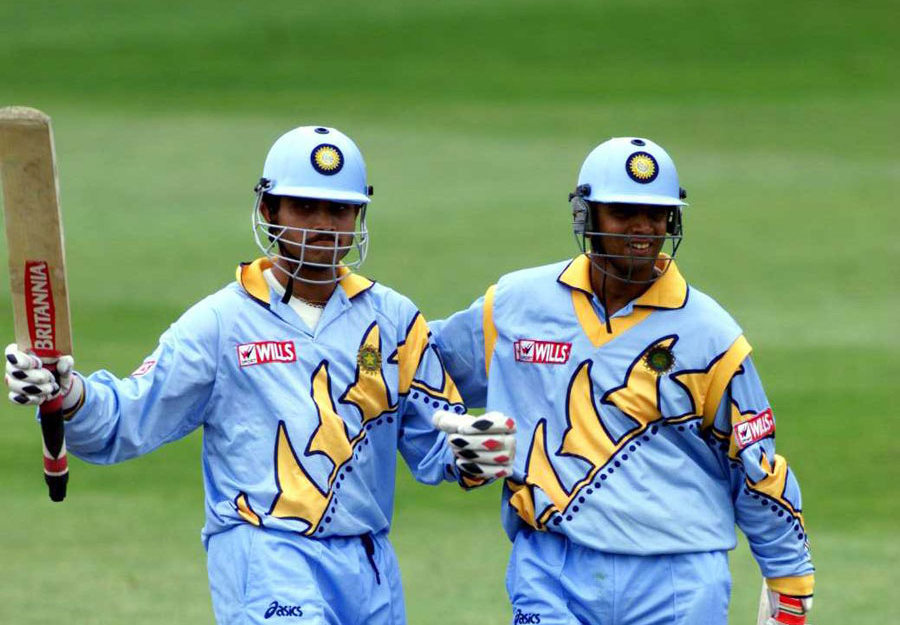 Sourav Ganguly and Rahul Dravid batted together for an incredible 45 overs, en route to the biggestpartnership in the history of the ICC Cricket World Cup, putting on 318 runs for India against Sri Lanka inTaunton in 1999. India had entered the tournament with high expectationsbut had a bad start, with aloss against South Africa and a three-run defeat to not-so-favorites Zimbabwe.
This match, however, turned out tobe the perfect day out for the Indian team. Dravid joined Ganguly in the first over after Sadagoppan Rameshhad fallen with the scoreboard at 6/1. But there was no looking back thereafter; Ganguly-Dravid added awhopping 318 runs for the second wicket. It remains the highest partnership in World Cup historyand, atthe time, it was the highest partnership in ODI history, too.
Dravid, who ended the 1999 World Cup as thehighest run-getter with 461 runs, looked in sublime form right from the start, hitting Pramodya Wickramasinghefor three fours. Ganguly was elegantly flicking the ball andstepping out to spinners including the great Muttiah Muralitharan. He hit 7 sixes in total. Dravid completed a hundred to join the esteemedclub of those having hit back-to-back World Cup centuries.
The only way this partnership could have endedwas a run-out in the 46th over. Dravid walked back after a brilliant 129-ball 145. Ganguly continued to hitout, before falling off the penultimate ball of the innings for 183 off 158. It was the highest individual World Cupscore by an Indian, going past the iconic 175 not out by Kapil Dev in 1983. It was also the second highestindividual score in World Cup history, behind Gary Kirstens unbeaten 188 against UAE in 1996. Indiamanaged a huge score of 373/6 and the bowlers bundled Sri Lanka out for 216 to clinch a comfortable 157-run win.
Although Ganguly was the official Man-of-the-Match, this day was all about the Ganguly-Dravid stand.
#4 Sunil Gavaskar\'s 103* vs New Zealand, 1987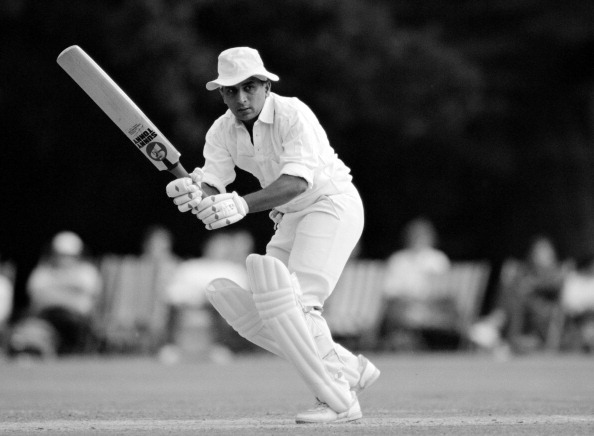 Not the greatest of ODI players, the great Sunil Gavaskar came to score his first and onlyODI hundred 103 not out from 88 balls against New Zealand - just at the right time. The 1987 World Cup moved out ofthe traditional base of England to the Indian subcontinent, and the matches were played in the 50-overformat for the first time, as opposed to the earlier 60 overs format.
India had four wins from its first fivematches. Both teams had already assured themselves of a place in the semi-finals, but India needed tobeat New Zealand in Nagpur by a big margin to push its net run-rate beyond Australia's and avoid meetingPakistan in the semi-final in Lahore. Instead, India would get to play England at home, a potentially lessthreatening opposition on crickets biggest stage. In the previous game, against Zimbabwe, Gavaskar hadscored 50 from 114 balls. India won, but he was blamed for Indias net run-rate dipping.
KrishnamachariSrikkanth and Gavaskar quickly got into the act, racing to 50 from 7.1 overs. Gavaskar targeted EwanChatfield specifically, hitting two straight sixes and two fours off the first four balls of the third over. Indiaraced to 100 in just 14 overs, and though Srikkanth fell after a stroke-filled 75 from just 58 balls, Gavaskar didnt stop there. Taking charge, he hit another six and eight more boundaries as his century came off just85 balls and India tasted victory in 32.1 overs. It was the second fastest World Cup hundred at that pointafter Clive Lloyds 82-ball century in the 1975 final. Gavaskar was awarded the Man-of-the-Match award.
#3 Kapil Dev\'s 175* vs Zimbabwe, 1983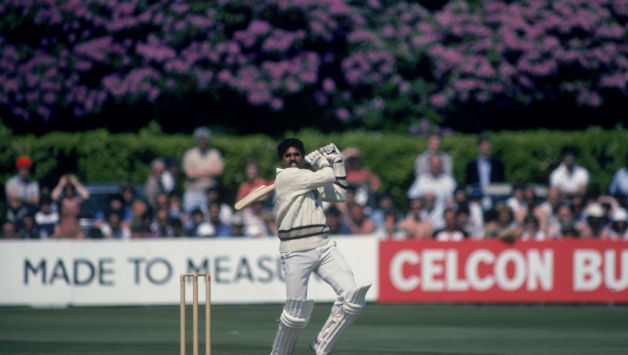 India entered the 1983 World Cup without any major expectations. They had won only onematch, against East Africa, in the previous two editions. Kapil Dev was 24 years old. Few thoughthe was fit to be captain of the national side. Kapilcame across as strategically naiveand wasstill trying to come to terms with his sudden elevation as a leader.
But it was Kapil who keptIndia's chin up. Against Zimbabwe in the league stage, he bailed India out with a majestic 175.That innings at Tunbridge Wells stands the test of time. It came on a lively pitch that Zimbabwe'sbowlers exploited, and against hopeless odds. India had been reduced to 9 for 4 when hewalked in and it soon became 17 for 5.
Far from being defeated by the grim situation, the captainmixed caution with aggression, bringingup his 50, but at lunch, with the score 106 for seven, therewas still lot of work to be done if India were to post some sort of competitive targetfor Zimbabwe. Though his runs came off a mere 138 balls, it was a controlled and calculatedinnings. Not until reaching his hundred in the 49th over did he let himself go, as 75 runs came from hisbat in the next 11 overs.
By the time the 60th over was completed, India were 266 for eightwith Kapil on 175 not out then the highest score ever in an ODI. He hit 16 fours and six sixes. It wasincidentally the first hundred by an Indian in an ODI and remained Kapils only three-figure scorein limited-overs cricket.
Kapils innings is, of course, part of cricketing folklore. Everyone knows about it. Kapils knockwas huge as far as numbers are concerned - so huge that even after 30 years since thatmemorable day, it still figures in the top 20. This particular knock helped Indiancricket earn respect. From that moment on, it was clear that India had arrived on the world stage in a big wayand could not be taken lightly anymore.
#2 MS Dhoni\'s 91* vs Sri Lanka, 2011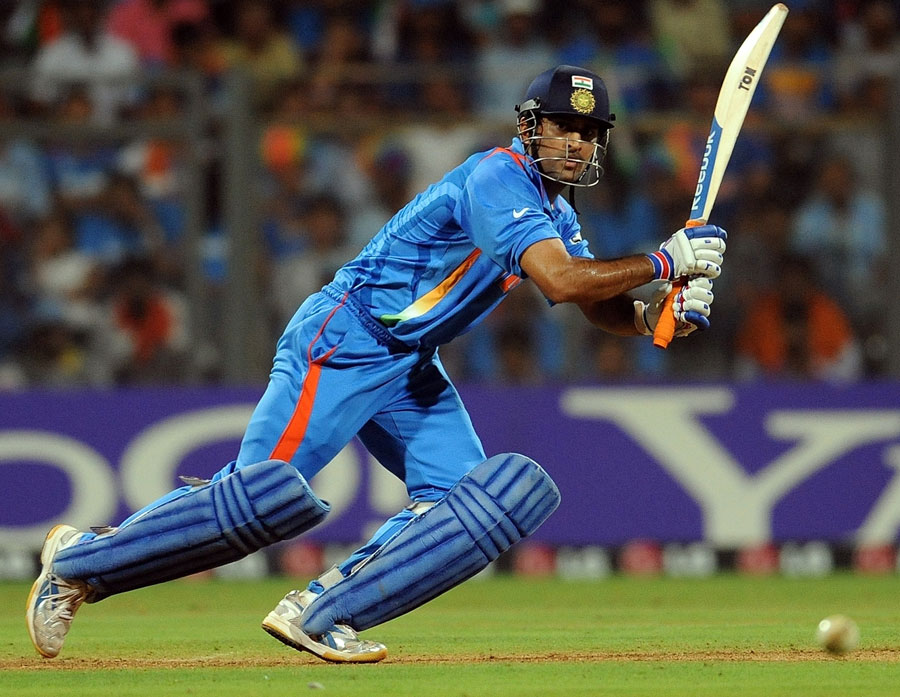 It was the 2011 World Cup final between India and Sri Lanka at the Wankhede Stadium in Mumbai. In front of their home crowd, India aimed to end the 28 years of World Cup drought. India had beaten Australia inthe quarter-finals before beating old rivals Pakistan in the semi-finals to enter the grand finale. It was asold-out Wankhede Stadium, and there were billions watching worldwide.
Sri Lanka won the toss andopted to bat first. They reached a formidable 274/6, courtesy of a sublime century from Mahela Jayawardene.Sri Lankan pacer Lasith Malinga removed Virender Sehwag for a duck and then silenced the Wankhedecrowd with the wicket of the local hero, Sachin Tendulkar, for 18. Virat Kohli was then removed byTillakaratne Dilshan for 35.
The match was hanging in the balance with India at 114 for 3. Yuvraj Singh,who was in great form was expected to walk inat his usual No. 5 position. But it was the captainhimself that made his way out to the middle. It was a big decision that ultimately made all the difference. MS Dhonilookeddetermined from the word go. He took his time getting set. He ran the ones and twos hard andmaintained the required run-rate. But just asGambhir, his partner at the other end, began to tire, Dhoni shiftedgears instantaneously.
Gambhir fell for 97, butDhoni remained cool as a cucumber. When it all boileddown to 27 required off 24 balls, Dhoni smashed three boundaries to reduce the margin to 5 off 12. The man from Ranchi gave the nation the fairytale ending they were waiting for, finishing the game in majesticstyle, with a towering six over the long-on boundary. Captain Cool was awarded the Man-of-the-Match as India sealed its place in history.
#1 Sachin Tendulkar\'s 98 vs Pakistan, 2003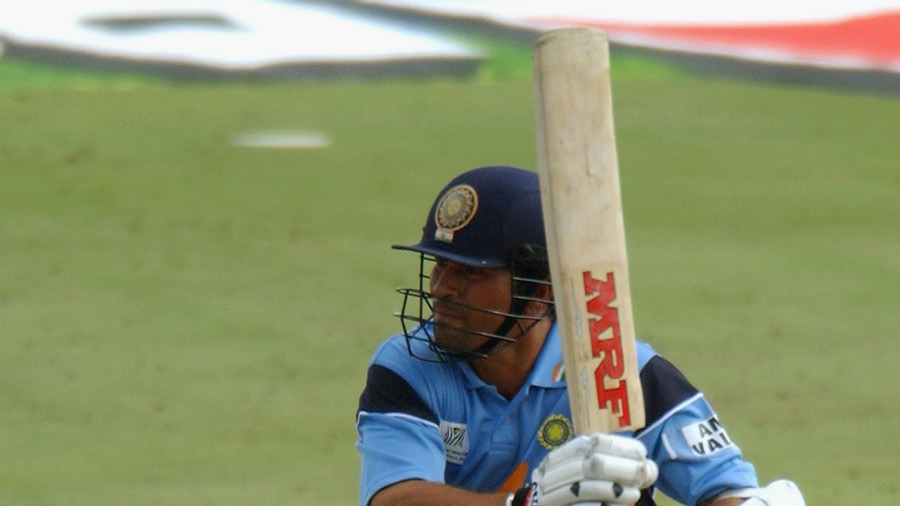 It doesnt get bigger than an India vs Pakistan World Cup cricket match. All the seats at the Centurion weretaken. With over a billion people watching in 2003, Sachin Tendulkar played a truly brilliant World Cupinnings; one that he himself would rank as one of his very best knocks. Pakistan captain Waqar Youniswon the toss and chose to bat. Pakistans opener Saeed Anwar scored his 20th ODI hundred to helpPakistan post a healthy total of 273/7 in 50 overs.
The target of 274 was not looking big, but Pakistanboasted of the best fast bowling line-up starring Wasim Akram, Waqar Younis and Shoaib Akhtar. Buthistory was on Indias side. Pakistan had never beaten India in a World Cup. Tendulkar andVirender Sehwag walked out to the middle.
After two dot balls by Wasim Akram in the first over,Tendulkar was under way with a boundary and added another four on the last ball of the over. In the nextover, Tendulkar smashed Akhtar for a 6, 4 and 4 on the last three deliveries. That six over point still lingersin all cricket fans mind and is one of the most iconic moments in World Cup history. It was a superb shotfrom one of the greatest batsmen against the fastest bowler at the time.
That day, India's chase wasentirely built on Tendulkar's knock. There were flicks, straight drives, cuts and the crowd enjoyed everyshot that Tendulkar played. Akhtar, who had been taken off the attack after that first over, eventuallyreturned and dismissed Tendulkar with a well-directed short ball, but by then, the master had blasted 98off 75 balls and changed the game for India with an innings to match the occasion of the world's biggeststage.
India needed 97 from more than 22 overs. Rahul Dravid and Yuvraj Singh ensured that Tendulkar'ssublime batting efforts counted as they took India to victory in the 46th over. India recorded their fourthwin over Pakistan in World Cups and remained unbeaten against their old foes. Tendulkar was awarded the Man-of-the-Match award for his brilliant innings. He might have fallen short by two runs for his century,but those 98 runs againstPakistan were worth more than a hundred.