5 most underrated Chelsea players in the past decade
Chelsea's Class of 2011/12Football has changed a lot in the past decade. The sport became more glamorous and more rewarding than say it was in early part of the millennium. A lot of this has been due a certain Russian oil baron whose love for a club and the game changed the very dynamics of the game itself to the core.Yes! Those footy keedas must've got where I'm leading them. For those who are new to the game and are still unaware, it's Chelsea Football Club and its Russian fan-cum-owner Roman Abramovich. The year was 2004 and that's when the dynamics of European football changed forever. Roman's billions of pounds along with passion made Chelsea world beaters from perennial slumbers yoyo-ing between mid-table and relegation zone.Along with the owner, the club had one of the top managers who graced them in this era, from Jose Mourinho to Carlo Ancelotti. Also they had some big names in Europe who have played for them. John Terry, Frank Lampard, Petr Cech and Didier Drogba are just a few of them.Now it's time to acknowledge those unsung heroes who were ever-present but politely slid under the radar. Let's see who are those Fabulous Five.
#1 Ashley Cole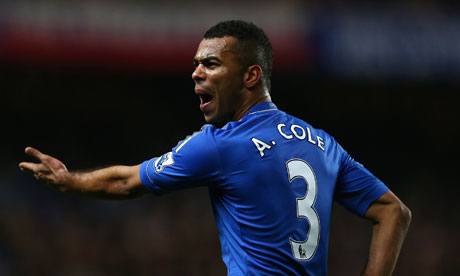 He was one of those players who were considered the 'Untouchables' in the Jose Mourinho's side. Before you guys get me wrong, untouchables are those players in football jargon who are dead certain to start each and every game if available. Ashley Cole was one of them. He was always the one whogot the limelight for the wrong reasons. Be it his controversial transfer from Arsenal or his infidelity escapades.
It is almost baffling that from 2010/11 season he was slowly being edged out by the subsequent managers. He was without a shadow of doubt 'the best left-back' in the world in his prime and a legend for his services at Stamford Bridge. But somehow people kindly ignore him for some reason or the other. He always has been one of those guys at the Bridge who could not get into the top tier of superstars like his compatriots John Terry and Frank Lampard are revered by the Blues hierarchy and faithful alike. Although Lampard too was shown the door later on, but one has to be a bit naive to compare the way in which both of them left the club.
Despite him being omnipresent in Chelsea he was somehow not their poster boys.
If you choose to disbelieve me. See it for yourself.



Season
Club
Division
League
Cup
League Cup
Community Shield
Champions League
Other
Apps
Goals
Apps
Goals
Apps
Goals
Apps
Goals
Apps
Goals
Apps
Goals
Apps
Goals
2006–07
Chelsea
Premier League
23
0
5
0
3
0
0
0
9
0
–
–
40
0
14
0
2007–08
27
1
1
0
2
0
1
0
10
0
–
–
41
1
6
1
2008–09
34
1
7
0
0
0
–
–
8
0
–
–
49
1
9
0
2009–10
27
4
2
0
1
0
1
0
4
0
–
–
35
4
4
0
2010–11
38
0
2
0
0
0
1
0
7
0
–
–
48
0
4
0
2011–12
32
0
4
0
0
0
–
–
12
0
–
–
48
0
12
1
2012–13
31
1
5
0
3
0
1
0
5
0
6
0
51
1
7
0
2013–14
17
0
2
0
1
0
–
–
5
0
1
0
26
0
3
0