Atletico Madrid 2-0 Real Madrid: 5 talking points
48.95K //
08 Jan 2015, 04:43 IST
Goals from Raul Garcia and Jose Gimenez made it three-straight wins over Real Madrid this season for Diego Simeone's side. Carlo Ancelotti's side took to the field without Cristiano Ronaldo and almost took an early lead thanks to Sergio Ramos.But although they dominated possession, were unable to make much use of it and it was the hosts who took the lead in the second half. Garcia was brought down by Ramos in the box and the Spaniard calmly slotted away the penalty, before Gimenez doubled the lead from a corner kick with 15 minutes to go.The result now means that Real need a 3-0 win over Atletico in the second leg next Thursday to go through to the quarter finals of the Copa del Rey. Here are the major talking points from the game.
#1 Referee gets big decisions wrong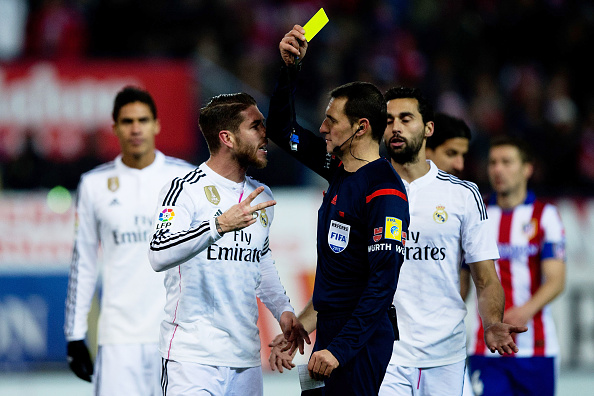 Refereeing a Madrid derby is never easy. And taking charge of one where close to 45,000 supporters are baying for blood with every single decision you make is a responsibility that not many will enjoy. For the most part though, referee Carlos Clos Gomez got it spot on. Given the number of players on both sides, who are renowned for milking fouls from referee, it certainly wasn't an easy game for one of Spain's most experienced referees.
Although he had good game overall, letting things go and staying patient for a long time, before getting the cards out, he got the big decisions wrong. The decision to award the hosts a penalty, when Raul Garcia was quite clearly pulling Ramos' shirt was certainly a contentious one. But the bigger question is whether Garcia should have even been on the pitch for that long. After what was, a head butt on Sami Khedira early in the game from a corner kick. A sending off there would have made the referee public enemy No.1 but Gomez's decision to let it go meant that the Spaniard went onto be the match winner for the hosts.