5 most tactically efficient teams in recent years
14.60K //
Timeless
Over the years, tactics have undergone a seismic shift. In the last decade alone, focus has shifted from one tactical shape to various tactical shapes that can be assumed in game. The focus is on transitions and we have seen a number of changes in the way managers approach the game.This has resulted in a delightful number of approaches and tactics with various degrees of success. The game has become more about strategy as a result. It is no longer a game that can be won by the most technically gifted individuals. The skills need to be used in an organized manner to get the best results. Here is a list of 5 teams that proved to be most efficient in the last decade and those which have taken well to modern football tactics.
#1 Carlo Ancelotti\'s AC Milan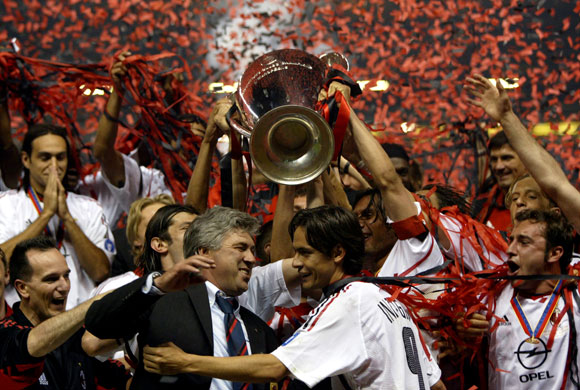 Carlo Ancelotti has acquired a reputation for being able to accommodate every kind of player in his setup. Players that may be considered incongruent or even uncomplimentary have been mixed together by Ancelotti to wonderful effect. This zest for transforming players and mixing and matching a multitude of styles and individuals first began with his managerial stint at AC Milan – a club where he made his name as a player as well.
Ancelotti was gifted a very talented squad with legendary names such as Filippo Inzaghi, Andriy Shevchenko, Paolo Maldini, Alessandro Costacurta, Rui Costa and later Kaka, Andrea Pirlo and Clarence Seedorf. The problem was in accommodating all the best attacking players in one formation. Pirlo, Kaka, Seedorf, Costa were all good central midfielders. The team had no natural width to speak of.
Ancelotti countered this problem by playing a very narrow formation with no wingers. The width was provided by the full backs. This led to the inevitable problem of teams pushing up to exploit the space left behind by the fullbacks, but this was countered by the two strikers and the playmaker just behind them.
The trio (usually Inzaghi, Shevchenko and Rui Costa later Shevchenko, Inzaghi and Kaka) pressed high up the field and their menacing movements forced the opposition to sit deep. This also allowed for Pirlo to thrive in his new position as the deep-lying creative midfielder. The energy and box-to-box running was provided by the two wide midfielders often played by Seedorf and Gattuso.
Ancelotti could only manage to win one Scudetto in his time as manager, but led his team to an incredible three champions league finals in his 8 years at the club, winning two of them. Ancelotti later enjoyed great success winning the Premier League and FA Cup with Chelsea and winning the Copa Del Ray and Champions League with Real Madrid.