5 players who played for both Manchester City and Manchester United in the Premier League era
109.97K //
Timeless
It's not often you see players playing for rival clubs, especially when they are from the same city. But ever since Bob Milarvie's stint for both Manchester United and Manchetser City, 24 players have gone to and fro between the two rival sides of Manchester.While some have been awarded a legendary status, others have succumbed to hate between the two rival clubs.We take a look at the 5 players who played for both Manchester City and Manchester United in the Premier League era.
#1 Carlos Tevez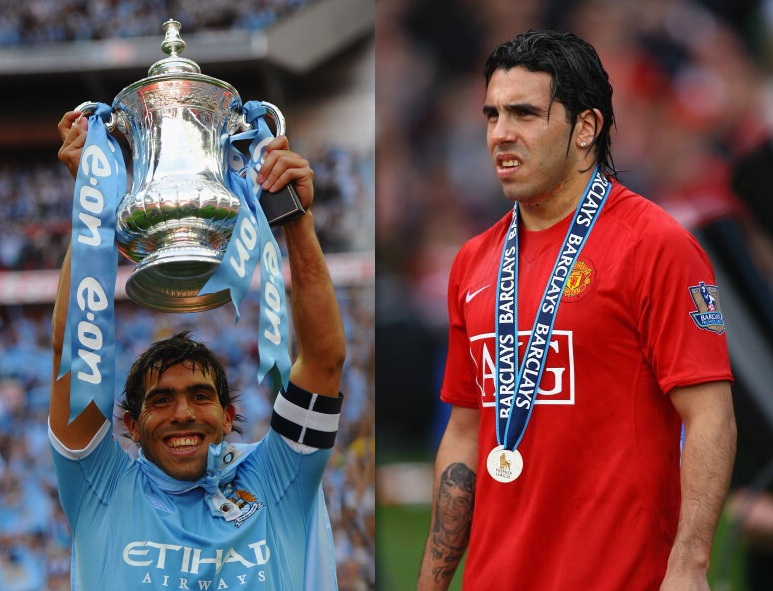 Ever since Carlos Tevez's inclusion in the Premier League with West Ham, the Argentinian has impressed fans and critics alike with his hard work off the ball and with his penchant of converting half chances into goals. The Argentinian made his debut for Manchester United on 15th August 2007, starting for an injured Wayne Rooney, and the rest as they say is history.
Tevez, went on to become one of the most prolific strikers of the Premier League, featuring in Manchester United's holy trinity along side Wayne Rooney and Cristiano Ronaldo. The 30-year-old went on to win numerous accolades with the Red Devils; including two Premier League titles (2007/08 and 2008/09), one Football League Cup (2008/09), one FA Community Shield (2008), one FIFA Club World Cup (2008) and one UEFA Champions League title (2007/08) in his two year stint with the red side of Manchester.
The protagonist turned antagonist for the United faithful after he joined rivals Manchester City following an issue with his contract with the Red Devils. After signing Tevez, Manchester City erected a blue 'Welcome To Manchester' billboard located at the top of Deansgate in Manchester.
It was at Manchester City that Tevez became as controversial as his strike partner years later, Mario Balotelli. Although the Argentinian provided magic on field, scoring goals at regular intervals, he was always caught up in off field antics.
After winning the Premier League with Manchester City, Tevez outrageously carried a 'RIP Fergie' poster atop an open bus ceremony. His bad run with the Manchester City management finally ended his glorious yet rebellious spell in the Premier League, as Tevez was ultimately sold to Serie A giants Juventus in 2013.