Bayern Munich and Borussia Dortmund have dominated the German Bundesliga for more than 50 years. While Bayern have amassed a total of 26 league titles, Dortmund have won the league eight times. The rivalry between Bayern and Dortmund isn't exactly a derby, but it is one of the most followed Bundesliga games of the season. In recent years, Dortmund have clawed their way back up to the top and have been the only club to consistently give Bayern a run for their money, even beating them to two consecutive league titles in 2010/11 and 2011/12.So it is always big news when a player makes the switch between the two clubs. We list down six players who have exchanged the red kit for the black-and-yellow and vice-versa.
#6 Robert Lewandowski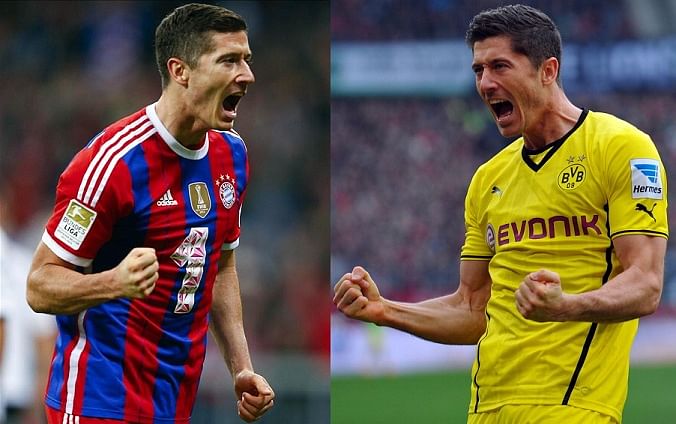 The Polish striker made a name for himself when he moved to Borussia Dortmund in 2010 and won the hearts of the BVB faithful with a debut goal against derby rivals Schalke in a 3-1 win. Back then, he wasn't the preferred striker up front with Lucas Barrios in the side.
But an injury to Barrios was all the invitation Lewandowski needed and he stepped up to forge a career at Westfalenstadion with an average of 31 goals a season in his next three seasons – the biggest highlight being the four goals he scored against Real Madrid in a Champions League semi-final match.
Sadly, a dispute with the board with regard to his low wages led to the striker leaving Dortmund for free and even ended up signing a pre-contract with Bayern Munich in January 2014 – with five months of the season still left to play. Although he was promised higher wages than the €1.8 million he was earning annually, the deal never materialized and Lewandowski left on a Bosman transfer.
Fans weren't too happy with his decision and even stole the tyres from his car, leading him to hire a security detail for his final months at Dortmund.
#5 Thomas Helmer
Thomas Helmer was a versatile defender who could play as a centre-back, sweeper or even a defensive midfielder. The 6'1" German, who played more than 400 games in the Bundesliga, was first spotted by Borussia Dortmund in 1986 when he was playing in the second division with Arminia Bielefeld.
He was signed up and he eventually spent six seasons at Dortmund, even scoring 16 goals in the league during his time at the club.
Then came the transfer fiasco which included a third club in the form of Ligue 1's Olympique Lyon. With Dortmund unwilling to sell a star like Helmer to Bayern Munich, they sent him to Lyon to avoid selling directly to a rival club.
But he lasted just three months in Lyon and they sold him to Bayern Munich for 7.5 million marks. It was a move that even sent ripples through the German national team with the coach Berti Vogts going as far as to threatening to drop Helmer for the unrest caused.
But Helmer rose through the ranks at Bayern Munich and even took the captain's armband in the late '90s when they won the Bundesliga title three times. He would play for Bayern Munich for seven years before making an ill-fated move to Premier League side Sunderland where he was used in just two matches and deemed too old to play.
#4 Mats Hummels
Believe it or not, but Mats Hummels has actually spent more time at Bayern Munich than at Borussia Dortmund. The defender started his career at Bayern's academy when he was just a six-year-old kid. He spent 11 years at the academy before playing for Bayern Munich II – the reserve team that plays in the lower divisions.
He eventually made his debut for the first team in the last game of the 2006/07 season. But that was his only appearance in a Bayern shirt at the time and, after playing a few more games for the reserves, he was loaned to Borussia Dortmund in January 2008.
It was during his first full season in 2008/09 that he came to the forefront thanks to a successful centre-back partnership with Serbian defender Neven Subotic. Dortmund would eventually sign him on a permanent transfer in 2009 for a fee of €4 million and the defensive partnership proved to be the bedrock for Dortmund's title triumph when they won the 2010/11 Bundesliga title conceding just 22 goals all season – a record until Bayern conceded 18 in 2012/13.
However, Hummels soon made the decision to move back to Munich for the sake of his family and the Dortmund captain made the switch back to Bayern in the summer of 2016 – a move that saw the Signal Iduna Park faithful boo him in Bayern's Super Cup win. But Hummels was classy enough to let it slide and even gave away his jersey to a young Dortmund fan.
Also read: Why Bayern Munich and Mats Hummels should not be criticized for his decision to leave Borussia Dortmund
#3 Christian Nerlinger
Christian Nerlinger was born in Dortmund but signed for Bayern Munich when he was a teenager. The midfielder was so good for the Bayern reserves that, in 1992, he was promoted to the first team at the young age of 19.
It was the next three seasons that saw Nerlinger make a name for himself and help Bayern Munich win the league, scoring nine goals in one season – the second-highest goal scorer in the squad. After a successful six-year spell that saw him win the Bundesliga twice with Bayern, he made the move back to the city of his birth and joined Borussia Dortmund in 1998.
But that was when his career started to stumble. He suffered a number of injuries which restricted him to just 59 appearances in three years. Although he played for Rangers and also FC Kaiserslautern after his stint in Dortmund, his injuries ensured he could never play consistently and he retired in 2005.
#2 Torsten Frings
Torsten Frings is another midfielder who played for both Borussia Dortmund and Bayern Munich. The 6-foot German was a star at Werder Bremen and was a target for a number of clubs in 2002 but eventually signed for Borussia Dortmund for a fee of €10 million. He was a regular in the playing XI alongside another illustrious midfielder for Dortmund – Tomas Rosicky.
But he lasted only two seasons at Dortmund and went on to sign for Bayern Munich, penning a three-year contract with the club's rivals in 2004. However, Frings was played out of position (another victim of the infamous Felix Magath) and nowhere close to being happy at the club even though they won the Bundesliga and DFB-Pokal titles in the 2004/05 season.
The unhappy midfielder would eventually go back to Werder Bremen after just one season and finished his Bundesliga career at Weserstadion in 2011 before ending his football career in the MLS.
Although Frings wasn't a very popular player at either of the clubs, he was an integral member of the 2006 German World Cup squad, even scoring one of the goals of the tournament against Costa Rica from 30 yards out. He was unlucky to miss the semi-final when he was involved in a fight with the Argentine players after their penalty shootout victory in the quarter-final.
#1 Mario Gotze
This was one transfer that hurt Borussia Dortmund the most. Mario Gotze was a youth product from their academy where he spent eight years honing his skills before making his first team debut in 2009 as a 17-year-old. The potential in the young midfielder was clearly visible and Jurgen Klopp took him under his wing, making him an integral part of the two title-winning squads in 2010/11 and 2011/12.
Together with Marco Reus and Robert Lewandowski, the trio formed a formidable force in the Bundesliga and Gotze improved every season, scoring 16 goals in all competitions in 2012/13 – including 10 goals in the Bundesliga – and racking up 13 assists.
Sadly, the dream run came to an end in April 2013 when Bayern Munich triggered his €37 million release clause. Klopp maintained that it was all Pep Guardiola's doing as the young German wanted to play under him and there was nothing Dortmund could do to make him stay.
"I cannot make myself 15cm smaller and learn Spanish," Klopp remarked. "Gotze wants to work with this extraordinary coach that is Guardiola."
The two teams would eventually go on to play the Champions League final that season, but Gotze missed the game with a hamstring injury and Bayern won 2-1 to win their fifth Champions League trophy.
However, three years later, Gotze would make the move back to Dortmund after failing to make his mark. New coach Carlo Ancelotti did not have him in his plans and Gotze moved back to Westfalenstadion.