9 instances that prove Zlatan Ibrahimovic is secretly a ninja
85.32K //
Timeless
Zlatan Ibrahimovic is not your average garden-variety footballer. The man's technique, aura, skills, presence, in short, everything, is unlike that of any conventional football player we have ever seen. And trust us when we say, we have seen a lot of them.However, one thing is certain, Zlatan's handbook of footballing skills and techniques are not the ones being taught at regular football training centres. The secret behind how Zlatan acquired his unique skill set has remained a mystery, until now!The origins of the theoryAccording to our sources, "As a young boy, Zlatan was chosen by a top-secret Japanese ninja organization to join their ranks. Young Zlatan was taken to a secretive Dojo on Mount Fuji to receive his training."Zlatan took well to his newfound purpose in life and was trained vigorously in the art of 'ninjutsu'. Just after Zlatan completed his training in the physical arts and was about to delve into the spiritual teachings of humility and self-control needed to become a ninja, tragedy struck.""Zlatan's beloved teacher (sensei) Jo Che Mo Inho (whose personality and conduct reportedly matched that of Chelsea's current manager Jose Mourinho) was embarrassed in a duel by Pe Pe Gard I Ola (who was someone who obsessed over style and behaviour, similar to former Barca manager Pep Guardiola), the leader of a rival sect of samurais."A heartbroken and vengeful Zlatan moved back to Sweden and decided to use his ninja training to grace football."Sportskeeda, in its quest to verify the information, faced denial after denial from every private detective agency it approached. Finally, we got in touch with a struggling Liverpool player, who was an ex-team-mate of Zlatan's at Inter Milan. In lieu of promising him the first choice penalty taker role in the Sportskeeda football team in future, he provided us with an assortment of visual proof confirming the ridiculous story might actually hold some ground.DisclaimerThis is completely a work of fiction, designed only to be humourous, and nothing else. It is not intended to hurt anyone's sentiments and needs to be taken in jest. Please do not overthink it, and yes, if you are a ninja, you know Zlatan is part of the brotherhood! So, here are some reasons why Zlatan Ibrahimovic might actually be a 'ninja':
#1 Zlatan can be sneaky like a ninja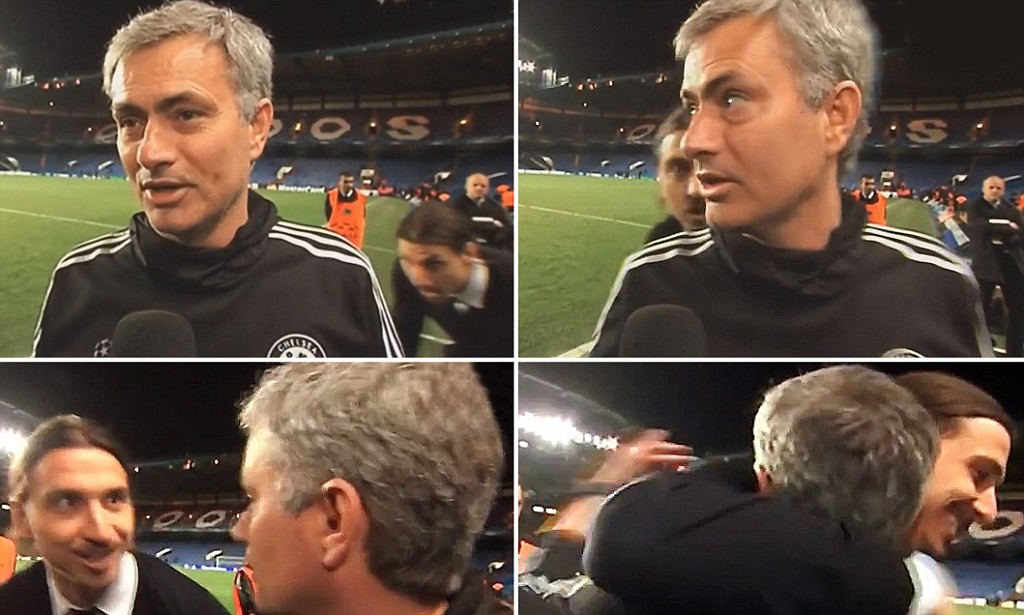 Standing at a towering 6 feet 5 inches, Zlatan is a giant of a man. Yet, the indomitable Swede seems to have an uncanny knack for sneaking up on defenders to score some of his goals. Zlatan has proved himself time and again to be a genuine fox-in-the-box.
Zlatan has even managed to sneak up on the all-seeing Jose Mourinho, proving that he is a master of surprises.