Top 5 female African-American tennis players
253.78K //
05 Jun 2014, 12:33 IST
Since Althea Gibson took to professional tennis at the United States National Championships (now the US Open) in 1950, the game has seen many talented African-American athletes. Gibson was the first African-American player of either gender to play professinal tennis. In 1956, she beat British Angela Mortimer to win her maiden Grand Slam title at the French Open.The South Carolina player went on to win two Wimbledon titles (1957, 58), two US Open trophies (1957, 58) and the 1957 Australian Open. Gibson was one of the very first inductees into the International Women's Sports Hall of Fame and also features in the National Lawn Tennis Hall of Fame.She was an African-American icon and was widely revered by her contemporaries and stars of the next generation. Her legacy in the sport is still alive and it's no surprise that Sports Illustrated for Women named her to its list of the "100 Greatest Female Athletes".Current African-American star Serena Williams was a huge fan of Gibson and was inspired by her to take up the sport. According to an oft-told story, Serena had faxed a letter to Gibson in 1999 asking her questions and tips to improve her technique.Serena was then a promising talent, pushing her way up to No. 9 in the WTA charts, but lacked the big match mentality. The then 18-year-old had given quite a scare to 14th seed Frenchwoman Sandrine Testud in the 3rd round of the Australian Open, but ultimately succumbed to the occasion. Gibson replied to the teenager's questions and guided her, and Serena went on to win her first Grand Slam at the 1999 US Open. Beating Martina Hingis, Serena became the first African-African woman in 41 years (since Gibson) to win a Grand Slam.Here's a look at the sport's current top five female African-American talents plying their trade on the circuit.
#5 Taylor Townsend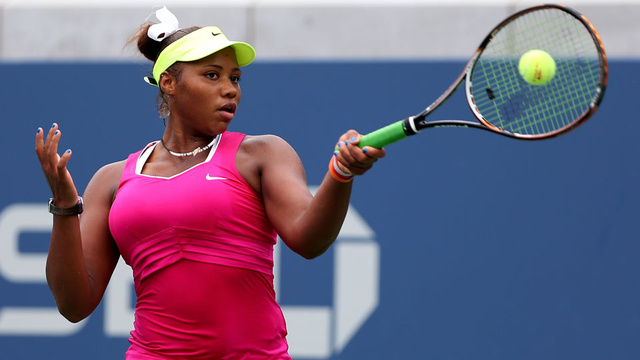 Taylor Townsend has made quite a name for herself in the junior women's tennis circuit. The Chicago girl was crowned champion at the 2012 junior Australian Open.
Her exploits in the junior circuit have led to a lot of expectations being pinned on this African-American teenager. She has already gained plaudits from several previous greats. The teenager was ranked number 1 in the WTA junior singles ranking, making her the first American in 30 years to end the year on top.
Townsend was ousted by 14th seeded Spaniard Carla Suarez Navarro in the third round at the 2014 French Open. Making a wildcard entry into Roland Garros, Townsend stunned World Number 65 Vania King and World Number 20 (and highest seeded Frenchwoman) Alize Cornet before Suarez Navarro ended her run.
Townsend has a history of being a little lackadaisical about her fitness training and was asked to sit out of the 2012 US Open Junior tournament due to being overweight. But she has shown a lot of improvement and seriousness towards fitness since, appointing former World Number 4 and African-American tennis legend Zina Garrison as her coach.
Hopefully this 19-year-old can carry her junior level success over to the big stage.
#4 Madison Keys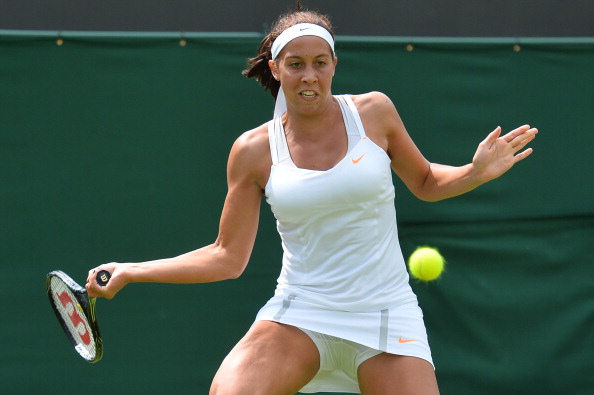 Born in Rock Island, Illionis, to an African-American father and a white mother, Madison Keys was drawn to tennis by Venus Williams. A four-year-old Keys picked up the racquet for the first time because she liked the way Venus looked while playing in her tennis attire. And her love for Venus' style sense eventually led her into the game.
The tennis world stood up to take notice of Keys, as the then 18-year-old stunned World Number 5 Li Na in the first round of the Madrid Open in 2013. At the Wimbledon Championships that year, Keys continued to impress. The teenager beat Romanian Monica Niculescu and 30th seeded German Mona Barthel before eventually falling to World Number 4, Agnieszka Radwanska.
At the 2015 Australian Open, Keys was unlucky to be handed a tough draw. But she stormed to the semifinals, defeating two-time Slam champion Petra Kvitova along the way, before succumbing to Serena Williams in the semis.
At just 20 years of age, Keys has already climbed up to 19 in the WTA singles charts, and this Chris Evert Academy student is one to look out for.
#3 Sloane Stephens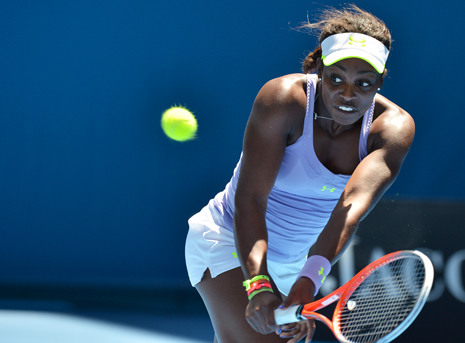 Tipped as the next Serena Williams, Sloane Stephens with her powerful two-handed backhand is poised to be the next big African-American tennis star.
At just 22 years of age, Stephens has already made a mark by fighting her way into the semifinals of the 2013 Australian Open. The then 29th seed punched much above her weight at the Rod Laver Arena; in the quarterfinals, she even stunned the third seed Serena Williams.
Stephens has admitted looking up to Serena as her idol, and beating her at such a big stage must have been special for the rookie. After that victory she was pitted against the then world number 1 Victoria Azarenka in the semis, and her dream run was brought to an end.
At the 2014 French Open, Stephens couldn't capitalize on the chance of winning her maiden Grand Slam title. With heavyweights like Serena, Li Na and Agnieszka Radwanska all falling early, this was a real opportunity for a young talent like Stephens to grab the trophy. But the American lost to Romanian Simona Halep in the fourth round.
At just 22, age is on the side of Stephens. If she gets over the jitters of performing in the big matches, then she can climb much higher up the tennis charts. With glimpses of Serena in her playing technique, the Florida-born Stephens certainly has a bright future ahead.
#2 Venus Williams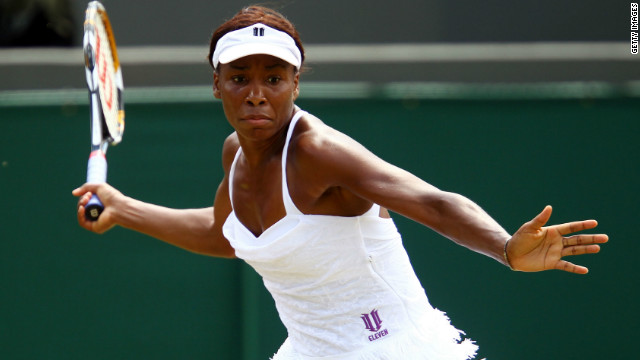 The elder Williams sister comes in at second place in this list. The 34-year-old is arguably the best grasscourt player of her generation. And five titles on the grass courts of Wimbledon pay ample testimony to that.
Venus was crowned world number 1 for the first time on February 25, 2002, becoming the first African-American woman in the Open Era to achieve the feat. And in a 20-year-long career, Venus has collected a huge list of silverware. Apart from winning five titles on her favourite turf at Wimbledon, she also has two US Open titles, and has clinched a women's singles gold medal at the 2000 Sydney Olympics.
Venus sometimes has found her own sister Serena too tough an opponent. The Williams family has given us two tennis juggernauts, and sometimes one has to suffer when they clash. Venus has faced her sister in eight Grand Slam finals over the years. And the younger Serena, with her brute strength and grit, has often taken the upper hand against the graceful Venus frequently; she has emerged winner six out of eight times in those Grand Slam finals.
In recent times an injury-plagued Venus has seen a fall in her ranking. The former World Number 1 has gone down to No. 13 in the WTA tennis rankings as on 22nd October 2015. But it is worthwhile to point out that her tally of seven Grand Slam titles ranks her at 12th on the all-time list.
If only would Venus have been born in a different era, she might have ruled over the women's tennis circuit. But her little sister Serena seems to have taken over the tennis world, demolishing her opponents. And sometimes even Venus has to take a hit, and stand back in her sister's shadow.
#1 Serena Williams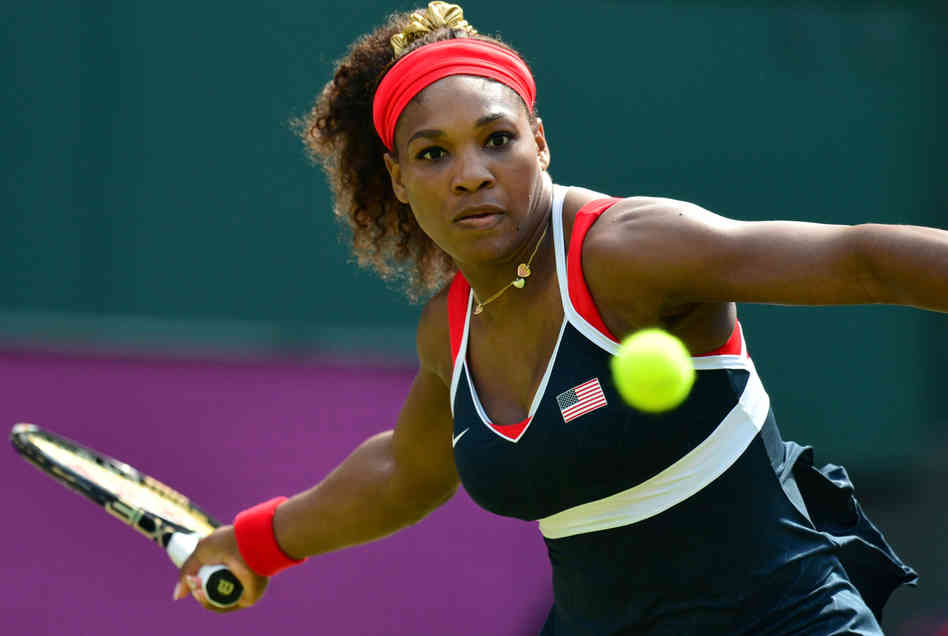 There can hardly be any doubt about the identify of the player at the top of this list – it is Serena Williams. The younger Williams sister has registerered her place not only amongst one of the greatest African-American players, but also amongst one of the game's greatest.
The world number 1 has won 36 Major titles – 21 in singles, 13 in women's doubles and 2 in mixed doubles. Her tally of Major titles combined is the most amongst active players, male or female. You name a trophy, and Serena already has it.
The 33-year-old has six Australian Open singles titles (2003, 05, 07, 09, 10, 15), three French Open titles (2002, 13, 15), six Wimbledon crowns (2002, 03, 09, 10, 12, 15) and has won the US Open six times (1999, 2002, 08, 12, 13, 14). She was also crowned Olympic champion as she clinched gold at the 2012 London Olympics women's singles.
Her complete domination of the game in the women's circuit will ensure that she will go down in tennis history as one of the sport's finest. In the Open era she is already the second most succesful women's athlete; she trails only behind modern tennis great Steffi Graf.