| | |
| --- | --- |
| Full Name | Iga Swiatek |
| Date of Birth | May 31, 2001 |
| Nationality | Polish |
| Birth Place | Warsaw, Poland |
| Height | 1.76 m |
| Weight | 65 kg |
| Networth | $10 million USD |
| Rank | 2 |
| Coach | Tomasz Wiktorowski |
Iga Swiatek: A Brief Biography
Iga Swiatek: A Brief Biography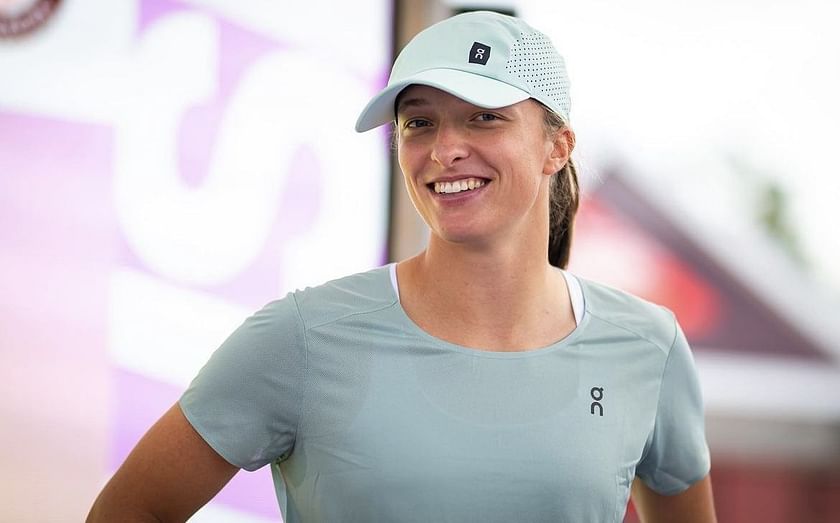 Iga Natalia Swiatek is a Polish tennis sensation who achieved a career-high singles ranking of No. 1 in the world in April 2022. Swiatek has won four Grand Slam singles titles till date — three French Opens and one US Open. She is the first tennis player from Poland to win a major singles title.
In 2022, Swiatek recorded a 37-match winning streak, the longest on the WTA tour in the 21st century. She became the fourth woman tennis player to win the Sunshine Double in 2022 and has won many awards, including the WTA Fan Favorite Shot of the Year.
| | |
| --- | --- |
| Name | Iga Swiatek |
| Age | 22 |
| DOB | May 31, 2001 |
| Nationality | Polish |
| Mother Name | Dorota Swiatek |
| Father Name | Tomasz Swiatek |
| Profession | Tennis player |
| Net Worth | $20 million |
| Height | 5 feet 9 inches or 176 cm |
| Weight | 143 lbs or 65 kg |
| Relationship Status | Single |
Iga Swiatek Early Life
Swiatek was born in Warsaw, Poland on May 31, 2001. Tomasz Swiatek and Dorota Swiatek are Iga Swiatek's parents. Swiatek inherited her sports personality from her father, who is a former Olympic rower.
She began her tennis journey at the age of five, following the footsteps of her elder sister Agata Swiatek. She trained at Mera Warsaw when she was 14 and later moved to Legia Warsaw to hone her tennis skills.
Iga Swiatek Personal Life
Swiatek grew up in a sports-loving family and showed a natural interest in sports. Her father, Tomasz Swiatek, always wanted his daughter to become an athlete just like him. However, he wanted his daughter to take individual sports as it would give her more control over her performances.
Swiatek was ranked No. 5 on the ITF junior tennis circuit and won back-to-back Grade 4 titles when she was 13. She won a gold medal in the doubles event at the 2018 Summer Youth Olympic Games with her partner, Kaja Juvan. Besides tennis, Swiatek enjoys playing other sports, including volleyball and basketball. She also has a keen interest in the fashion industry.
Iga Swiatek Family Background
Swiatek was born to Dorota Swiatek and Tomasz Swiatek. The couple also have another daughter named Agata Swiatek.
Who is Iga Swiatek's father?
Tomasz Swiatek is the father of Iga Swiatek. He is a former rower who represented his country at the 1988 Seoul Olympics in the men's quadruple sculls. He was awarded the Officer Cross of the Order of Polonia Restituta for his achievements in the sports fraternity.
Who is Iga Swiatek's mother?
Dorota Swiatek is the mother of Iga Swiatek. She is a professional orthodontist and completed her education in dentistry. She loves to spend most of her time helping and treating her patients in a private hospital. She ensured that her daughters completed their education before pursuing any career.
Who is Iga Swiatek's sister?
Agata Swiatek is the elder sister of Iga Swiatek. Agata is a dentist who completed her education in medicine, just like her mother. Before pursuing dentistry, Agata started her career as a swimmer who later switched to tennis due to some issues with swimming. She also competed on the ITF Junior tennis circuit, but later stopped playing due to injuries.
Iga Swiatek Boyfriend
Swiatek is currently single and not dating anybody. Additionally, there is no hint of any past relationships, as the tennis star likes to keep her personal life private.
Iga Swiatek Kids
Swiatek does not have any kids till now.
Iga Swiatek Social Media
Swiatek is a famous social media personality, her Instagram handle @iga.swiatek, has over 1.3 million followers. She also has a X account called @iga_swiatek, where she has over 505k followers.
Iga Swiatek Net Worth
According to online sources, Iga Swiatek's net worth is estimated at around $20 million. Besides playing tennis, she earns her wealth by endorsing many prominent brands.
Iga Swiatek Prize Money
According to WTA's official website, Swiatek has won over $20.1 million in prize money till date, including over $5.4 million so far in 2023.
Iga Swiatek Brand Ambassadors
Swiatek is one of Poland's most successful tennis players and has attracted many brands to sign an endorsement deal with her. She is the first woman tennis player to sign a sponsorship deal with sports manufacturer ON. Recently, Swiatek joined hands with the car brand Porsche. She announced the news of her endorsement deal through a tweet on her Twitter account.
Swiatek uses rackets sponsored by Tecnifibre and plays with the Tempo 298 IGA Frame racket. The racket manufacturer changed its marketing identity to Swiateknifibre after her victory at the 2022 French Open. She also endorses brands like Red Bull, Lexus, and Toyota.
Swiatek also has a deal with Polish sports drink Oshee Global and she will later launch her own drink flavor with the brand. She is also associated with the largest insurance provider, PZU. Swiatek also became the first female player to sign a brand ambassador deal with the global payment platform Visa. For a long time, she was represented by IMG. She has also signed a multi-year partnership deal with Infosys, the largest IT company in India.
Iga Swiatek Investments
No information about Swiatek's investments are available in the public domain.
Iga Swiatek Career Stats
Swiatek holds a career singles record of 269-65, a winning percentage of 80.5%. In the 2023 season, she has served 110 aces and won 79.9% of her service games. She also wins 69.6% of her first-serve points and 53.8% of her second serve points.
Iga Swiatek Achievements
World No. 2 Swiatek is a successful tennis player who has achieved many things in her tennis career at a very young age. Some of Swiatek's achievements are as follows:
World No. 1 player
Swiatek achieved a career-high singles ranking of No. 1 one after Ashleigh Barty retired. She became the first player from Poland, male or female, to achieve the number one spot.
Four major singles titles
Swiatek has won four Grand Slam titles till date — three French Opens and one US Open.
Sunshine Double
Swiatek became the fourth woman tennis player to win the Sunshine Double.
Ranking Points
Swiatek became the second player, after former world No. 1 Serena Williams, to collect 11,000 ranking points in a single season.
Awards
Swiatek has received many awards and honors in her tennis career, including the Polish Sports Personality of the Year and the WTA Fan Favorite Singles Player of the Year. She was included in Times magazine's list of 100 most influential people in the world in 2023.
Iga Swiatek Titles Won
Swiatek has won 15 WTA singles titles till date, including four Grand Slam titles and five Masters 1000 titles. She won her third French Open title in 2023, defeating Karolina Muchova in three sets in the final.
Iga Swiatek Best Finish at Each Grand Slam
| | |
| --- | --- |
| Major | Best Result |
| Australian Open | SF in 2022 |
| French Open | W in 2023, 2022, 2020 |
| Wimbledon Open | QF in 2023 |
| US Open | W in 2022 |
Iga Swiatek Coaching Staff
Tomasz Wiktorowski, a former professional tennis player from Poland, currently coaches Swiatek. He has also coached former world No. 2 Agnieszka Radwanska and Olga Danilovic.
Tomasz Wiktorowski also worked as a commentator for TVP Sport and Eurosport Poland. He was born on January 10, 1981, in Warsaw, Poland and graduated from the automotive department of Warsaw University of Technology. He received the Polish Coach of the Year award in 2022.
Iga Swiatek Diet
Swiatek loves to eat chicken and rice before her matches. She prefers lettuce, broccoli, cucumber, some seeds and cottage cheese for lunch. She prefers to have a tropical smoothie as a mid-day snack. Following her win at the 2022 Miami Open, she gave herself a pizza treat. She recently shared an Instagram post where she apologized for eating all the croissants while staying in a hotel at the 2023 French Open.
Iga Swiatek House
Swiatek owns a beautiful house in her hometown, Raszyn, Poland, where she lives with her family. However, the price of the house is kept private from the public.
Iga Swiatek Cars
Swiatek is a car lover and owns many expensive cars. She is the proud owner of a Porsche Tayacan Cross Turismo and a Porsche Panamera 4S. Sources have found that she also owns a Range Rover.
A. Swiatek currently lives in Raszyn, Poland.
A. Tomasz Wiktorowski is Swiatek's coach.
A. Swiatek has won over $20.9 million in prize money till date.
A. Swiatek has won three French Open titles in his career, with the 2023 French Open being the latest one.
A. Swiatek uses the Tecnifibre Tempo 298 IGA Frame racket while playing.
A. Iga Swiatek is 5 feet 9 inches or 176 cm tall.