| | |
| --- | --- |
| Full Name | Aryna Siarhiejeuna Sabalenka |
| Date of Birth | May 5, 1998 |
| Nationality | Belarusian |
| Birth Place | Minsk, Belarus |
| Height | 1.82 m (5 feet 11 inches) |
| Weight | 80 kg |
| Role | Right-handed aggressive baseliner (two-handed backhand) |
| Networth | $20 Million |
| Rank | 1 |
| Coach | Anton Dubrov |
| Family | Sergey Sabalenka (father) |
Aryna Sabalenka: A Brief Biography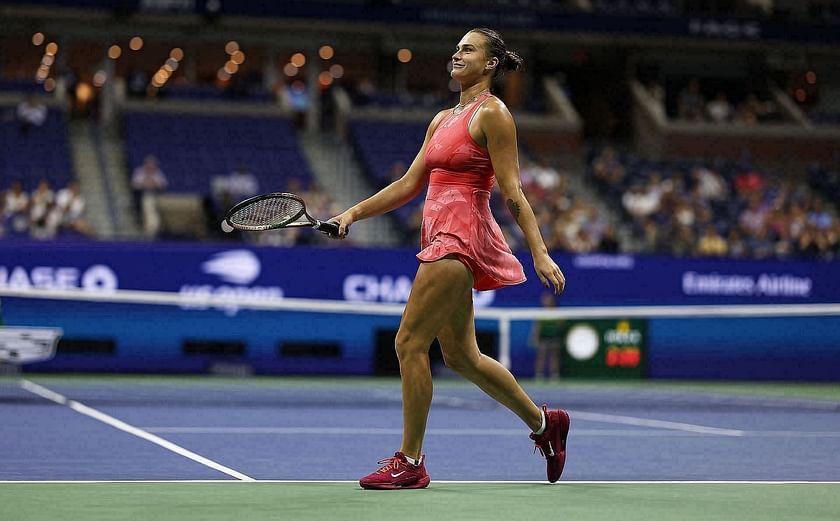 Aryna Siarhiejeŭna Sabalenka is a professional tennis player from Belarus who was born on May 5, 1998. As per the Women's Tennis Association (WTA) rankings, Sabalenka is currently the world No. 1 in singles and the world No. 406 in doubles.
Sabalenka has won two major doubles championships with Elise Mertens at the 2019 US Open and the 2021 Australian Open, as well as one major singles victory at the 2023 Australian Open. 13 of her 19 career victories have been in singles play, while six have been in doubles.
Sabalenka was not well-known until 2017, when she and Aliaksandra Sasnovich, who were both below the top 75 at the time, helped the Belarus Fed Cup team to a runner-up result. After the 2017 Fed Cup, she started enjoying more success on the WTA Tour, making it to four finals in 2018.
2019 saw Sabalenka start frequently competing in doubles. She won both of the Premier Mandatory events in March—the Indian Wells Open and the Miami Open—to complete the Sunshine Double with Mertens as her partner. She initially qualified for the WTA Finals after winning the US Open doubles championship later in the year.
In the 2023 US Open singles, then-second-seeded Aryna Sabalenka was unexpectedly defeated by Coco Gauff in the finals, who rallied back 2-6, 6-3, 6-2 after losing the first set.
Aryna Sabalenka's Personal Information
| | |
| --- | --- |
| Name | Aryna Siarhiejeŭna Sabalenka |
| Age | 25 years old |
| DOB | May 5, 1995 |
| Nationality | Belarusian |
| Mother Name | Yulia Sabalenka |
| Father name | Sergey Sabalenka |
| Profession | Professional Tennis Player |
| Net Worth | Estimated $20 million |
| Height | 5 feet 11 inches (182 cm) |
| Weight | 80 kg |
| Education | Belarusian State University |
| Relationship Status | Dating (Konstantin Koltsove) |
Aryna Sabalenka's Early Life
Tennis was Sabalenka's first sport, which she took up by accident. She recalled, "One day, my dad was just driving me somewhere in the car, and on the way he saw tennis courts. So he took me to the courts. I really liked it and enjoyed it, and that's how it was. That's how it started."
The National Tennis Academy in Minsk opened in 2014, and she immediately started her training there. Even though she was still eligible to compete at the junior level at the time, the Belarusian Tennis Federation convinced Sabalenka and her management to concentrate on playing low-level professional events rather than junior competitions in 2015.
Sabalenka made her ITF Junior Circuit debut in the U14 and U16 tournaments, which was earlier than most players. She had never competed in the main draw of an ITF event before 2013, when she was 15 and competing in Estonia's Grade-4 Tallink Cup. Sabalenka had never participated in junior Grand Slam competitions or any other prestigious Grade-A or Grade-1 competitions.
She achieved a career-high ranking of 225 without the higher point totals from these bigger tournaments. With her native Vera Lapko as her partner, Sabalenka won her maiden ITF doubles championship at the Grade-5 Alatan Tour Cup in Belarus in late 2013.
2014 saw her succeed in Grade 4 tournaments; the Estonian Junior Open in June saw her advance to her first singles final, while the MTV Total Junior Cup in Finland in October saw her claim her first singles victory.
Aryna Sabalenka's Personal Life
The left arm of Sabalenka is inked with a tiger. She's been referred to as "The Tiger" because of this tattoo and has worn it as a nickname. Sabalenka pursued a degree in sports-related studies at the Belarusian State University. Serena Williams and Maria Sharapova were her childhood tennis role models.
Sabalenka's political perception called for nonviolence and denounced the Alexander Lukashenko administration's dispersal of peaceful protests in August 2020. For "everything that is done for the country in general and for sports in particular," she separately commended the Belarusian government.
Sabalenka signed an open letter in 2020 that advocated for keeping sport separate from politics during the widespread demonstrations that followed the controversial election. The letter was seen by the Belarusian media as being in favor of Lukashenko because it came after an open letter from prominent sports leaders in Belarus calling for the election to be thrown out.
Following the Russian invasion of Ukraine, Sabalenka used ribbons in the country's colors to show her support for the Ukrainian people. She expressed worry over the plight of Ukrainians and the exclusion of Russian and Belarusian athletes from the 2022 Wimbledon Championships. Her remarks, though, drew criticism for being superficial and uncaring.
Sabalenka said she supported ending the conflict in Ukraine and that no one in the world, including Russian and Belarusian athletes, supports the war. Later, she further declared that she does not support Lukashenko and does not desire war in her country.
Aryna Sabalenka's Family Background
Sergey Sabalenka is the father of Aryna Sabalenka. Up until the age of 19, Sergey played ice hockey. He was involved in a car crash; therefore, he was unable to go any further. After the difficult time, Sergey only played in amateur games on the ice.
Although tennis fans may not be familiar with Aryna's mother, Yulia Sabalenka, she undoubtedly supported the Belarusian as she competed for the top spot on the tennis circuit. Unfortunately, there is not a lot of information available about Aryna Sabalenka's family history.
Aryna Sabalenka's Boyfriend
Konstantin Koltsov, a former ice hockey player, is the boyfriend of WTA world no. 1 Aryna Sabalenka. Koltsov and Sabalenka have been dating for a while; however, it's unclear when exactly their relationship began. They have reportedly been dating since at least June 2021.
Severstal Cherepovets, in Russia, was where Koltsov began his ice hockey career in 1997. His club career was primarily spent in Russia and Belarus, and he played on the right wing. He did, however, also spend time with the NHL's Pittsburgh Penguins.
Koltsov represented Belarus at two Winter Olympics throughout the course of his lengthy international career, most notably in Salt Lake City in 2002, where they finished fourth. He also took part in nine world ice hockey championships.
The 42-year-old Belarusian, who played for 18 seasons, declared his retirement from the sport in 2016. Koltsov wasn't seen in person at the Australian Open in 2023. But he was present in spirit to witness his girlfriend win her first Grand Slam trophy, and he afterwards posted on social media to express his joy.
Aryna Sabalenka's Social Media
The following are Aryna Sabalenka's social media handles:
Aryna Sabalenka's Net Worth
Aryna Sabalenka is only 25 years old, but she already has some outstanding statistics on her side. As of October 2023, Sabalenka's estimated net worth was $20 million. She has so far amassed about $19.7 million in prize money from playing tennis.
Her earnings from winning tournaments this year total more than $7.5 million. She probably earned a lot of money from sponsorships, endorsements, and prizes, which led to this.
| | |
| --- | --- |
| Year | Net Worth |
| 2023 | Estimated $20 million |
| 2022 | Estimated $18 million |
| 2021 | Estimated $12 million |
Aryna Sabalenka's Prize Money
Tennis players don't receive a set salary like athletes in other sports do. Their compensation is determined by their performance and fluctuates from tournament to tournament.
Sabalenka has won a total of $19,729,563 as of October 2023, and she has earned $7,554,653 so far in 2023.
Aryna Sabalenka's Brand Ambassador
Nike is one of Sabalenka's primary sponsors for apparel and footwear. Her racquet is sponsored by Wilson. Nike sponsors Sabalenka for her athletic clothing needs.
Nobody knows how much either arrangement is worth, despite the fact that Aryna makes a lot of money from her sponsors.
Aryna Sabalenka's Investments
There is no information available regarding the investments of Aryna Sabalenka.
Aryna Sabalenka's Achievements
On the WTA Tour, Aryna Sabalenka has amassed thirteen singles titles and six doubles trophies. The 2023 Australian Open in singles, the 2019 US Open, and the 2021 Australian Open in doubles, which she won with Elise Mertens, are her most notable victories.
Additionally, she won two Premier Mandatory championships in doubles in 2019 at the Indian Wells Open and the Miami Open. She has won five WTA 1000 singles titles: in 2018 and 2019 at the Wuhan Open, in 2020 at the Qatar Open, and in 2021 and 2023 at the Madrid Open.
Sabalenka's other notable accomplishments include reaching the doubles final of the 2019 Wuhan Open and the singles semifinals of the 2018 Cincinnati Open. She defeated Kiki Bertens in the WTA Elite Trophy final to claim the title of singles champion in 2019.
In 2017, Sabalenka made it all the way to the Fed Cup final while representing Belarus; however, the team fell short against the United States. Two years later, Belarus made it to the semifinals, and Sabalenka was a member of that team.
In 2021, she reached the top 5 in both singles and doubles, with a career-high singles ranking of No. 2 and a No. 1 doubles ranking. However, her ranking as of 2023 is world No. 1 in singles. This accomplishment came about in September, when Sabalenka replaced Iga Świątek after the latter lost in the fourth round of the US Open 2023 to Jelena Ostapenko in three sets. Her current WTA doubles ranking is world No. 406.
Aryna Sabalenka's Coaching Staff
Up until the beginning of 2018, Sabalenka had collaborated with Khalil Ibrahimov for two years. Magnus Norman and Magnus Tideman, two ex-pro tennis players from Sweden, joined her team shortly after that. Dmitry Tursunov became her main coach ahead of the 2018 grass court season.
After the 2019 US Open, Sabalenka and Tursunov briefly fell out of favor. Even though they reconciled later in the year, she ended their partnership permanently at the end of the season. Sabalenka temporarily worked with Dieter Kindlmann before replacing Kindlmann with Anton Dubrov, her old hitting partner and countryman, in 2020.
Aryna Sabalenka's Diet
Unfortunately, there is no information available about Aryna Sabalenka's diet or eating habits.
Aryna Sabalenka's House
The Belarusian capital of Minsk is where Sabalenka was born. She is currently a Miami, Florida resident. However, due to privacy and security concerns, it is unknown what the No. 2 player's exact address is.
Aryna Sabalenka's Car
Sabalenka is rumored to be the owner of the expensive Lamborghini Aventador S Roadster convertible sports car. She may also be the owner of a Mercedes-Benz G-Class, an extremely opulent SUV.
None of this information has been verified, and there is no other information available regarding Aryna Sabalenka's car collection.
The estimated net worth of Aryna Sabalenka is estimated to be $20 million as of October 2023.
Aryna Sabalenka's current singles ranking is No. 1 as of October 2023.
Sabalenka has won the 2023 Australian Open in singles and two major doubles titles at the 2019 US Open and the 2021 Australian Open.
Aryna Sabalenka is dating Konstantin Koltsov, a former ice hockey player.
Aryna Sabalenka was born in Minsk, Belarus, and currently resides in Miami, Florida, although her exact address is private.
Yes, top-seeded tennis player Aryna Sabalenka will compete in the 2023 WTA Finals, which will be held from October 29 to November 5 at Plaza Quintana Roo in Cancun, Mexico.