WrestleMania Rewind : Randy Orton vs CM Punk at WrestleMania XXVII
7.92K //
27 Feb 2015, 17:40 IST
The granddaddy of them all, WrestleMania is just about a month away. The anticipation for the extravaganza is sky high among the WWE Universe. And since the pay-per-view is richer than Richie rich when it comes to history, we have decided to take a look back at some of the best WrestleMania matches with this latest series.Let us now recall a classic WWE match that took place on April 3, 2011 at Georgia Dome, Atlanta, Georgia at WrestleMania 27 between 'The Viper' Randy Orton and 'Mr. Straight Edge' CM Punk. This is a match between two evenly matched WWE Superstars in terms of their prowess and mental agility. This match is also the career defining moment for Randy and Punk.Let us look at how this story unfolded.
#1 The Build-Up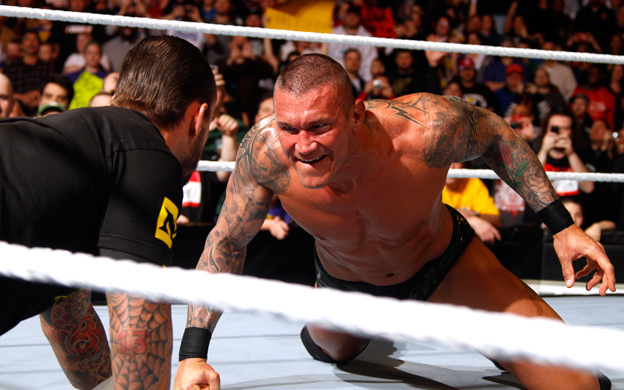 This entire story started at Unforgiven, 2008. CM Punk was the World Heavyweight champion then. He was involved in a title match that night. Orton punt kicked Punk backstage and this made Punk unable to compete in his title match. So, this led to a forfeit and eventually Punk lost the title.
In 2011 at the Royal Rumble PPV, Orton was involved in a WWE championship title match against The Miz. Punk became the leader of the new Nexus and they all showed up during the match. The members of the Nexus blindsided the referee and meanwhile Punk delivered a vicious GTS and cost Orton the title.
This made Orton irate and Punk told him that it was Orton who started all this. There was a tussle brewing between these two superstars and the anonymous RAW GM announced a match between these two at WM 27. Orton was put into matches with the members of the new Nexus each week. If Orton lost to a member, that member will join Punk ringside at WM 27.
Orton successfully defeated all the members and left no one in Punk's corner at the WM match. Before WrestleMania, Punk hit Orton's right leg with a wrench after Punk used Orton's wife as bait to lure Orton to the parking lot.