With just two days remaining until the Asian Games 2023 kick-off, the anticipation is reaching a fever pitch. All eyes are on the Indian hockey squad, particularly after their recent triumph at the Asian Championship 2023 held in Chennai.
As the team prepares to step onto the grand stage, let's delve into their strengths, weaknesses, opportunities, and threats, and assess their prospects for this crucial tournament.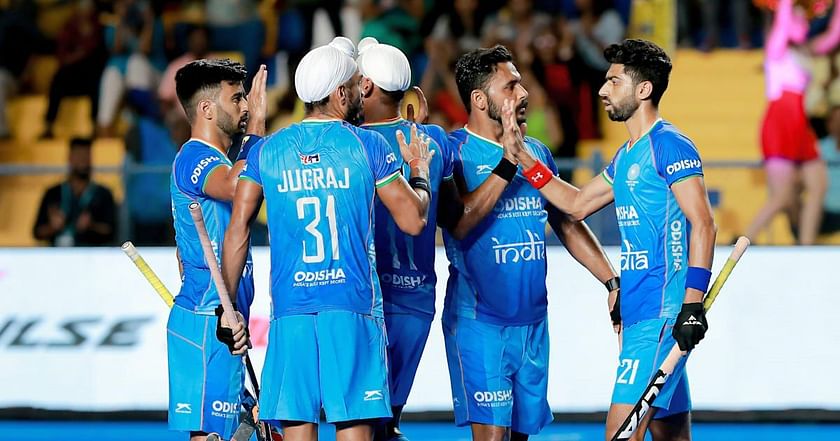 Squad: Krishan Bahadur Pathak, PR Sreejesh, Harmanpreet Singh (captain), Amit Rohidas, Jarmanpreet Singh, Sumit, Jugraj Singh, Varun Kumar, Hardik Singh (vice-captain), Shamsher Singh, Vivek Sagar Prasad, Manpreet Singh, Nilakanta Sharma, Akashdeep Singh, S Karthi, Gurjant Singh, Sukhjeet Singh, Pawan, Mandeep Singh
---
Indian Hockey National Team SWOT Analysis at the 19th Asian Games
Strengths:
India boasts a rich legacy in hockey, particularly in the Asian Games, where they have clinched the gold medal three times. Moreover, their recent victory in the Asian Championship trophy 2023 in Chennai is a positive indicator of their form and readiness for the Asian Games.
The present roster is a mix of seasoned campaigners and youthful talent. Distinguished veterans like Harmanpreet Singh, Lalit Upadhyay, PR Sreejesh, and Manpreet Singh contribute invaluable experience and leadership in the field. This fusion of experienced players and emerging talents, including Akashdeep Singh, S Karthi, and others, adds both stability and an element of unpredictability to the team's dynamics.
The appointment of Coach Craig Fulton has ushered in fresh strategies and perspectives, as evidenced by the team's recent triumph in the Asian Champions Trophy. His leadership has been instrumental in the team's preparation and success.
Crucially, India possesses a strong midfield presence, anchored by players like Manpreet Singh and Hardik Singh. Their ability to control the game and create scoring opportunities is a formidable asset. Additionally, proven goal-scorers such as Akashdeep Singh, Abhishek and Mandeep Singh provide the firepower needed to secure victories.
---
Weaknesses:
Despite their storied history, the Indian team has struggled with inconsistency in multi-sport events in recent times. Recent disappointments, including their inability to progress to the quarterfinals of the FIH World Cup and settling for silver at the Commonwealth Games, raise concerns about their ability to perform consistently on the grand stage.
Defensively, there have been vulnerabilities in the Indian team's setup, leaving them exposed to counterattacks and vulnerable during penalty corner situations. This defensive frailty poses a significant challenge that opponents may seek to exploit.
There's a risk of placing too much pressure on key players, particularly Akashdeep Singh and Mandeep Singh, to perform in critical situations. Additionally, players like Varun Kumar, Sumit, and Sukhjeet have not been performing at their peak, so they need to raise their game a bit and contribute more effectively.
Another concern lies in the goalkeeping department. While PR Sreejesh is a stalwart on goal, there are doubts regarding the availability of a reliable backup goalkeeper, which could become a vulnerability in case of injuries or suspensions.
---
Opportunities:
The Asian Games present a golden opportunity for India to secure a direct ticket to the Paris Olympics 2024 by winning the gold medal. This achievement would be a significant milestone for the team, as they won the bronze at the Tokyo Olympics 2021.
Furthermore, the Asian Games offer the chance to groom and develop young talents like Selvam Karthi and Pawan, reducing the team's reliance on a few key players and ensuring long-term sustainability. This investment in youth can pay dividends in future competitions.
India's proficiency in penalty corners, especially with players like Harmanpreet Singh, can be a game-changing asset, providing ample opportunities to score and seize control of matches.
---
Threats:
Strong competitors, notably Pakistan, Japan, and Malaysia, all of whom boast rich hockey legacies, pose significant threats to India's aspirations at the Asiad 2023. It's worth noting that India faced a defeat to Malaysia in the semi-finals of the 2018 Asian Games, despite topping the table. Additionally, when it comes to penalty shootouts, luck hasn't always favored India.
The team must be well-prepared for tough matches and be ready to make strategic adaptations in response to their opponent's tactics. Injuries to key players can disrupt team cohesion and performance, potentially making squad depth a vulnerability. Therefore, building a reliable bench is imperative to mitigate this risk at the Asian Games.
Edited by Siddharth Dhananjay