UEFA Knockout Stage: Top 4 clashes - Which teams will qualify for quarter finals?
Feature
24 Dec 2012, 23:29 IST
1.04K
As the draw is out for UEFA knockout stage, let's take a look at which teams will qualify for the next stage, the quarter finals.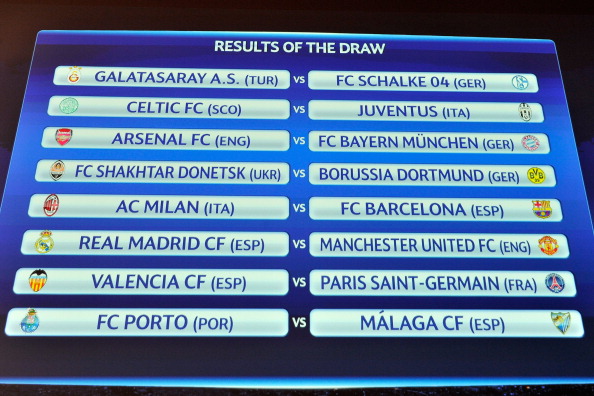 1. Real Madrid – Manchester United
The most popular matchup after the draw is Real Madrid's clash with Manchester United, which means Cristiano Ronaldo will return to his former club. After signing for Real Madrid in 2009, it will be Ronaldo's first step on the soil of Old Trafford. But the first leg will be played on the home ground of Real Madrid, the Santiago Bernabeu, on 13th of February, and then the second leg is after a month at Old Trafford on 5th of March. Both teams have concerns regarding lack of defence at present. But Man United's veteran defender Nemanja Vidic is back from injury whereas Marcelo is still to come for Real Madrid.
POSSIBLE WINNER: REAL MADRID
2. AC Milan – Barcelona
Oh no..again? This is not my reaction. This is the reaction of Milan's vice president Adriano Galliani. They are meeting for the sixth time in the competition and every time, Barcelona emerged victorious. The last meeting between these giants was in the quarter finals of UEFA CL last season. Selling big players like Ibrahimovich, Mark Van Bommel, Clarence Seedorf, Aquilani, Nesta, Inzaghi, Zambrotta, Gattuso, Thiago Silva and Cassano was a big mistake by Milan. But the new talent El Shaarawy has proved that Milan can continue its best form without star players too. Pato and Robinho are likely to move to their nation Brazil. On the other side in Barcelona, Messi is on fire. They are currently on top of the La Liga table and 16 points clear of their arch rivals Real Madrid. It will be hard for Milan to beat Barcelona as Milan's form in their league is not satisfying and so they have to work hard for both Serie A and Champions League. May the best team win!
POSSIBLE WINNER: FC BARCELONA
3. ARSENAL – BAYERN MUNICH
And yet another big match between Arsenal and Bayern Munich. Arsenal currently on fourth position and Bayern are leading on top of Bundesliga. I don't know what will happen as Arsenal is regaining its form now after few unexpected defeats. The latest win is their third straight win in a row. With Cazorla, Walcott, Podolski and Giroud in great form, it is difficult to say who will qualify for the next round. But when I turn to Bayern Munich, it becomes clear who the winner will be. The team currently on the top of the table (in Bundesliga) are favourites for the quarter finals. With big names like Thomas Muller, Mario Gomez, Mario Mandzukic in attack, Schweinsteiger, Toni Kroos in the middle and Philipp Lahm defending for Bayern Munich, it is easy to say that yes, Bayern will be the winner!
POSSIBLE WINNER: BAYERN MUNICH
4. CELTIC – JUVENTUS
Scottish giants Celtic, currently on the top of the league table will meet Italian giants Juventus, who are also on the top of the league table. Celtic, who beat Barcelona 2-1 in their second meeting in the group stage, are looking confident for the knockout stage. On the other side, Juventus, with their big players such as Vucinic, Vidal, Pirlo, Giovinco, Quagliarella, Buffon and others, is the strong team and one of the favourites for the quarter finals. Not to forget, it was Juventus which defeated Chelsea 3-0 and after the defeat, Roberto Di Matteo was sacked as the manager of Chelsea. If Celtic is the powerful team in SPL, Juventus is no less.
POSSIBLE WINNER: JUVENTUS