Who should Arsenal sign ?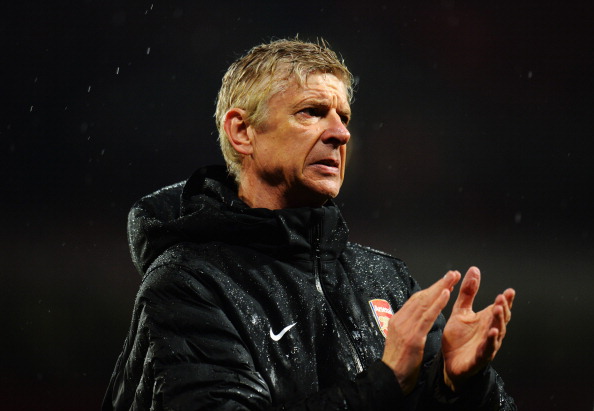 Following a rather ordinary season, Arsenal manager Arsene Wenger is admittedly in the transfer market in search of some much needed reinforcement to make his side title contenders for the English Premier League.
Previous season Arsenal were 16 points behind the crowned champions Manchester United and just managed to overcome their north London rivals Tottenham Hotspurs by the skin of their teeth. Many people have accepted the fact that despite their top 4 finish, the current Arsenal squad is not capable of challenging Manchester United and Manchester City for the title.
There is a firm belief amongst the Arsenal's supporters that major changes have to be made in order for Arsenal to end their 8 year long trophy drought. It seems that Wenger is finally going by what fans demand as Arsenal have already announced the release of players like Arshavin, Denilson and Squillaci who hardly played a single game last year and were considered to be nothing more than dead wood. Moreover, Arsenal is prepared to shed some more money off their wage bill, with offers for Bendtner and Gervinho already on table.
This is a pretty clear indication that Arsene Wenger has realised the lack of quality players in his current squad. Arsenal CEO Ivan Gazidis recently stated that Arsene Wenger will be given a bounty of £70million. He also said that Arsenal is willing to spend big bucks on well established players and that they are ready to afford their high wages.
But the question is "Who should Arsenal buy ?". Lets look at the players who have been linked with Arsenal till now.
Gonzalo Higuain
The Real Madrid player is fed up with his time at the club and after publically announcing his desire to leave, is looking for a new parent club to play for. Off late Arsenal have been strongly linked with the 25-year-old who scored 18 goals in 44 appearances grabbing 8 assists in the 2012-13. He is well capable of playing as a lone stiker which perfectly suits Arsene's way of playing. Also he is fairly young (25 years), keeping up with Arsene's transfer policy.
Wayne Rooney
The Manchester United man had fallen out with the out going manager Sir Alex Ferguson after being played out of position several times and being benched for a couple of key fixtures last season. He slipped down the pecking order after the arrival of the talismanic Robin Van Persie from Arsenal. He even handed in a transfer request before the end of the previous season because of which he was not even included in the squad for the last few fixtures.
Since his announcement, a host of clubs like Arsenal, Chelsea and PSG have shown interest in him with Arsenal being the front runners at the moment. Rooney could be the perfect for Arsenal as he is a world class player and also a proven Premier League performer. He scored 16 goals and grabbed 13 assists in 37 matches last season. Also this could be the perfect opportunity for Arsenal to get back at United by signing one of their key players. Also, Rooney will be eager to show his former employers that he still is one of the best in his position.
Júlio César
The former Inter Milan man who last season joined QPR on a free tranfer, is looking for new club as his current club got relegated from the premiere league and could no longer afford his wages. Although QPR got relegated but there is no doubt regarding the ability of Júlio César who has earned a staggering 70 appearances for his national side Brazil.
Arsene Wenger looks very much interested is acquiring this star player. But the question here is do Arsenal need another keeper as they already have the Poland duo of Wojciech Szcz?sny and ?ukasz Fabia?ski. The signing of César will surely hamper the progress of the two players therby unsettling them at the club.
4. David Villa
David Villa was the player of the tournament in the FIFA World Cup 2010 in South africa. He plays for FC Barcelona after being transferred from Valencia. But off late he has grown out of favour after a long injury layoff, with the Barca manager preferring Pedro or Fabregas over him. He is now open to a transfer away from Barcelona with Arsenal more than interseted in grabbing his signature, already having a bid rejected in January.
He could be available for as little as 10 million. But it will be interesting to see whether Wenger goes for a player who is 32 years old and arguably past his prime.
5. Marouane Fellaini
The Everton player is being linked with a host of clubs including Manchester United, Chelsea and Arsenal with Manchester United having the upper hand in the transfer chase beacuse of the presence of newly appointed and former Everton manager David Moyes. But rumours are doing rounds that Arsenal have leapfrogged their rivals by activating the release clause in the players contract with only personal terms remaining to be agreed. More so there have been rumours that Fellaini himself would prefer a move to Arsenal over Manchester United.
At the age of 25, the Belgium international is a proven premiere league player who will increase the physical presence which the current Arsenal squad lack. He is good at defending as well as confident going forward. He scored 12 goals in 36 appearances for Everton in the past season.
By the look of events that have happened till now, all the possible arrivals and all the departures, this could be the start of the new era for Arsenal having paid off most of their stadium debt.