Indian Girls in round of 16 at World Squash C'ships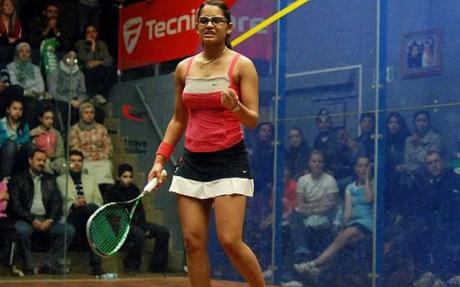 The Indian women's team participating in the 2012 WSF Women's World Team Championship created a major upset late on day 1 (12 Nov) in Pool G, when tenth seeds India beat Ireland, the No7 seeds, 2/1 – reversing the result of the same pool clash two years ago. Dipika Pallikal paved the way with a four-game victory over experienced Irish champion and world no. 10 Madeline Perry. Joshna Chinappa played with great spirit against her higher ranked opponent and let slip a 2/1 lead to allow Aisling Blake – world no. 23, and Ireland, back into the tie. However, teenager Anaka Alankamony held her nerve to see off Laura Mylotte 12-10, 11-3, 11-7 to give India a sensational victory.
On day 2, India defeated Argentina convincingly to top pool G and move into the round of 16.
Squad number three Anaka Alankamony led the way for India, beating Maria Eugenia Bonilla 11-4, 11-4, 11-7 – before second string Joshana Chinappa took just 19 minutes to overcome Cecilia Cerquetti 11-6, 11-3, 11-4. In the final match, top-ranked Argentinean Antonella Falcione battled hard against India's star Dipika Pallikal – but world No.13 Pallikal had the edge, defeating her opponent ranked more than 100 places below 11-8, 11-7, 11-8.
India will be playing 8th seeded Netherlands tomorrow in the pre quarterfinal. It is certainly going to be a tough match but our girls are committed to putting their best foot forward.
This is only the 3rd time India has participated in this event which has been running since 1979. In 2002 Denmark, the Indian lasses finished 18th and in the last edition 2010 New Zealand, India finished 11th.
Pool G:
[10] INDIA bt [7] IRELAND 2/1
Dipika Pallikal bt Madeline Perry 11-9, 11-8, 7-11, 11-8
Joshana Chinappa lost to Aisling Blake 9-11, 11-7, 11-6, 8-11, 9-11
Anaka Alankamony bt Laura Mylotte 12-10, 11-3, 11-7
[10] INDIA bt [17] ARGENTINA 3/0
Anaka Alankamony bt Maria Eugenia Bonilla 11-4, 11-4, 11-7
Joshana Chinappa bt Cecilia Cerquetti 11-6, 11-3, 11-4 (19m)
Dipika Pallikal bt Antonella Falcione 11-8, 11-7, 11-8
Final positions: 1 India, 2 Ireland, 3 Argentina