On Monday, we saw how Felix Auger-Aliassime's put up a great fighting display against Marton Fucsovics in the first round of the Vienna Open. He gave a great account of himself even though the result didn't go his way. He ensured that his potential as a tennis player was seen by those who followed the match. Being one of them, I noticed something that struck me.
It was Felix's technique. It felt very familiar, like I had seen something similar before. Then I realized that the reason he was so familiar was his resemblance to Nick Krygios, the lanky Australian. The Canadian looks quite similar to him, although not as muscular. Not only in build, he resembles Kyrgios in some important components of his game as well.
Today it is exactly what we're going to look at, with an in-depth analysis of all of them. Each one of the parts were in action in the Round of 32 of the Erste Bank Vienna Open.
---
1. Go Big or Go Home
We have seen Nick Kyrgios just smashing balls all around the court. It's what that has got him most of his winners other than in service. We have also seen him overshoot the mark quite often. The number of unforced errors he hits is sometimes shocking, considering his calibre as a player.
Felix Auger-Aliassime seems to be a player of a similar mould. The first set of Monday's match saw him play some great, powerful shots to dominate the proceedings.
Kyrgios at his best does the same quite regularly. But, like there is always a yang to a yin, his evil side is the number of unforced errors. It was on full display in the second set, where he made 14 of them, 2 coming via double faults. The 'Go Big or Go Home' quality of Felix Auger-Aliassime is nearly identical to that of Nick Kyrgios.
2. Wristy Forehands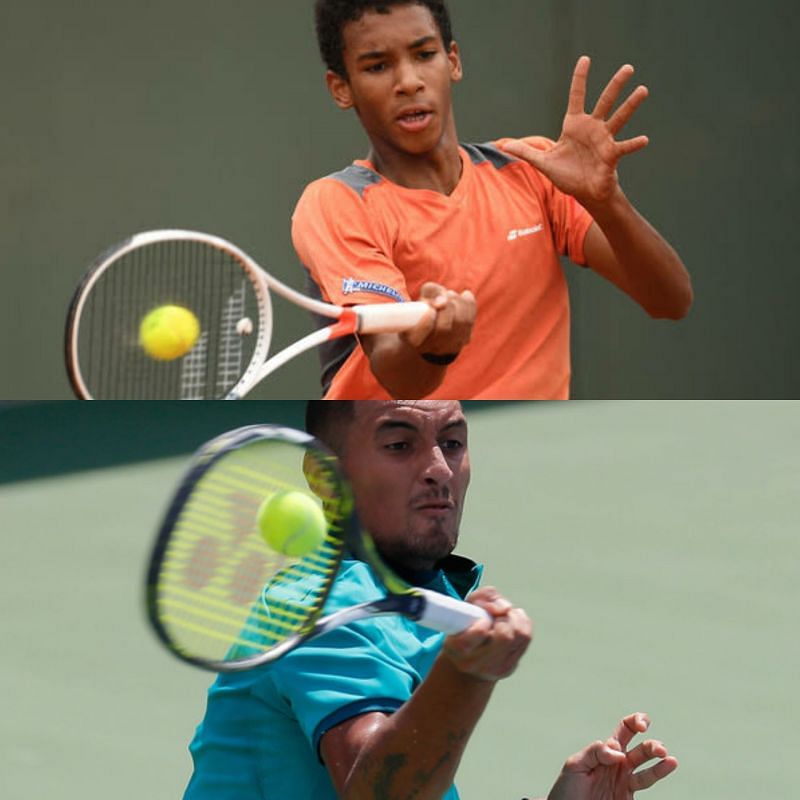 The strength of the wrist is one of the key aspects of tennis. All the power of shots generated comes through it the last, and then into the racquet. Nick Kyrgios has ticked off this box in his tennis attributes, so has Auger-Aliassime. Apart from that, the Canadian has managed to get the Australian's supple, flexible wrists.
This means that he can generate great angles, especially on the forehand side. Seeing the comparison between these players in the image above, you can agree that at the contact point the forehand grip and the trailing hand are almost of uncanny resemblance (but the shots are slightly different).
In the match against Fucsovics on Monday, Felix initially made amazing topspins, slices and passes off his forehand from highly varied angles, making life very difficult for his opponent. This is an art that Nick Kyrgios has displayed many times before, and he scores over the 18-year-old by sheer experience
3. Service Style and Technique
Yes, the forehand is a crucial aspect of one's game, but the service is of utmost importance. It is the final part in the comparison of Kyrgios and Auger-Aliassime today. In this image above, you will see that the serving technique is quite similar (the ball toss and contact is even more similar), but you can't take much from it as most players have such serves.
What you can look into, though, are the racquet speeds, angles and power generated on serve. These aspects in Auger-Aliassime's game definitely resemble those of Nick Kyrgios.
The serving style of these two players is also something to watch out for. They both try to take advantage of their height with big first serves. Sometimes these guys go for more powerful second serves as well. One could see it live on Monday in Vienna as Felix Auger-Aliassime made 2 double faults trying for such a serve, an act for which Kyrgios has been criticized and praised (when it goes right).
When both these players eventually meet on court, it's going to be a very tasty, potentially spicy contest.
Edited by Sudeshna Banerjee