The 2016 International Premier Tennis League, announced earlier this week, will see one of the tournament's three legs this season based out of India, with Hyderabad playing host to some of tennis' top stars, who will play each other in a truncated, quick format.
Former No. 1s Roger Federer and Serena Williams have both been confirmed to participate in the event, with former top ranked player Marat Safin also in the lineup; here's a look at some great matchups we would love to see:
Roger Federer (Indian Aces) vs Marat Safin (Japan Warriors)
Both are former World No. 1 players, albeit with varying levels of success. Roger Federer's inclusion in the IPTL 2016 lineup surprised many, especially considering the Swiss ace is in a long-term period of recuperation following a long, hard-fought run at Wimbledon this year.
He famously said he would be on an extended rest period to be back in full form in the 2017 season, and would return to play at the 2017 Rogers Cup in early January, but it has now been announced that Federer will be playing with his original IPTL team, the Indian Aces, after spending 2015 with the UAE Royals.
Federer and Russian ace Safin have a long rivalry – one that extends to 12 matches over their careers – and to say that it is slanted in Federer's favour is an understatement. The Swiss has won 10 of those, with Safin's last win over Federer over a decade ago – at the semi-finals of the 2005 Australian Open. Even that victory had been a laboured one for Safin, who struggled to beat Federer in five sets.
But of all the players here, it is Safin who could possibly challenge the great Swiss. Federer has beat the Russian across every playable surface, and therefore will have the upper hand here.
However, it remains to be seen how many ties Federer will play this season, given he played only a single tie – against Rafael Nadal last year.
Serena Williams (Singapore Slammers) vs Jelena Jankovic (Japan Warriors)
When two former top-ranked players take each other on, it is bound to be a good match. Serena Williams, who this year won her 22nd Grand Slam title, has a 14-match rivalry with former US Open finalist Jankovic, who is one of the few players to have been World No. 1 without ever having won a Grand Slam.
It has been two years since the two last faced off – at the Cincinnati Masters, with Williams taking a convincing 6-1 6-3 win.
Currently in the throes of a poor season, Jankovic had a season best finals finish at the Guangzhou Open, losing to Ukraine's Lesia Tsurenko in three sets. The talented Serbian will no doubt want to prove herself on the back of a slow season, and will have a powerful rival on the other end of the net. World No. 2 Serena Williams may have lost the top ranking this year, but won two Grand Slam titles – including Wimbledon, one that tied her for the Open Era record of most grand slam titles.
In fine form despite having struggled with a few injury niggles – particularly her shoulder, Williams proved beyond a doubt that she is perhaps the greatest player in tennis history, and could well win more titles in the coming season.
After having taken a break following her semi-final exit at the US Open, the IPTL will be a good opportunity for Williams to return to competition, but not with the rigors of the WTA Tour – and a former No. 1 would be the perfect rival for the iconic American.
The two were finalists at the US Open of 2008, with Williams winning her third title at that venue.
Kei Nishikori (Japan Warriors) vs Nick Kyrgios (Singapore Slammers)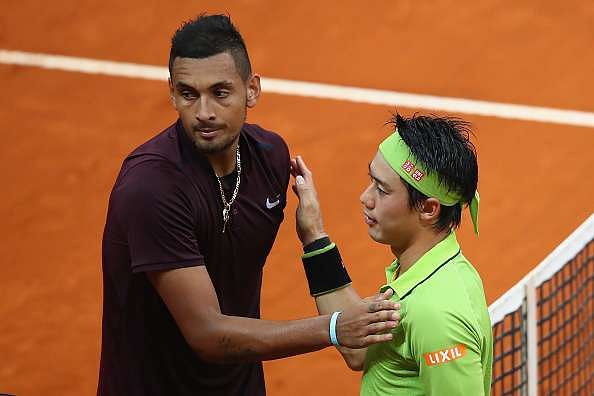 One of the most successful Asian players on the ATP World Tour – and the highest-ranked, Nishikori followed in the footsteps of Thai former Top 10 player Paradorn Srichaphan in giving Asia a top-10 singles player.
Currently World No. 5, 26-year-old Nishikori has had a particularly strong season. Most recently, the Japanese ace progressed beyond the round robin stages at the year-ending ATP World Tour – but that is an indicator, perhaps, of the singularly consistent 2016 he has seen.
After a quarter-final finish at the Australian Open, Nishikori picked up to win the ATP250 Memphis Open soon after, with a brilliant clay-court season ahead. After finishing in the quarter-finals with a loss to Rafael Nadal at Indian Wells, Nishikori finished in the finals in Miami – losing to Novak Djokovic, and then again at the finals in Barcelona, where he was runner-up to Nadal.
But perhaps one of Nishikori's best performances in the first half of the season came in the finals of the Madrid Masters, where he threatened to oust Novak Djokovic from the tournament – then did it again at the Italian Open semifinal.
After a finals finish at the Rogers Cup, Nishikori beat Gael Monfils and Rafael Nadal en route to an Olympic bronze, the first Olympic medal of his career.
Nishikori would then oust current World No. 1 Andy Murray from the US Open at the quarter-finals, locked in a three-hour, five set epic with the Scot, scalping a set off eventual champion Stan Wawrinka in the semi-finals.
Nick Kyrgios, the enfant terrible of the current sport, has also had a strong season, despite his on-and-off-court antics detracting from strong gameplay and what is doubtless strong talent and an acumen for the sport.
The 22-year-old, who does not have a full-time coach yet, won the Rakuten Japan Open this season, one of three titles he has won this year – each on hard court. Perhaps one of Kyrgios' biggest failings has been the young Australian's patchy form, which has seen him suffer surprise losses to players far lower-ranked than himself, and his attitude has caused him major problems – and fines levied by the ATP.
Earlier this year, Kyrgios was levied a suspension by the ATP after throwing a match against Germany's Mischa Zverev; that also saw him ordered to undergo psychological counseling, which the player is said to have accepted.
The two have played each other three times before, two of those this year. Nishikori was taken to three sets by a strong battle from Kyrgios at the Madrid Masters this year, with two of those sets going to tiebreak before the Japanese ace pulled back in the third.
Prodigious skill aside, it will be interesting to see two players so different in temperament – the quiet, stolid Nishikori and the aggressive, angry Kyrgios – take the court yet again.
Mark Philippousis ( Indian Aces) vs Marat Safin (Japan Warriors)
Former top 10 player Mark Phillippousis was known as the 'Scud' for his lightning fast powerful serves, and former World No. 1 was, for among other reasons, known for his. The prolific pair, both retired from professional tennis, both found success on the ATP Tour, but it is the more prolific Russian who takes the lead with 5 wins over Phillippoussis in the pair's 6 match history.
Phillippoussis only ever took victory over the Russian in their first ever match against one another – in 1999. But as one sided as that statistic may seem, the Australian has given Safin a hard contest in most matches they have played – taking at least one set to tiebreak in 5 of the pair's matches.
With two power-hitters taking centerstage, this one promises to be a strong contest.
Incidentally, the two have also faced off against each other at the IPTL before.
Martina Hingis/Daniel Nestor ( UAE Royals) vs Sania Mirza/Rohan Bopanna (Indian Aces)
We've heard about the Battle of the Sexes, but would this one be the Battle of the Exes? Sania Mirza and Martina Hingis were among the most successful women's doubles pair in modern day tennis till they announced their shock split in August this year. That split, several alleged, had been due to Mirza's flagging form.
But the Indian surpassed her previous form, going on to win the Cincinnati Masters with Strycova, and then winning back-to-back titles on the Asian leg of the WTA Tour. Those wins pushed Mirza to the sole No. 1 title, with the 29-year-old ending a second consecutive year as the top-ranked women's doubles player.
Mirza and Bopanna together managed to reach the bronze medal stage at the recently concluded Olympic Games in Rio, and have played with each other in the past.
Nestor and Hingis, meanwhile, are both Grand Slam winners and among the best in doubles tennis; a pairing between the Swiss and Canadian champion would be an interesting watch for fans.
Although tennis watchers have already seen Mirza and Hingis on opposite sides of the net since their split, the two also came together to play at the WTA Finals in Singapore. It will be interesting now to see the dynamic between the multiple Grand Slam winning former doubles pair.