With tennis' greatest and most top-10 players getting older, fans will now be looking towards a new generation of players to see what they can do with tennis. And the talent hasn't disappointed either, with several young teenagers excelling on the circuit this year and showing they are ones to look out for in the future.Disclaimer: We consider the hot-headed Nick Kyrgios one to look out for, but the young Australian had his breakout season this year. After having beat Rafael Nadal last year, in 2015 Kyrgios took victories over two top-10 Swiss players, one of them the Greatest of All Time.Beating Roger Federer at this year's Mutua Madrid Open, Kyrgios also beat Stan Wawrinka at the pair's Rogers Cup match.However, in addition to his skill, he has also displayed an inability to rein in his temper, which is something he will want to look to do considering King of Clay Rafael Nadal declined to play a match with him this year.Another talent who has already had her breakout season, but is still a talent to look out for is Swiss Belinda Bencic. She's already being compared to former World No. 1 Martina Hingis, who is considered a tennis prodigy, and she is also being coached by Hingis' mother, Melanie Molitor.Only 18 years old, Bencic has already won two WTA singles and Doubles titles.is already a juniors World No. 1, and currently at 14th spot in the WTA rankings, a rank that is only expected to rise.She's beat players far more experienced than herself - most staggeringly this year, Serena Williams. The American was not the only World No 1 Williams caught this year, as she upset former top players Ana Ivanovic and Jelena Jankovic as well.Considering the two have already had their breakout seasons in 2015, they will not be part of this list.
#5 Alexander Zverev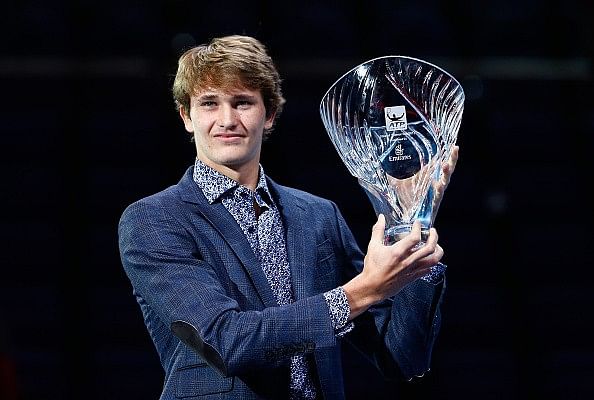 Alexander 'Sacha' Zverev is the youngest player in the ATP Top 100, currently ranked 83rd. The German, of Russian descent, is similar to his women's counterpart Ana Konjuh, with both players ranked 1st in the ITF juniors rankings the same year.
Winning his first ever ATP Challenger event last year, Zverev became one of the youngest ever winners of a Challenger title. He has done well at Grand Slams on the juniors circuit, reaching the finals of the French Open in 2013, managing a semi-final finish at the US Open that same year.
2014 was a good year for the youngster, who ended it with his first ever win at a masters tournament, beating higher-ranked Dutch ace Robin Haase.
This year has been especially good for the hard-working teen, who beat 60th ranked Sam Groth, and won the 2nd ATP title of his career at Heilbronn this year, just prior to which he moved into the top-100.
Courtesy his ranking, Zverev entered the main draw of a Grand Slam for the first time this year at Wimbledon, and took 50th ranked Teymuraz Gabashvili, who has over 13 years more experience than himself, in a five-setter.
He managed a quarter-final finish at a Masters tournament this year, eventually going down to the third-seeded Marin Cilic in close sets.
The 18-year-old, who idolises Roger Federer, has been noticed by tennis enthusiasts and spectators, and with defeats over players with more than a decade of experience over himself and is definitely a promising young talent in the tennis world.
The German's talents were recognised this year by the ATP, who awarded him the ATP Star of Tomorrow Award at the year-ending World Tour Finals.
#4 Ana Konjuh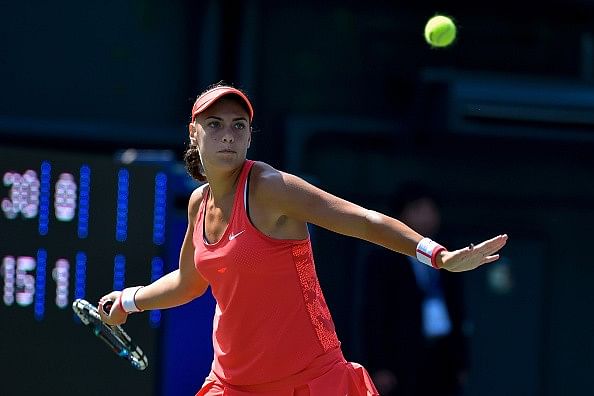 Another ace from Croatia, Ana Konjuh is the youngest player in the WTA top 100, having only turned 18 a few days ago. Although she was at a highest of 55th, she has since dropped to 82nd.She has had a prodigious start to her tennis career as a junior, however. At the year-opening Major, the Australian Open in 2013, a 16-year-old Konjuh won both the singles and doubles events, immediately catapulting her to the World No. 1 ITF junior rankings at the time.
In her debut year on the main tour in 2014, Konjuh immediately broke the top 100, and this year took her first ever singles title at the Nottingham Open, defeating the higher-ranked 28-year-old Monica Niculescu in the finals of the event.
17 at the time of that win, Konjuh became the youngest player in nearly a decade to win a title on the main tour.
#3 Donna Vekic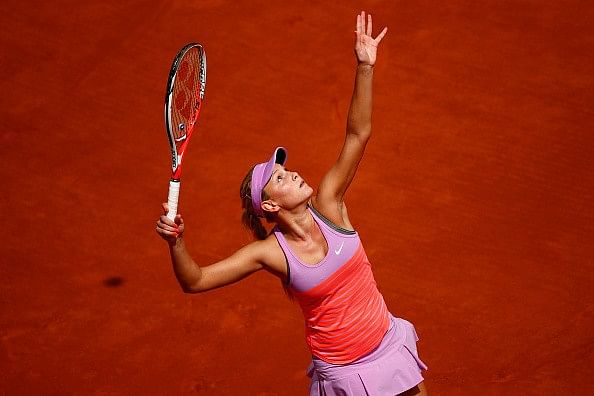 Croat teenager Donna Vekic reached the finals of the Tashkent Open in 2012 when she was only 16 years old, a tournament she entered as a qualifier, and which was her first appearance in the main draw of a WTA tournament.2013 was a lackluster year for the talented youngster, who entered the main draws of the Australian Open, French Open, Wimbledon and the US Open, and only at Flushing Meadows did she manage to progress past the first round.She's taken victory over several more experienced players, beating Kimiko Date-Krumm and top-10 player Garbine Muguruza last year, and managing to beat former World No. 2 Petra Kvitova in straight sets.At that year's Malaysian Open, Vekic took her first ever WTA title, in the process beating Dominika Cibulkova.Vekic has done well against multiple top-20 players this year, with her best results coming at the 2015 edition of her first ever tournament - the Tashkent Open, where she eventually went down to Nao Hibino of Japan. Although the teen has been more in the news for her personal life and an on-court incident involving Nick Kyrgios this year, she has an extremely promising career ahead of her.
#2 Thanasi Kokkinakis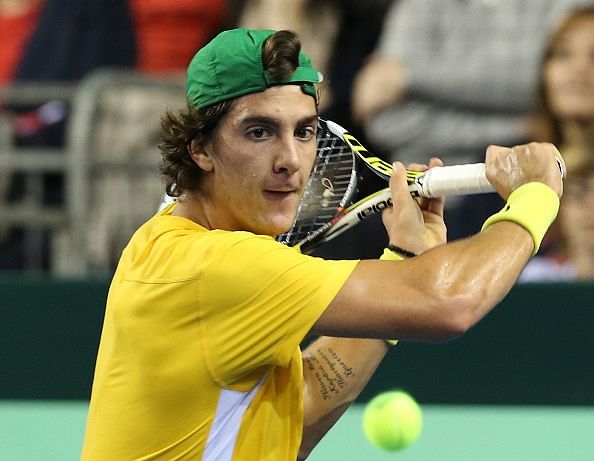 Australia appears to be rife with young tennis talent, and Thanasi Kokkinakis is testament to that fact. 1996-born Kokkinakis did well on the juniors circuit, and at 17-years-old progressed to the finals of the 2013 Australian Open, facing fellow Australian talent Nick Kyrgios.
Although he eventually lost that match, he was in it with a fair chance, with two set points in the first set before he eventually choked against Kyrgios.
2013 was a good year for the young teen, who made his way to two more Grand Slam finals, winning the boys' doubles at Wimbledon, and making the boys' singles finals at the US Open, the year's final majors tournament.
Kokkinakis sat out playing on the professional circuit in 2014, choosing instead to train towards the men's game.
Unlike his compatriot and one-time partner Kyrgios, Kokkinakis is yet to beat a top-10 player, although he has faced Rafael Nadal and Novak Djokovic on the ATP Circuit this year. He has, however, managed to beat or seriously test some significantly more experienced players.
On the ATP Tour this year, he has managed victories over Italian giant-slayer, 31st ranked Fabio Fognini, who was responsible for Rafael Nadal crashing out of the 2015 US Open. He has also beat his own countryman Bernard Tomic, who is now a top-20 player, in addition to Argentine Juan Monaco.
Although he was unable to beat him, Kokkinakis met big-serving Croat Ivo Karlovic at the Delray Beach Open this year and managed to take each of the pair's two sets to set point before eventually losing to him.
Kokkinakis also represents his country at the Davis Cup, and has done so as a junior as well, with his team taking eventual silver in 2012 against an in-form Italian side.
He received wild card entries into multiple slams last year, and with his skill is definitely one to look out for.
#1 Borna Coric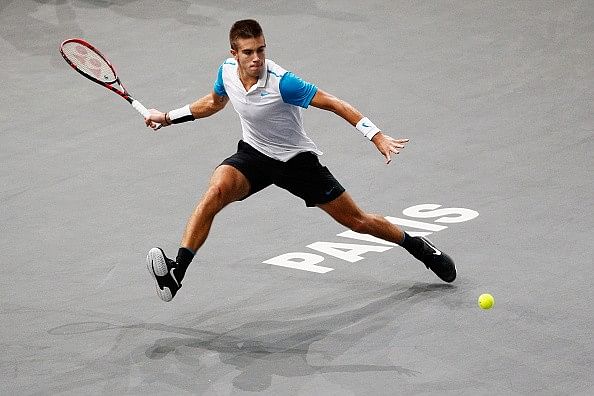 The young Croat made his professional debut in 2013. To put that in perspective, Roger Federer had won each of his current 17 Grand Slams by then.
19-year-old Coric is somewhat of a giant slayer already. He took on Rafael Nadal at the Swiss Indoors tournament in Basel in 2014 and did not just take victory – he won in straight sets. Against a former World No. 1 at 17 years old.
This year, Coric took on World No. 2 Andy Murray at this year's Dubai Duty Free Championships – and again, did not only win, but won in straight sets, 6-1, 6-3. Going into the tournament unseeded, Coric managed to progress to the semi-finals of the Masters tournament this year after an all too comfortable victory over the Scot.
Coric has stretched several more experienced players this year, and if his current results are any indication, he has every chance of winning a Grand Slam in the future.