Ain't no Sunshine when you lose!!
738 //
15 Mar 2012, 01:58 IST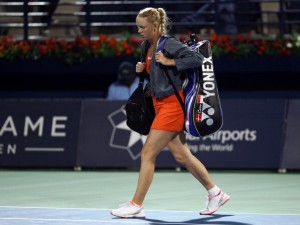 Twelve months ago, Caroline Wozniacki was sitting pretty on top of the tennis world. The Dane had just won the Indian Wells title to cement her no. 1 ranking. The lack of a Grand Slam title was a still a glaring hole in her resume, but most people agreed there was a lot of potential upside for her.
Twelve months later, no one is sure anymore. The Dane, nicknamed 'Little Miss Sunshine' for her sunny disposition, is sliding faster than you can say Rory McIlroy. On Tuesday, Wozniacki was beaten in straight sets by Ana Ivanovic in the fourth round in Indian Wells. The loss will send her down to no. 6 in the rankings (and possibly no. 7 depending on how far Marion Bartoli goes this week).
"Ana just went on a roll," Wozniacki said. "She started to hit the ball harder and it was going in, and I stepped back a little bit, and it gave her the time to do what she wanted. She just played better than me today. I need to get back and practice on a few things and hopefully get back stronger for Miami next week.
"Right now I'm just thinking about Miami, then we'll see what's going to happen. Sometimes you take it for granted when you're winning. You do really well for a long period of time, and you actually realize how well when you lose a few matches. You're like, 'Ah, it actually felt pretty good.'
Wozniacki's game has been built on consistency – the lack of weapons in her arsenal is apparent when she takes on the big hitters like Serena Williams, Kim Clijsters and Petra Kvitova. But of late, Wozniacki has been finding out there are many players outside the game's elite who have the game to beat her.
Take a look at the list of players who have beaten her since Wimbledon – Roberta Vinci in Toronto, Christina McHale in Cincinnati, Agnieszka Radwanska in Sydney, Lucie Safarova in Doha, and Julia Georges in Dubai. Wozniacki is 9-5 record through her first five events this season; she went 19-3 through the same period in 2011.
Besides her counterpunching game, Wozniacki has also been criticized for playing a relentless schedule (one which saw her play a hard court event the week before Wimbledon) and her reliance on her father as coach. In the last 9 months, there have been two coaches who have come and gone. First, there was a mystery coach who Wozniacki said would work behind the scenes with her. He parted with the Wozniackis quickly and, to date, his identity remains a mystery. In December, Ricardo Sanchez, former coach of fellow-slamless no. 1 Jelena Jankovic, was hired but he was out after two months too, saying he did not have the freedom to work with Wozniacki with her father constantly around.
Pitor Wozniacki has done well to take his daughter this far in the game but if Wozniacki is to turn into a Grand Slam champion, she may need to cut the umbilical cord from her father and look for professional coaching help, like Andy Murray did. Good friend Radwanska severed ties with her father last spring, and has since blossomed. Next week, the Pole will be ranked higher than Wozniacki for the first time.
Wozniacki is still young (she turns only 22 in July), but from the leader of her generation, she is now sitting behind Victoria Azarenka, Kvitova and Radwanska in the pecking order. For the sun to shine again on the Dane, she needs to step forward and take charge. And start winning again!!