Aircel Chennai Open 2015 Day 7: Stan Wawrinka plays himself into the Chennai Hall of Fame
4.55K //
12 Jan 2015, 19:08 IST
A three-time champion. A 24-4 win-loss record at the event. A 13-match January winning streak, making him the hottest player on the ATP Tour in January. Stan Wawrinka elevated himself to new heights with a second consecutive crown here in the south Indian port city, as he emerged with the winner's cheque and trophy in the men's singles of the 2015 Aircel Chennai Open.
Wawrinka began the tournament tied with Carlos Moya (2004-05) and Marin Cilic (2009-10) as two-time winners of this event. He's now on his own. He also matched their feats of having done won the trophy in back-to-back years. Beginning the tournament tied with Moya with a 21-4 win-loss record, he's put distance between himself and second place there too.
It was a victory that was as smooth as his buttery backhand – a straight sets victory over qualifier Aljaz Bedene of Slovenia that took all of 69 minutes. A clean performance accomplished with a minimum of fuss, a break in each set proved more than enough for the top seed to come through and clinch the tournament at a canter. Wawrinka failed to drop a set all torunament; it was a performance brimming with confidence that spoke volumes about a player who seems to be at ease with the fact that he is now amongst the elite in men's tennis.
"It's an amazing atmosphere," Wawrinka said as he accepted his trophy. "It's one of the reasons I come back every year. It was a great final. I'm really happy with my level."
Bedene, playing in his first ATP Tour final and his eighth match in as many days, didn't play badly. But he had absolutely no chance once the opening pleasantries of the first few games were over and done with.
Tournament director Tom Annear, speaking during the presentation ceremony, praised Bedene for his outstanding run at the tournament, but when it came to Wawrinka he simply said, "Stan, you're the man, again!"
Those four words just about encompassed the dominance that Wawrinka displayed not just in the final, but right through the tournament. His semifinal showing on Saturday against world No. 22 David Goffin of Belgium was particularly striking, and evidence of the newfound maturity that he has imbibed within himself.
During the week, Wawrinka was simply at another level compared to those around him. Croatia's talented teenager Borna Coric was expected to provide the Swiss Superman with a stern challenge, but he was rather comfortably brushed aside. Gilles Muller was a tricky opponent with his serve-and-volley game, but he was easily dealt with, barring a minor blip in the second set. Goffin was expected to take him all the way with his court speed and aggressive shot-making, yet Wawrinka pushed it up a gear to render the Belgian helpless, especially in the second set.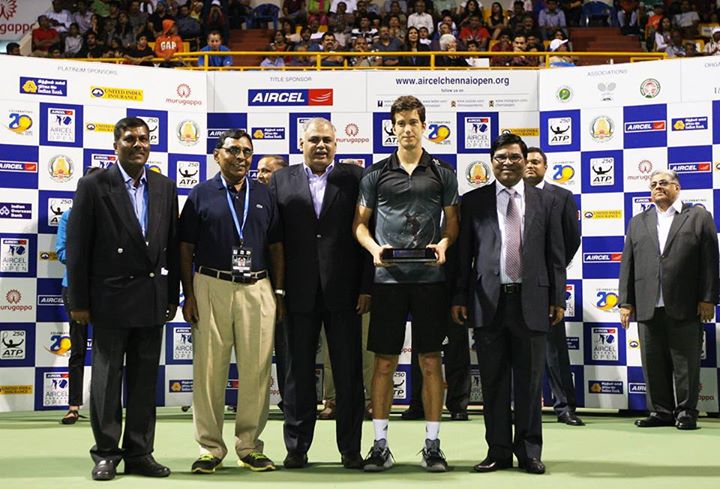 And in the final, Bedene, who had beaten seeds 2, 5 and 3 en route to the final and was looking to become the first player to beat the top three seeds to win a tournament, found Wawrinka to be a summit he could not scale. The simple truth was he got outclassed in every department; anything he could do, Wawrinka could do better. The Slovenian did not just find the door firmly shut; Wawrinka had it bolted, locked, chained up and had the key thrown away in the far reaches of the Indian Ocean.
But the Slovenian had a memorable week nevertheless. He was the Spanish slayer at this year's Aircel Chennai Open, accounting for world No. 14 and second seed here Feliciano Lopez, World No. 36 and fifth seed Guillermo Garcia Lopez and World No. 15 and third seed Roberto Bautista Agut in succession to reach his first tour final.
"It's been a great week," said Bedene. "I guess the hard work pays off. It's been my favourite tournament now for the third year and I'm looking forward to coming back next year. Well done to Stan. He played amazing today."
You could also forgive him for being tired and a little anxious considering it was his first Tour final. "I was a little bit tired. Also, since it was my first final, I could not even get much sleep, I was up the whole night with excitement."
This was by far his best showing at an ATP Tour event, and considering the circumstances, the runner-up finish should provide Bedene with a lot of confidence going forward.
No seventh heaven for Leander Paes
Jonathan Marray and Yen-Hsun Lu walked away with the trophies in the men's doubles, upsetting the top seeds Leander Paes and Raven Klaasen. With a full house cheering them on – correct that – roaring them on, Paes and Klaasen could not quite find their rhythm on Sunday evening, going down in straight sets to Lu and Marray who played a very solid game.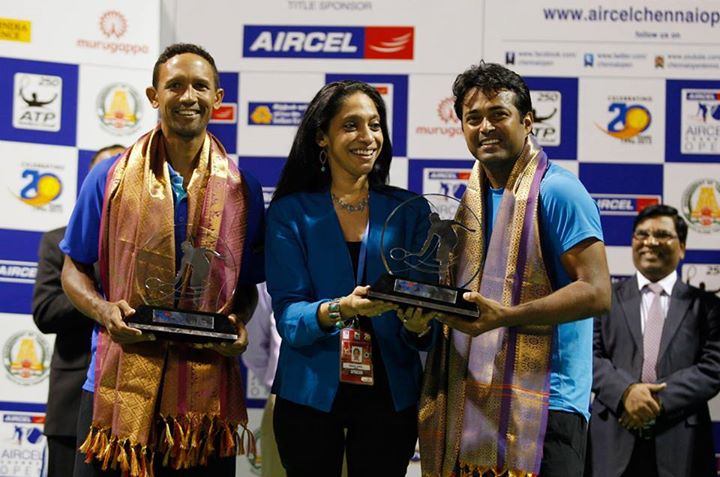 This is the third doubles title for Taiwan's Lu, who incidentally won his first here 10 years ago in 2005 alongside Germany's Rainer Schuettler, while for Marray, it was his second triumph after the win at Wimbledon 2012 with Frederik Nielsen.
Meanwhile, this was the first ever loss in a doubles final for Paes here at the Aircel Chennai Open; he had won his previous six (1997-99, 2002 with Mahesh Bhupathi and 2012 with Janko Tipsarevic).
"They went for broke, and it really paid off for them today," said the 41-year-old Indian veteran. "It's been a great tournament for us. I really love playing with Raven."
Final thoughts
The 2015 Aircel Chennai Open was, in a nutshell, about Stan Wawrinka. Were we going to see the fearless 'Stanimal' or the self-doubting Stan? Were the accomplishments of the previous year going to be a burden on him or would he carry those stripes with pride?
We got our answer at the end of it all, as Wawrinka played a brand of tennis that can at best be described as 'uninhibited'. He never seemed to doubt himself at any point this week. He seemed measured and calm during the tricky moments of his matches, and never dug himself into a hole with any passive play.
He still maintains that Novak Djokovic, Rafael Nadal and Roger Federer are all a step above the rest – they are, after all, winning almost every tournament on offer, especially the Grand Slams and the Masters 1000s – but that's possibly down to him being a reclusive champion. You are never going to get the kind of talking-himself-up style comments from Wawrinka that you get from, say, a Federer.
But perhaps, more than what he himself said, it was what his final opponent had to say that carried the greatest weight of all.
"I don't want to stop here, I just want to raise my level to the level of Stan's game," said Bedene.
Bedene aspires to be like Wawrinka, basically implying that the World No. 4 has now come to symbolize a certain benchmark in tennis, a benchmark that was previously reserved for the three horsemen mentioned above. Playing the best tennis of his career, Stan Wawrinka is now a role model for other players, and his win in Chennai this week merely reinforced that fact.