Aircel Chennai Open 2015 Day 2: The charismatic Feliciano Lopez and the dashing of Indian hopes
3.89K //
07 Jan 2015, 15:42 IST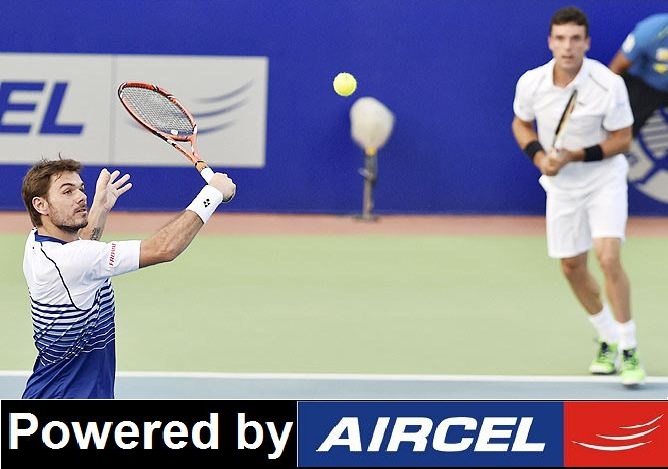 After having heard from the top seed, the crowd at the 2015 Aircel Chennai Open got to see the main man in action. There was disappointment in terms of Indian interest in the singles, but some of the veteran stars managed to make up for that. Also, a chance to interact with some of the players at an informal gathering made it a whirlwind day of travel on day two of India's only ATP World Tour event.
Stan makes first appearance on court
The "Come on Stan!" chants returned in full voice at the SDAT Tennis Stadium in Chennai as the defending singles champion and the top seed here, Stan Wawrinka, took to the court for the first time this year. However, it was for a doubles match, as he teamed up with tournament third seed and world No. 15 Roberto Bautista Agut of Spain.
The Swiss-Spanish pairing looked good, eventually prevailing in the match tie-break over their seeded opponents, Johan Brunstrom of Sweden and Nicholas Monroe of the United States.
There were some lapses of concentration from both Wawrinka and Bautista Agut in the second set that allowed their opponents to level things up. Wawrinka during those moments ended up looking at his box quite a few times with a rather sheepish grin, seemingly in bemusement at some of the unforced errors he was making.
Despite that hiccup, the crowd was delighted to see the favoured pair emerge winners in the end, which resulted in a loud cheer resonating across the stadium (quite big for day 2 and a first round doubles match).
Feliciano Lopez interacts with the press
Meanwhile, the No. 2 seed in the singles draw, Feliciano Lopez was having his press conference in the media room when the loud cheer went up at the conclusion of the above match. It didn't manage to provide too much of a distraction though as the 33-year-old Spaniard indulged in a very candid, forthright discussion to keep the folks in the media room engaged.
On the very first question asked of him, about his age and how he kept up with the young guns, he rather cheekily replied, "So you think I'm old yeah?"
On a serious note, he did admit to the muscles being sorer and stiffer these days and how he consciously looks to do more fitness drills rather than tennis drills. He emphasized that the off-season in particular was the challenge, for he could no longer indulge in excesses as he might have done in his younger years. He did say that there was no way around it if he had to compete with the best in the game today.
Lopez also explained that if he could match his performance from last year and remain in the top 15, he would be very happy. He vouched to remain aggressive, playing his stylish brand of serve-and-volley. While on the subject, he revealed how slower courts and heavier balls had brought the game to the baseline, something he said he was not particularly happy with as he was someone who believed in variety, in different types of players being present, and not all of the same type.
However, he admitted that he didn't foresee a revival of the declining art form unless there was a conscious decision to change the nature of the courts and the balls.
Recounting fond memories of the Davis Cup, Lopez said the win away at Argentina in 2008 was one of his most memorable tennis moments. He also shed light on his years growing up in Barcelona at the National Training Centre in Spain, about how players such as Carlos Moya, Sergi Bruguera and Albert Costa had given his generation a set of heroes and somebody to aspire to, and all the exchanges that he had with them.
These were the players who showed young Spaniards the way, showed them that it could be done, and provided them with the inspirational spark through their respective careers.
The Aircel player party rocks on
After a fashion show, a poolside party and numerous bartender sessions, the Hyatt Regency was host to another evening party, this time hosted by the title sponsors Aircel. In attendance were the players, top executives from Aircel and other distinguished guests specially invited for the event. The telecom major had also extended invites to a few chosen customers of theirs besides other media guests and socialites.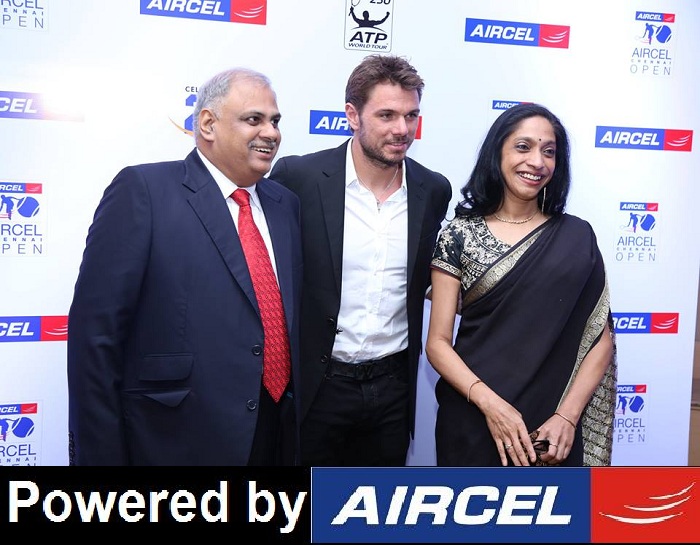 Wawrinka was rather expectedly the cynosure of all eyes when he entered. Looking quite dapper, the Swiss man was easily the best dressed of the players and he was also the fastest to exit, after a brief stay and chit chat – quite possibly to catch up on some rest after his doubles encounter, with a very important match against talented Croatian teen Borna Coric on Wednesday.
Belgian David Goffin and last year's runner-up Edouard Roger-Vasselin of France were also present. Goffin in a rather crisp white shirt to match his sparkly eyes looked composed and said he was looking forward to playing his first game tomorrow. After the wrist injury and subsequent return to the tour last year, he mentioned that it was good to be back and that he hoped to continue his good form this year.
Roger-Vasselin, after the highs of last year, exited at the first hurdle after big-serving Gilles Muller of Luxembourg sent down 29 aces to neutralize the Frenchman on Monday. He was expectedly disappointed and on being asked what looked like blisters on his hands during the match, he just stuck out his right hand exclaiming, "You see that, still red man! Yeah it was tough to play yesterday. The heat and humidity was affecting and yes, lot of pain."
He was there at the Davis Cup final too between France and Switzerland last year, on the bench as a reserve. I asked him if he was happy for his good friend Stan to have won the title, to which he quickly replied with a smile, "No! We are friends, but when it comes to Davis Cup, I cannot be happy". He also revealed that besides his hometown football club of Nantes, he was an Arsenal supporter, though he was rather stymied on his views on Arsene Wenger.
Indian tennis legend Vijay Amritraj's rich voice and laughter could be heard echoing around the hall as he shared a quick moment with almost everyone present. Channel [V] VJ Anuradha Menon, perhaps more popularly known by her alter ego 'Lola Kutty', was also amongst those present.
Local band The Speakeasy Poets were the entertainment for the evening as they dished out a few memorable numbers such as 'Roadhouse Blues', 'Layla' and 'I Shot the Sheriff', amongst others.
India Inc. comes to a stop in the singles
The three Indians in the main singles draw – Somdev Devvarman, Ramkumar Ramanathan and N. Vijay Sundar Prashanth – were all knocked out in the first round. Somdev was beaten by Yen-Hsun Lu, while Ramkumar was subdued by Tatsuma Ito of Japan. Prashanth, who had surprised everyone by beating Yuki Bhambri and Yulia Marchenko in the qualifiers to make it here, found 21-year-old Czech Jiri Vesely a challenge too steep, especially considering he was playing his third match in as many days.
But the veteran warrior that is Leander Paes was triumphant, progressing to the second round with his new partner Raven Klaasen of South Africa. The pair are the top seeds in the doubles and they notched up a comfortable win in the last match of the day out on Stadium Court to send the crowd home happy.
What's up on Wednesday?
The action heats up on Wednesday as top seed Wawrinka battles young starlet Coric. There is a difference of close to 90 in their ranking places and a decade in their ages, but this match-up could be much closer than what those stats indicate on the outside.
We will also see Goffin for the first time and in doubles action, wild cards Mahesh Bhupathi and Saketh Myneni will be last on court providing home interest.