Aircel Chennai Open conducts Kids Clinic in association with Casa Grande
1.96K //
08 Jan 2015, 17:37 IST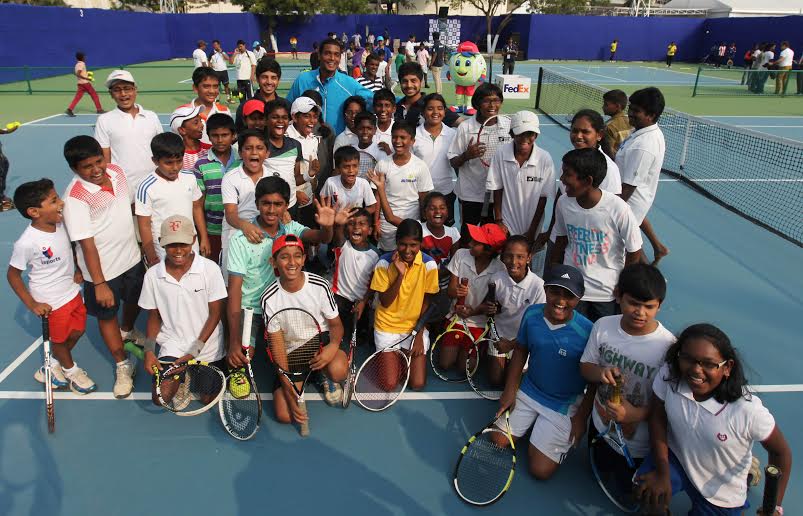 Chennai, 8th January 2015:
Aircel Chennai Open in partnership with Official Real Estate partner, Casa Grande Private Limited today successfully conducted a special tennis clinic for more than 150 children with professional tennis players in the afternoon on Practice Courts 2 & 3 of the SDAT Tennis Stadium, Chennai, the venue of the India's premier and South Asia's only ATP Tour event.
Top tennis stars Jonathan Marray, Gilles Muller, Ramkumar Ramanathan & David Goffin engaged and trained their young fans which included kids from the Magic Bus India Foundation, the 'Official Charity Partner' of Aircel Chennai Open 2015. The session also saw several children from various TNTA Academies in action.
The tennis clinic is a distinctive opportunity for aspiring youngsters to hone their skills with personal interactions by professional Indian and international tennis players. As part of the activity, the children worked on warm-up exercises, various drills, techniques and hit balls with the pros.
About Aircel Chennai Open 2015
The USD 450,000 Aircel Chennai Open, owned by IMG and operated and organised by IMG Reliance, is India's and South Asia's only ATP World Tour event. Started in 1996, by IMG, a global leader in sports management and marketing, the event has completed 20 successful years of existence, branding Chennai and India on the global tennis map thus creating a legacy of sorts of promoting international tennis in India. Winner of the prestigious ATP's Player Services Award of Excellence (2006) for its outstanding organization and wonderful hospitality towards the participants and ATP's Best Marketing Award (2008), the tournament has acquired the status of a much sought-after tennis event for both players and fans alike in the International tennis circuit. The 20th edition of the event in India and 19th in Chennai will be held from 5th – 11th January, 2015 at the SDAT Tennis stadium in Nungambakkam, Chennai. The tournament is conducted in Chennai with the active collaboration of the Sports Development Authority of Tamil Nadu (SDAT) and Tamil Nadu Tennis Association (TNTA).
About Casa Grande
Casa Grande Private Limited is a Chennai based real estate enterprise started in 2004 driven by a strong belief in building aspirations and fulfilling them. This is manifest in the 2.5 million Sq.ft that it has developed and sold till date. Indeed, two thousandfive hundred fulfilled aspirations across sixty two projects is a paradigm in itself.Casa Grande defines designs and develops quality livings spaces and operates in niche residential segments like luxury villas and apartments in Chennai, Bangalore and Coimbatore.