Alisa Kleybanova returns to tennis after beating cancer
717 //
02 Mar 2012, 11:30 IST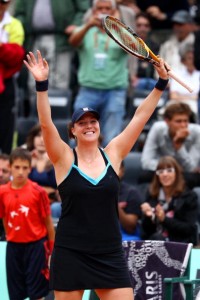 Lance Armstrong, Mark Herzlich, Dave Callaghan, Corina Morariu. These are players who have shown that with steely determination, unflinching courage and unswerving self-belief, it is possible to defeat even the most deadly of opponents – cancer. The cyclist, the New York Giants linebacker, the cricketer and the tennis player let their incomparable passion for life pull themselves from the deepest of dungeons to make a return to the sports world that they love so much.
Add Alisa Kleybanova to that list. The young Russian tennis player, bubbling with life, had plunged into a life of uncertainty on her 22nd birthday on 15th July, 2011. That day, she publicly made the announcement that she was taking an indefinite break from tennis, having been struck down by Hodgkin's Lymphoma, a form of cancer. And now, seven months later, the tenacious girl has finally conveyed the news that her treatments have been successful and that she is now set to return to the sport.
The feisty player has been one of the promising tennis talents to come from the rich tennis reserve of Russia. A prolific junior player, she won three doubles Grand Slam titles in juniors, the first of which came with India's Sania Mirza at Wimbledon in 2003.
Dubbed as the modern day version of American star Lindsay Davenport, the budding talent made a smooth transition to the senior circuit. She ascended to a career high ranking of 20 in singles and 10 in doubles in 2010. She also capped her best year with two singles titles at Kuala Lumpur and Seoul.
An aggressive player with a heavy forehand, she had an even better career in doubles with 5 title wins. After missing both Roland Garros and Wimbledon last year, she made the shocking revelation that she was suffering from cancer and was undergoing treatment in Perugia, Italy. She talked about having her family and friends around in the toughest time of her life and about remaining optimistic and strong and overcoming the situation.
And has she been strong! Her story of victory has truly delighted her fans and sports aficionados around the world. She completed her treatments in December and further tests in February proved that she can once again return to the tennis courts that had once been her home.
In an emotional message to the Women's Tennis Association (WTA) from Florida, she thanked everybody involved in her recovery from the bottom of her heart and told how wonderful it had been to start training again. Even though it had been physically gruelling for her initially, she talked about how she loved the intense competition in tennis and was looking forward to her comeback with all her heart.
Here is an excerpt from her statement – "I have started to train and right now I'm in Florida playing tennis again!!! It was physically really hard in the beginning, but it was so emotional that I didn't want to get off the court :) This is just amazing, I'm working out every day now and enjoying it so much more than before!"
Kleybanova has been awarded a main draw wildcard at the Sony Ericsson Open in Miami beginning 20th March. Due to her illness, her ranking has plummeted to 167 in singles, but with her indomitable spirit, there's no doubt that she'll start climbing her way up soon.
Here's wishing Alisa good luck on her journey back.