ATP Dubai - Federer triumphs over Murray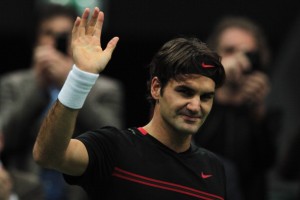 Roger Federer won his fifth Dubai Duty Free Tennis Championships on Saturday with a 7-5, 6-4 win over world no. 4 Andy Murray in the final.
The title was the 72nd of the Swiss' long and illustrious career and his second this year already. Murray had knocked out world no. 1 Novak Djokovic in the semi finals but was unable to withstand the barrage of power and finesse from the 16 time grand slam champion.
"It's great. There is no substitute to confidence," said Federer. "I've played great. It's not just that I've taken my chances. I really thought I played a good tournament here. I played a great tournament in Rotterdam. The end of last year was exceptional, so it's nice to also win a tournament outdoors now. That gives me hope that I can carry it over to Indian Wells and Miami."
"The match was close I think in both sets," Federer said in his post match interview. "I just gave myself more opportunities than Andy did overall. I felt really good out there tonight. I felt calm knowing what I wanted to do. I think the surface, I used it to my advantage, which in the last year's final I couldn't or didn't. I think that was a big thing tonight as well."
"I think second set he played better than me," the Scot commented. "For sure I made a few too many mistakes in the second, and he was playing a lot more aggressive than in the first set. But overall it was a good week. It was perfect preparation for the stretch over in America. Got through very tough matches against top, top players, so it was good."