ATP Indian Wells - Isner and Federer to meet in final
810 //
18 Mar 2012, 10:24 IST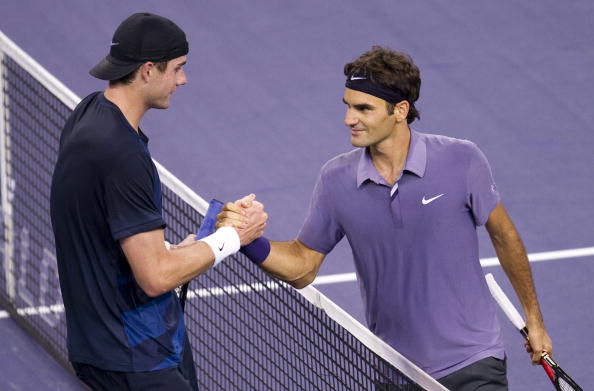 There won't be another final between Novak Djokovic and Rafael Nadal this week at the BNP Paribas Open in Indian Wells. Instead, American John Isner will take on Roger Federer after the two posted upset wins in the semi finals on Saturday.
First up, world no. 11 Isner hit 20 aces en route to beating the top ranked Djokovic 7-6, 3-7, 7-6 to reach his first masters series final. The win also moves Isner into the world's top 10 rankings fir the first time next week and should he win on Sunday, he will overtake Mardy Fish as the top ranked American male player in the world.
"That's why I play this game, to be able to enjoy moments like that," commented Isner. "The stadium was packed, wasn't a seat in the house, and everyone was on their feet, cheering for me, too. It was very special when that last ball went by him and I knew I had won the match. "
"With that serve and with that forehand he's got the ability to be a Top 10 player," commented Djokovic. "He had that already a couple years back. It's just a matter of really trusting your instincts and your strokes and your quality. I think it all came together for him now, and he's deservedly in the Top 10 now."
Federer scored a straight sets 6-3, 6-4 win over Nadal, the man who has tormented him several times in the past.
Federer imprvoes to 10-18 lifetime against Nadal and will be gunning for his fourth Indian Wells crown and fourth title of 2012 on Sunday.
"I have had doubts in the past against Rafa," Federer admitted. "It's just normal, I guess. If you get destroyed like in the finals of Paris [in 2008], next time you play him around, which for me unfortunately was the Wimbledon finals, that epic one we had, of course you'll be affected a little bit, even though now you are on your favorite surface potentially. But it did take maybe potentially take me a set or two to shake that off, and then it cost me the match in the end. So sometimes I've gone into matches with Rafa where I knew it was gonna probably difficult because either maybe he's coming in on an incredible hot streak or I'm coming in from an end where I know I probably shouldn't be winning this match tonight just because I'm not feeling right, my game is not up to par. I've maybe come through some other matches against other players, but against Rafa it's a different story."
Isner beat Federer in the Davis Cup earlier this year and will look to that match for confidence as he takes on the 16 time Grand Slam champion.
"I knew going into this year that I had the tools and I had the game to be able to at least compete with these guys," he said. "I take the court no matter who I'm playing expecting to win and believing to win. There's really no reason to take the court if I believe otherwise. The win against Roger was very big for my confidence, and obviously this one will be very big for my confidence, also."