ATP Miami - Djokovic, Nadal, Murray reach quarter finals
677 //
28 Mar 2012, 10:09 IST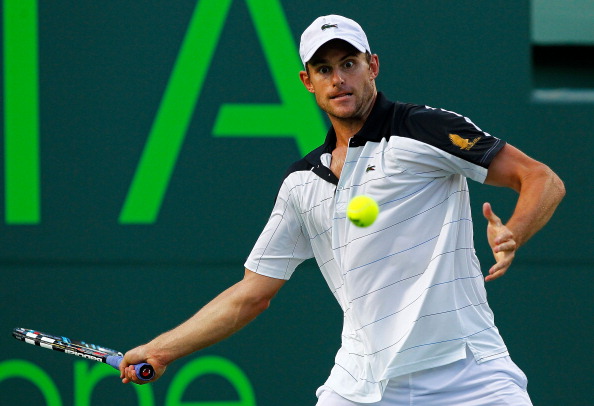 The favourites all won their fourth round matches at the Sony Ericsson Open in Miami, but a day after beating Roger Federer, American Andy Roddick came crashing back to earth losing to Juan Moncao.
Second seed Rafael Nadal beat no. 16 seed Kei Nishikori of Japan 6-4, 6-4 in two hours and 11 minutes.
"The beginning was a very tough match for me," commented Nadal. "I think I start playing more aggressively. At the end of the first set, I felt that I started to win my serves easier than him. I believe that I had more the control of the game. In the second set I started well, 3-0. Just [at] 5-3, I didn't play my best game there and he broke me. [I was] happy to have the break back later and finally win the match."
Nadal will now meet sixth seed Jo Wilfred Tsonga, who beat No. 19 seed Florian Mayer of Germany 6-3, 6-2.
Eighth seed Mardy Fish beat No. 12 seed Nicolas Almagro of Spain with a battling 6-3, 6-7(2), 6-3 and will meet No. 21 seed Juan Monaco, who beat Roddick 7-5, 6-0. "There are a lot of positives out of this week," commmented Roddick. "I feel healthy. I played matches, and I was running hard. My lack of any sort of fitness regime on my leg is apparent, but that's something that is a matter of work. It's not a matter of health. That's something that's in my control. I just didn't have it physically. I got to about 4-all, and I'm out of shape. That's it."
World no. 1 Novak Djokovic is also through to the quarter finals after beating Richard Gasquet 7-5, 6-3. "I have high goals and expectations, but I take one match at a time," commented Djokovic. "Now it's quarter-finals; del Potro, Ferrer, it's gonna be very difficult whoever comes out as winner from that match. But I'm ready. I feel physically I'm fresh, fit. Mentally I'm always there. I always want to win every match that I play."
Britain's Andy Murray is also through to the last eight beating Frenchman Gilles Simon 6-3, 6-4. "I felt fine from the start of the match," Murray said. "Probably the first game probably helped with that, as well, because saved a couple of break points, there was a lot of long rallies, a lot of moving. After that, kind of loosened up a little bit; felt much better. So that first game, even though it was like 17, 18 minutes, was probably a good thing after not playing for a few days."
Men's Singles – Fourth Round
[1] N Djokovic (SRB) d [17] R Gasquet (FRA) 75 63
[2] R Nadal (ESP) d [16] K Nishikori (JPN) 64 64
[4] A Murray (GBR) d [13] G Simon (FRA) 63 64
[6] J Tsonga (FRA) d [19] F Mayer (GER) 63 62
[8] M Fish (USA) d [12] N Almagro (ESP) 63 67(2) 63
[9] J Tipsarevic (SRB) d G Dimitrov (BUL) 76(3) 62
[21] J Monaco (ARG) d [31] A Roddick (USA) 75 60