ATP Miami - Nadal moves on; Murray gets walkover
662 //
26 Mar 2012, 10:20 IST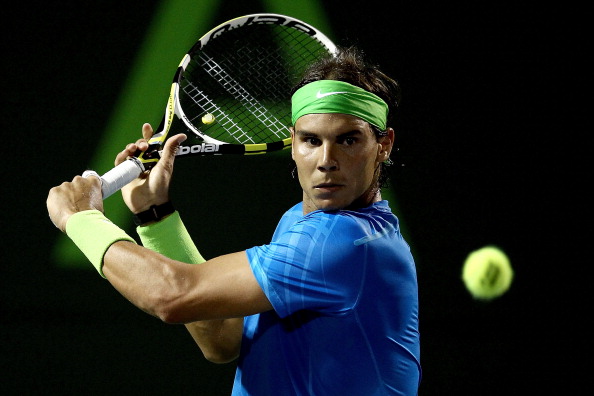 World No. 2 Rafael Nadal has reached the last 16 at the Sony Ericsson Open beating 25th seed Radek Stepanek 6-2, 6-2 on Sunday.
"I'm just happy to be in the fourth round, winning two matches with a positive feeling and with comfortable results," Nadal told reporters after his win. "I'll just try to keep doing well and try to keep improving my level a little bit."
Nadal will now meet No. 16 seed Kei Nishikori.
"He's a fantastic player and it will be a very difficult match for me," commented Nadal. "He has a big talent to hit the ball very early, to play very aggressive. So he will be a really tough opponent."
Nishikori scored a 6-4, 6-2 win against Czech Lukas Rosol.
Bulgarian Grigor Dimitrov scored his first top 10 victory over beating No. 7-ranked Tomas Berdych of the Czech Republic 6-3, 2-6, 6-4.
"Today was a great match, a great day for me," said World No. 101 Dimitrov. "I didn't expect to play that well. I didn't make enough first serves, though. [I] got a bit lucky at 4 4 in the third [set], and I was happy to close the match."
Fourth seed and 2009 champion Andy Murray moved on when Canadian Milos Raonic, the No. 26 seed, withdrew due to a right ankle injury.
Men's Singles – Third Round
[6] J Tsonga (FRA) d [32] P Kohlschreiber (GER) 64 76(2)
G Dimitrov (BUL) d [7] T Berdych (CZE) 63 26 64
[9] J Tipsarevic (SRB) d [18] A Dolgopolov (UKR) 64 57 62
[13] G Simon (FRA) d [22] J Melzer (AUT) 76(5) 64
[16] K Nishikori (JPN) d L Rosol (CZE) 64 62