ATP Tennis - Fish out of water
695 //
13 Mar 2012, 22:25 IST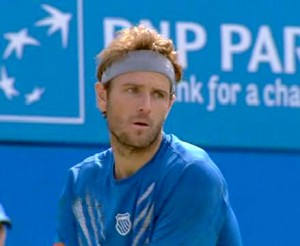 Mardy Fish
is officially in a slump. The American, ranked no. 8 in the world, was bundled out of the BNP Paribas Open in Indian Wells on Monday to continue his woeful start to the 2012 season – one which he and his fans had hoped would see the 30 year old American make inroads into the world's top 5 and into the closing stages of the Grand Slam events.
Fish was beaten on Monday by 91st ranked Matthew Ebden, from Australia, 6-3, 6-4 – the latest in a series of early defeats this year. Starting off in Australia, the American was beaten in the second round by 71st ranked Allejandro Falla in Melbourne. Fish managed towin a crucial rubber in the Davis Cup over Stanislas Wawrinka in five sets to help the Americans beat the Swiss but that was quickly followed by losses to388th ranked Albano Olivetti in Marseille and 34th ranked Mikahil Youzhny in Dubai – both also in the second round.
Fish is now 4-4 in 2012 and has not won consecutive matches this season. In his post-match interview following Monday's loss, Fish was brutally honest saying that he is not happy with his game. He also admitted to facing problems with his motivation and negative energy and said he had even spoken to some mental coaches in the off-season. "Bottom line, I don't think it worked," he said. "I'm just in a sort of lull and I'm going to try to get out of it as fast as I can. There's no doubt that this is a low, for sure, for me. Obviously you have to stay positive. There's just no way around it. You have to look at the fact that I have worked my butt off to be where I am right now and be 8 in the world, and we've put in a lot of sweat and a lot of work to be here. So just the start of the year is not going to take that away, but I certainly would have liked to have started better."
Fish will need to get his act together quickly. The American's public profile has increased multi-fold in the last 18 months and his status as the top-ranked American helped him secure a sizeable appearance fee in Marseille and Dubai according to reports. That's one of the more likely reasons Fish decided to change his schedule this year and skip the low-key American hard-court events leading up to Indian Wells/ Miami and play in Eurpoe and the mid-east instead. The American is defending semi-final points at the next masters series event in Miami which begins in a week and his status as the top American is under threat as compatriot John Isner closes in on the top 10. Depending on how the two perform during the clay court season,Isner could soon take over the bragging rights of being the top ranked American male player.
It's been nearly two years since Fish underwent a physical transformation, dropping 30 pounds and discovering his athletic gifts which have transformed him from an out-and-out aggressive player to a more measured patient attacking player. How the American handles this latest slump in form and confidence will define the way this final act of his career will be written.