Australian Open 2010: Relentless Aggression Can Backfire, Too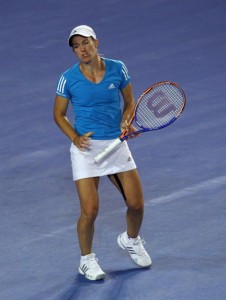 If there's one piece of unsolicited advice that most TV commentators love to dish out to unsuspecting (and out of earshot) players, it is 'to be more aggressive'. Keeping the ball in play, something every recreational player is taught as the most basic tenet in playing tennis, finds absolutely no favour with the experts. Anyone who's ever been paid to talk about tennis never wastes any opportunity to exhort a player to try and dictate the points, to come to the net no matter how many times they get passed, and in general to play attacking, risky tennis.
You'd think, then, that when such a game-plan is not working for a player, the common consensus would be to hope that the player reins in his or her shots a little and tries to get the ball over the net and into the court more often. But how often do you hear someone give voice to the observation that a player's aggressive strategy is not working? I, for one, have rarely heard anyone trying to advise a player to play the percentages and be consistent and wait for the opponent's errors.
And yet, if the events towards the close of this year's Australian Open are any indication, 'playing the percentages' can be as good a piece of advice as any, specially for a player that can never hope to match the power of her opponent.
Justine Henin came out in her final against Serena Williams with a game-plan that may put a question mark over the tactical soundness of her coaching team. She came prepared to try and outhit the younger Williams, hoping to match, and possibly outdo her opponent, bludgeoned stroke for bludgeoned stroke. On paper, that may not sound like such a bad idea – Henin certainly possesses a lot of firepower for a woman of her size, and I have hardly ever seen her getting cowed down by the height or muscle of her opponent.
The key words here, however, are 'for a woman of her size'. At the end of the day, the pace that she can put on the ball will always fall short of the pace that a Williams can generate.
A few games into the match it seemed clear that the rewards she was receiving for her ultra-aggressive tactics were simply not commensurate with the risks she was taking. She kept spraying second serve returns long, wide or into the net, and her efforts to keep the rallies short and go for broke by pulling the trigger early played perfectly into the hands of a far from mobile Serena. Henin failed to jerk Williams from side to side and from north to south as she usually is so adept at doing, which gave Williams plenty of time to set up for her shots and put some of her own considerable firepower into the rallies.
Mid-way through the match, with the first set already out of her grasp and Serena forcing her to hang on for dear life in the early stages of the second, it would have made sense for Henin to try and keep the ball in play and move Serena around the court rather than go for outright winners. But that's not the Henin way, is it? The woman looks almost too focused on Wimbledon right now, with her avowed ambition of perfecting the art of moving into the court and finish off points early refusing to let her back down from her offensive tactics.
Then, curiously, Serena's level dipped halfway through the second set, which allowed Henin to go on a tear, building confidence with each glorious winner and reducing Serena to a bundle of nerves and errors. But the trouble with such a strategy for Henin is that her physical attributes cannot always keep pace with her finesse and undoubted skill. She eventually started missing on those paint-the-line shots, which gave Serena the time and opportunity to regroup and reassert her hold over the match.
The third set wasn't much of a contest – giving Serena time and opportunity to reassert any kind of hold on a match isn't the brightest of ideas if you're her opponent.
Of course, there's always that serve. Is the Serena Williams serve as otherworldly as Steffi Graf's forehand? It really seems that no amount of pressure can faze Serena into doing anything but send down an ace or service winner on the most crucial of points. Admittedly, she didn't really serve as well in the match as she can, but when it mattered most, she came up with the goods.
Watching Serena serve is almost like watching a slow motion capture of a missile taking off. There's a lull before she steps up to the service line; the more important the situation, the greater the number of ball bounces she seems to indulge in, a trait she shares with Novak Djokovic, of all people. And then, just when you feel that maybe she's been sapped out of her energy and is buying time to avoid making a nervous mess out of the delivery, she tosses the ball skyward, and in one, fluid, elegant motion, sends down a thunderbolt that leaves her opponent either completely frustrated or grudgingly appreciative of her uncommon skill.
It's a sight unlike any other in modern tennis, and it would do tennis coaches around the world plenty of good if they used it as a model to teach their young charges the most basic, and also the most important shot in the game of tennis. All they've got to do is play a video of a Serena serve and declare – "And that, kids, is how it is done."
People often forget, however, that Serena Williams is more than just a serve and powerful groundstrokes. For all the talk about Henin being a 'thinker' on the court who is capable of playing the game with craftiness and cunning, Serena played far smarter in the final. Even when things were spiraling out of her control, Serena chose to patiently tide out the storm, knowing that she had the one weapon in her armory that could make all the difference. She even hit a few biting backhand slices to stay in the points, while Henin seemed eager to completely abandon that very shot that usually forms such an integral part of her arsenal. Talk about role reversal.
Henin does want to win Wimbledon this year, we get it, but it wouldn't have hurt at all if she'd won the Australian Open to go along with it. Confidence is a tremendously underrated thing, and the amount of it Henin could have derived from 'doing a Clijsters' at the year's first Slam might have lifted the lid off the possibilities lying ahead of her.
This day, however, she simply refused to adapt her game to the demands of the match, which was especially surprising considering the amount of success she's had with her great defensive skills in her past matches against Serena. Henin's best defense has a shot at beating Serena's best offense, and while Serena wasn't completely on her game yesterday, she wasn't completely off it either – if there's one thing you can count on in women's tennis these days, it is for Serena to bring the heat in a Grand Slam final.
So when up against a focussed Serena in the biggest match of her comeback so far, Henin made a conscious effort to NOT play to her strengths, and despite there being clear signs that her plan wasn't working, she made no effort to make any kind of adjustment in her play. When you do something like that against someone like Serena Williams, isn't it a little too much to ask to get anything more than the runner-up trophy for your efforts?