Australian Open Diary: Wisdom in defeat at the press conference
1.84K //
29 Jan 2015, 23:31 IST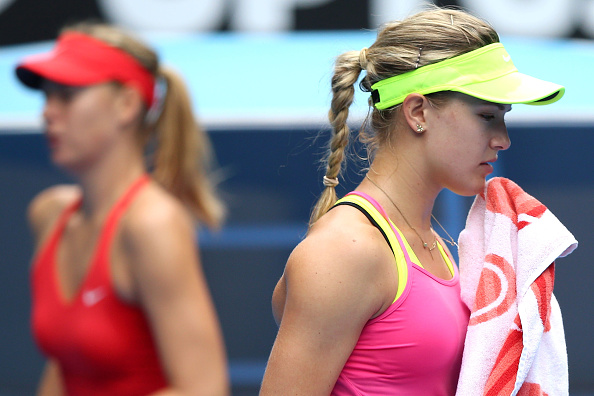 The main interview room at Melbourne Park is a rather small, claustrophobic place. The media are seated in circular tiers that rise steeply from the bottom, like a smaller, darker version of a college lecture hall. In the central clearing, a jumble of cameras and other media equipment are focused on the player behind the conference desk.
In this environment, the player in the hot seat needs to peer into the semi-darkness around him or her, and answer questions on anything and everything – from post-match tactical analyses to thoughts on next-round opponents, from views on latest tweets to his/her plans for the evening.
The players bring their individual personalities to the interview, which is always insightful. So we get to see Caroline Wozniacki's playful nature, as in her recounting of the kangaroo incident in an earlier edition of the Australian Open, or Andy Murray's always thoughtful, analytical and dry responses to the media.
Sometimes, in a post-match press conference immediately following a defeat, the mood can be quite sombre, even funereal. The player is usually glum, the media is usually sympathetic, the interaction is usually muted. But this is also when some heartfelt statements are made, and the philosophy reflecting the individual personalities of the players is on display.
Here is a look back at some choice quotes from this Australian Open's press conferences so far, uttered by disappointed players in the immediate aftermath of their defeats.
"I'm never happy with losing. I wanted to obviously win the tournament. But, yeah, you know, I always want to do better, especially than the year before. I'm always trying to aim for that."
Eugenie Bouchard (loss in quarterfinals), on being asked if she was happy with her overall efforts in the first Grand Slam of a year where she will be defending a lot of points.
Forget the Barbie-doll, teen goddess image that people would like us to associate with Bouchard. The Canadian is an ambitious, hard-to-satisfy competitor first, a ruthless one at that too. We saw that in her willingness to sever friendly ties on the WTA circuit, her quest for the ideal coaching combination (something which she still does not seem satisfied with), and her single-minded drive to win a Grand Slam.
In a few ways, she is quite like the opponent she lost to this week – Maria Sharapova. Unlike Sharapova however, the lack of size in her tennis game may yet be her biggest stumbling block.
"Sky's the limit. There is no limit on what you can achieve. No one can stop you."
Venus Williams (loss in quarterfinals), on being asked for her thoughts on the future of her teenaged conqueror Madison Keys.
Over the years, Venus Williams has mellowed down as a person. Where once she used to exhibit a naked competitiveness on the tennis court like her younger sister, today she goes about her business in a more relaxed, but equally determined, manner. Perhaps it is a result of all the years of tennis experience, perhaps it is the physical setbacks that life has thrown at her, or perhaps it is just age. But these days, she walks and talks with the air of a sage, albeit one with the most irrepressible of smiles.
Here, her comments on Keys sound almost like a blessing. Or more appropriately, like lines from a valedictory lecture at university.
"I'm not going to hide my disappointment. I'm pissed."
Grigor Dimitrov (loss in fourth round), on being asked if he felt he was jinxed in the match.
This was the first question directed at Dimitrov in his press conference, and the response was spontaneous. This was after a match in which he blew a 5-2 lead in the final set, to lose to Andy Murray in four sets. There was a bit of everything in that last set – a bad call, a bit of bad luck, and some bad play from Dimitrov. Good enough reason to feel jinxed in the match.
And his frustration clearly showed in the press conference.
"You know, it's probably the worst thing could happen."
Ana Ivanovic (loss in first round), on being asked how disappointing the defeat was for her.
Two weeks earlier, Ivanovic had made it to the final of the Brisbane International. One day earlier, she was one of the star attractions for Kids' Day at Rod Laver Arena, along with the likes of Federer and Bouchard. The Australian Open seemed to be the perfect stage for Ivanovic to make a triumphant return to the rarefied heights of Grand Slam success.
But on the opening day, Ivanovic found herself bundled out of the tournament by the unheralded Hradecka. Her assessment was as frank as it was accurate. It actually was the worst thing that could have happened to her.
"'If' doesn't exist in sport. That's the real thing. If - never comes. The thing is, you have to do it. I didn't have the chance to play the fourth; I lost the third, so that's it."
Rafael Nadal (loss in quarterfinals), on being asked if he felt it could have changed everything in the match had he won the third set.
Nadal must be one of the great unwitting philosophers in the game. The humble attitude, the tightrope he walks between being pessimistic and realistic, the appreciation for every match won – they all form part of his unique, fascinating personality. During his press conferences, especially in defeat, he is quite loquacious, sometimes even drifting into monologues.
Here, he provides what sounds like a theoretical construct, but is actually rooted in reality. Nadal does not play the 'what if' game. There is no point to it. He had his chances. He did not take them. Everything else is irrelevant. That is as pragmatic a philosophy as you could hope for.