Azarenka climbs back from the jaws of defeat to enter Miami quarters
695 //
27 Mar 2012, 13:12 IST
''It's all heart. I will never give up.'' – Victoria Azarenka
When you are World No. 1 and riding on an immaculate streak of 25 matches which includes one Grand Slam, it undoubtedly gives you sky-high confidence. Victoria Azarenka's current body-language shows it all.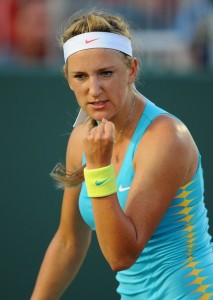 From a precocious talent with a temper and numerous retirements midway through matches, Azarenka strides through her matches nowadays in a completely different avatar. Her approach to matches has changed altogether and her self-assurance is evident from the silent swagger she shows in every match. She is intrepid, equanimous, plays with an indomitable spirit and the courage to fight back from unfavorable circumstances is bigger than ever.
And this is all apparent from the above quote she wrote on facebook minutes after unbelievably scraping through against Dominika Cibulkova. Perhaps it is this belief that separates champion players from good ones.
This was 'survival' at its best as Azarenka herself had called after winning a similar nail-biter against German Mona Barthel last fortnight in the Indian Wells second round. That victory back in California buoyed her confidence so much that she never lost a set for the rest of the tournament.
The 22-year-old Belarusian brought all that into today's fourth round match against the 16th seeded Slovak at the Sony Ericsson Open. Victoria had to dig very deep, call on her champion instincts and had to play her heart out for the incredible survival.
For the pocket-sized powerhouse called Dominika Cibulkova was unrelenting. She stands at a diminutive 161cm but covers the court like a nimble rabbit. Ruthless and oppressive, the petite Slovak started firing on all cylinders right from the word go and the dimple-cheeked blond Belarusian was reduced to a mere spectator as one after another winner whizzed by.
Vociferously cheered on by the partisan crowd, Cibulkova grew in confidence as the match progressed and Azarenka looked more and more off-colour. Dominika's ball landed on every possible corner of the court and even before the top seed realized, she was already down 1-6.
Born in the same year, both of these players know each other's games very well from their junior days and their last four matches have all gone the distance. Naturally a fightback from the top seed was very much on the cards.
But the script seemed distinctly different this time as Cibulkova's smashing forehands down the line continued catching Azarenka wrong-footed and before long she was down 0-4. The two-time Miami champion looked practically clueless about how to put an end to the onslaught.
But that is where her never-say-die attitude showed up. A quick prepping up from coach Sam Sumyk during the changeover ignited the fire and Vika began the onerous job of climbing back. The backhand returns that had so far been missing the mark suddenly flared up, the movement started getting better and the Belarusian aggressively started attacking the weaker second serves of her opponent.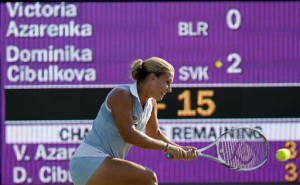 Serving for the match at 5-2, Cibulkova's jangling nerves gave in and two double-faults later it was clearly understandable that Azarenka was overpowering her. Two points from defeat at 4-5, Azarenka fearlessly targeted the Slovak's vulnerable backhand and it paid off and quickly the match got leveled at 5-5.
With the top seed pouncing on the net and the 16th seed's serves going more wayward, the match headed to a tiebreak where Vika raced to a 6-3 lead. Even though Cibulkova fought back to make it 7-7 with some unreturnable forehands, it was not enough. Azarenka was well and truly back in the match after winning the second set 7-6(7).
The final set was more of a topsy-turvy, scattered affair with the advantage swinging both ways. The match which began in the faded afternoon sunlight was now under lights and the atmosphere inside the Grandstand was intense.
After a couple of break exchanges the score stood at 4-4 and as Cibulkova held serve the crowd erupted. It all seemed Groundhog Day with Azarenka being once again a couple of points away from being bundled out.
That's where the year's best player upped her aggression and held and immediately broke with a little help from Cibulkova's 10 double faults.
No more faltering, no more missing, the serve finally worked. As her opponent's seemingly unbreakable forehand finally landed long and the scoreboard beamed the score 7-5 in her favour, the look on Victoria's face and the clenched fist said it all!
Cibulkova for her part was the better player with a whopping number of 46 winners to Azarenka's mere 15 but her 53 unforced errors undid all her good work.
Sometimes it is just a matter of waiting patiently to take your chances much like what Azarenka herself expressed, ''You just have to keep fighting until they call it game, set and match.''
And that is what has kept the streak still alive at 26-0.