Interview with Borna Coric: "I was surprised at the support I got in Chennai"
4.17K //
09 Jan 2015, 16:00 IST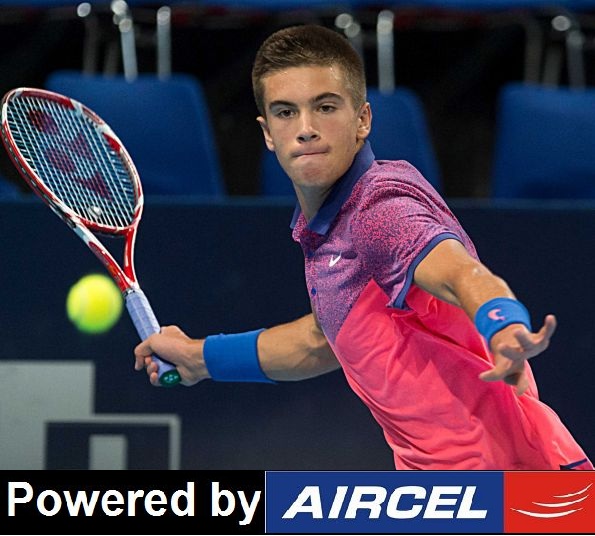 18-year-old Croatian Borna Coric made headlines last year when he beat 14-time Grand Slam singles champion Rafael Nadal in the quarterfinals of the Basel Swiss Indoors championship.
He was the recipient of the ATP Star of Tomorrow Award 2014 for his remarkable rise; he started the season ranked outside the Top 300 but finished at a career high No. 92 at the end of the year. After a good showing at a tournament in his home country in Umag, he made his Grand Slam debut at the US Open.
Coric's match against top seed and defending champion Stan Wawrinka was a highly anticipated one here at the 2015 Aircel Chennai Open, and though he ended up losing, he won over many fans with his performances this week in Chennai.
I caught up with him for a brief Q&A after the match.
Q: First up, for the record, is your name pronounced [Chorich] or [Corich]?
It's [Chorich], yeah, [Borna] [Chorich].
Q: Tough luck with the loss Borna, but you've become quite popular here. Your thoughts on the level of support you got out here?
Yes, it was absolutely fantastic. There were many people, I was surprised, especially since a lot of them were watching me for the first time.
Q: Stan sort of ran away with the first set before anyone could even blink. Was that a case of just you starting off slowly or Stan playing really well?
No, not at all, I think he just played real good. I started OK, but if you were to ask me, I would say he played too good.
Q: Last year we had Marin Cilic winning the US Open men's singles title, and he was coached by Goran Ivanisevic. And before that we had Ivan Ljubicic who was a winner here in Chennai. Eastern Europe is producing a good crop of tennis players these days; what's the reason for that?
We don't really have such great facilities back home, so you need to really practise on all courts to be ready. We travel a lot, and you need to be mentally tough and it's an individual sport that there is so much you need to do all by yourself. I can say that all these players have that mental toughness.
Q: You've had your parents here with you this week. It must be a nice feeling to have them watching you from the box.
Yes, it was good. They've travelled with me on a couple of tournaments, especially when it's closer to my country and if the tickets are not too expensive, they try to go with me. It's good to have them along whenever they can make it.
Q: Last year, apart from the results, people really liked your style of play – the power and the big serving. Any particular improvements you're looking at this year?
I have a lot of things to improve on I think. I need to improve my first serve percentage; it needs to be bigger. There are also some other things such as my volley for example, and when my opponents play the forehand to my backhand, that's something I need to improve.
Q: Congratulations, once again, on receiving the ATP Star of Tomorrow Award for 2014. You come across as a very confident young guy, and you said at the start of the year that top 50 was "doable". Is that a group where you see yourself come the end of the year?
It's not like I see myself there or anything like that, it's just my goal and I'm working for it and I aim to be in the top 50. I think I can do it, but it's some way to go.
Q: The reason I asked that is because for the first time, we have two ATP Star of Tomorrow Award winners playing here – Jiri Vesely, the 2013 winner, and yourself. So it's quite nice to see the emerging crop showcase their tennis here in Chennai.
Yeah, it's good to see lot of the young players are coming through and yes, I'm most happy to be here at this ATP tournament and I hope to be back next year.