Can Bopanna find that Grand Slam winning formula with Rajeev Ram?
794 //
13 Nov 2012, 20:00 IST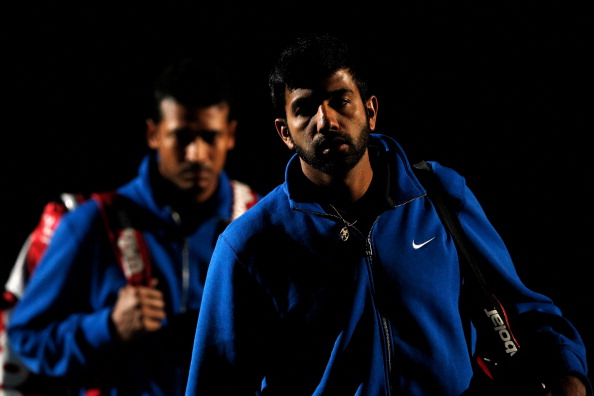 You can be a world class doubles player but you're only as good as your partner. Take the case of Sania Mirza. The Indian has struggled to find the same chemistry and success that she had with Russian Elena Vesnina. It takes time to find and build a good doubles partnership.
Rohan Bopanna and Aisam ul-Huq Qureshi had built another such crackling partnership. But at the end of last year, Bopanna made a tough call. The Indian decided to keep their close friendship aside in order to puruse Olympic glory in London and elected to team up with fellow Indian Mahesh Bhupathi on the ATP circuit in 2012.
Qureshi was caught blindsided by the move. While the Indians did not exactly set the ATP circuit on fire, they did manage to sneak into the season ending ATP World Tour Finals in London (as did Qureshi with his new partner Jean-Julien Rojer) and ended the season with a bang – winning the Paris Masters and reaching the World Tour Finals in London. However, Bopanna's dreams of Olympic medals and Grand Slam success remained that – only a dream.
Soon after the US Open, Bhupathi and Bopanna decided to not renew their partnership for the 2013 season. 38 year old Bhupathi was not sure if he would play the entire season and hence decided to play with another player closer to retirement, the 40 year old Canadian Daniel Nestor.
Bopanna quickly reached out to Qureshi asking if he would like to join forces again in 2013. Qureshi/Rojer had failed to go deep at the majors as well. But Qureshi chose not to get back with Bopanna and instead, decided to stick with Rojer for the 2013 season, saying that he thought their partnership was working and wanted to give it one more season. Perhaps, a case of once bitten, twice shy!
Bopanna could have avoided being in this situation had he decided to play with Bhupathi only till the Olympics. Several players joined forces with their compatriots in the beginning of the year with a firm view of ending the partnerships immediately after the Olympics. Had Bopanna decided in the beginning itself to go back with Qureshi just after the Olympics, perhaps they would be playing together in 2013. But, we shall never know!
Bopanna now finds himself with a new partner for the 2013 season – the little known 28 year old American of Indian origin Rajeev Ram. Ram is currently ranked no. 44 in the ATP doubles list (his highest being no. 33 in 2010).
It's a surprise that Ram hasn't done better in doubles in the past. His big serve and attacking net game are well suited to the doubles format (No surprise that Boris Becker and Pete Sampras were his favourites growing up and he considers his strengths to be his serve and his favorite surface to be grass). Perhaps, he has been focussing more on his singles aspirations, where he peaked at no. 78 in 2009 (his current rank being no. 134). Ram is a former NCAA team championship winner and captured his one and only ATP singles title in Newport in July 2009.
With several of today's top doubles stars playing till the age of 40, the 31 year old Bopanna still has almost a decade to play top-flight tennis and it will surely take him a few months at least to settle into this new partnership. For his sake and ours, let's hope he finds that grand slam winning formula sooner rather than later.