Can Rafael Nadal rise again?
1.83K //
12 Mar 2013, 17:50 IST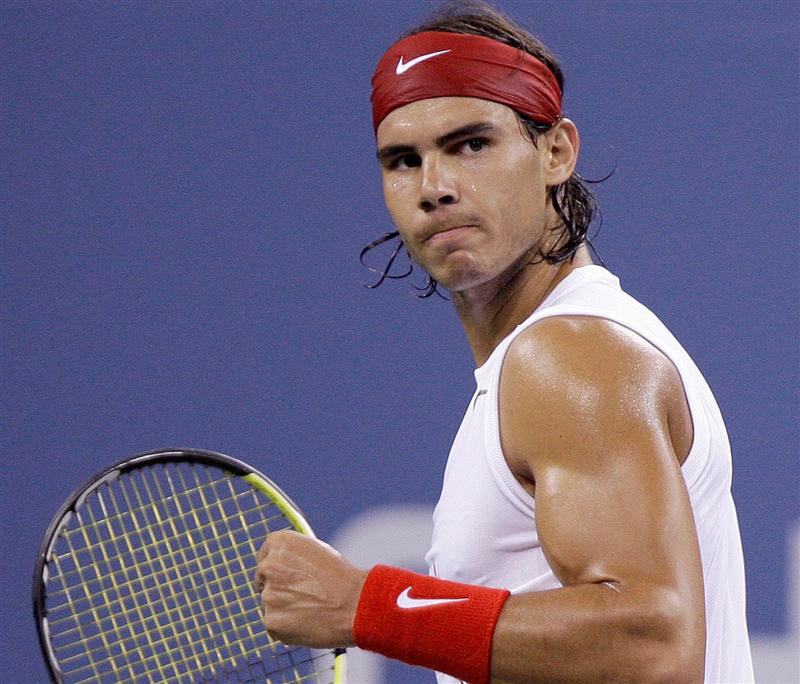 By the age of 26, Nadal would have hoped to be at the peak of his tennis powers, but a spate of injuries to his knee have slowed his progress, and he must be thankful of the fact that he is still playing the game. Nadal has undoubtedly been one of the world's best players over the past 8 years, but the question remains as to whether he will ever be the Nadal of old again.
When Nadal first burst onto the scene as a tenacious 19-year-old at Roland Garros, he immediately caught the attention of one and all with his booming ground strokes, bulging muscles and an unbelievable determination to chase down everything and win every match. After winning the French Open on his first attempt, Rafa soon established himself as one of the best players in the world.
The 'King of clay', as he is popularly known, Nadal initially struggled to play as effectively as he did on clay on other surfaces. But after working on his serves, volleys and especially the backhand, Nadal soon started playing at a different level altogether. When Federer was at his peak from 2005 to 2008, only one man was able to challenge him, and that was Rafa. The rivalry between Nadal and Federer captivated tennis fans all around the world, and probably what led to Nadal being feared around the tennis circuit was the fact that the great Roger Federer himself used to struggle against Rafa.
2008 was the breakthrough year for Nadal as he claimed his first Wimbledon title and the Olympic gold that year. He also ascended to the summit of men's tennis for the very first time and looked virtually unbeatable that season. Nadal also became the youngest person to complete a career Grand Slam, and many people were tipping him to easily surpass even the Swiss maestro Federer as the person with the most Grand Slam titles in the Open era.
However, times have changed and so have his adversaries. Djokovic is currently the best player in the world. After an astonishing 2011, Djokovic looks deadly again and  seems very hard to beat. Furthermore, Andy Murray has taken his game up a notch and he also has added a Grand Slam title to his trophy collection. Djokovic and Murray are the in-form players currently and their rivalry seems very much like the Rafa -Roger rivalry, with some thrilling matches having been played between them in the last 2 Grand Slam finals.
And after all that, there is still Roger Federer to contend with. Even though he is past his peak, he is still supremely fit and on his day can break down his opponent effortlessly. Added to the mix are the powers of Tsonga and del Potro and the never say die attitude of David Ferrer, and Nadal definitely has a task on his hand if he is to dominate world tennis again.
Returning from injury is always tricky, especially after more than 8 months away from the game. Nadal will have to pick and choose the tournaments he takes part in wisely and not overexert his left knee. Opponents will think of Nadal as beatable and it will take atleast 4 months of solid performances for Nadal to rebuild the aura of invincibility which once surrounded him.
Moreover, Nadal might have to change his style of play if he is to survive long in the game. Nadal generally plays an aggressive, behind-the-baseline game founded on heavy topspin groundstrokes, consistency, speedy footwork and tenacious court coverage, thus making him an aggressive counter-puncher. Known for his athleticism and speed around the court, Nadal is an excellent defensive player who hits well on the run and constructs winning plays from seemingly defensive positions. He also plays very fine dropshots which work well because his heavy topspin often forces opponents to the back of the court.
But this style of play is also very demanding on the body, and a more aggressive approach to the game with shorter rallies will help reduce the strain on his knee. He must also ensure that he does not slip away after coming back from injury like Hewitt or Roddick and somehow maintains his very high standards.
However, it's not all doom and gloom for Rafa fans. The initial signs have been encouraging if not downright exciting. Nadal, in his first 2 tournaments after his comeback from injury, has already played one final and won a tournament. Though both the tournaments were played on his favourite surface, Rafa fans will take solace in the fact that he disposed of the current number 4 Ferrer with ridiculous ease in the final.
Now that he is slowly coming back to his best, the Indian Wells tournament will show Nadal where he currently stands with respect to the world's best players. Through to the third round already, Nadal will be hoping to put in strong performances before he can defend his French Open crown again.
The injury would have definitely taken a toll on Nadal's body, but true champions always seem to find a way around their limitations and rise to new heights. Knowing Nadal's determination, supreme talent and incredible fighting spirit, it might not be long before we hear the famous cries of "Vamos" reverberating across tennis courts all around the world. With Djokovic, Murray and Federer all in top form, it will be a huge ask for Nadal to win a Grand Slam this year. But if there is one person who can do it, it is this man.