Chinese, Singaporean, Korean ball kids to feature at Australian Open
1.94K //
13 Jan 2015, 20:44 IST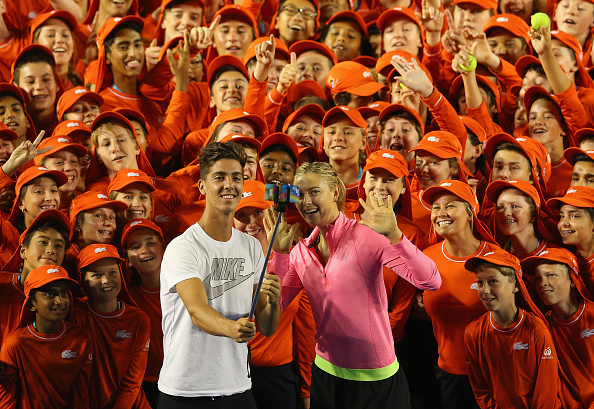 Melbourne, Jan 13 (IANS)
Maria Sharapova and Australia's Thanasi Kokkinakis Tuesday unveiled the 380 ball kids, including Chinese, Singaporean and Korean children, who will line the Australian Open tennis courts during the tournament which starts Monday. World No.2 Sharapova, undefeated in 2015 following her title win over Ana Ivanovic in Brisbane, said Tuesday she was pleased to be back in Melbourne where she took out the title in 2008, reports Xinhua.
"I've had some incredible matches in my career here," she said. "I'm looking forward to a great couple of weeks coming up.
"I want to welcome all of the ballkids. You make our experience so much easier."
Kokkinakis, the world No.147, harbours ambitions to break into the top-100 and believes he has the game to match the world's best.
"My goal is to crack the top-100 as soon as I can and then go from there," he said. "That's not easy but I think I've got the game and I've beaten a lot of top-100 players."
Kokkinakis, 18, a former ballboy himself, was full of praise for the hard work done by the 12 to 15 year olds who patrol the courts at Melbourne Park, often in searing temperatures.
"I appreciate everything you guys do because I don't want to be walking around for five hours picking up balls. It's a big help, especially in the heat we had last year."
Joining the 352 Australian ballkids at the year's first Grand Slam event are six Chinese, two Singaporean and 20 Koreans.
Sarah from Seoul made the cut after three years of trying and said the chance to be on court with her tennis idols was thrilling.
"I want to see Nadal. I like watching tennis games with him," she said. "It's very exciting."
As for making the move from ballkid to tour player, Kokkinakis shared some tips with his young, captive audience: "Put in a lot of hours and enjoy it."