Darcis devastated by Wimbledon injury woe
694 //
26 Jun 2013, 18:51 IST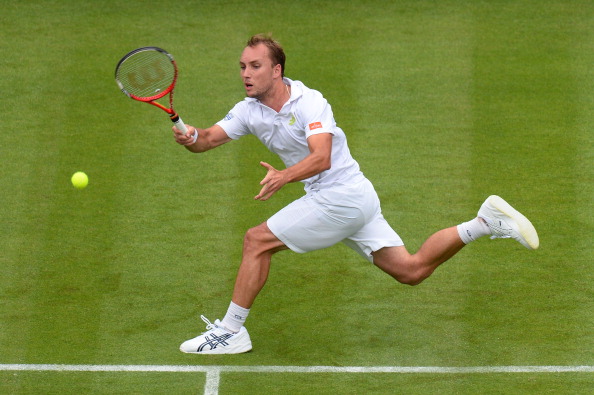 Steve Darcis, the world number 135 who stunned Rafael Nadal at Wimbledon, admitted he was devastated after being forced to pull out of the tournament with a shoulder injury today.
Darcis had been due to face Poland's Lukasz Kubot in the second round, but he was unable to recover in time after sustaining the shoulder problem in his remarkable triumph against Nadal 48 hours earlier.
The 29-year-old suffered the injury when he fell over in the first set, but didn't notice the problem until after Monday's match when he found it impossible to sleep due to the pain.
"I think when you beat a guy like Rafa in the first round, you want to show more, you want to play more matches. I was playing maybe the best tennis in my life here," he said.
"So not to go on the court today, it's the biggest disappointment I have had.
"I thought it would be okay. During the match it was perfect. I was serving great, no pain at all.
"I was hitting great shots. So I really don't know why it was so much worse after.
"It's so tough to withdraw like this. After few days I will say; 'Okay, I beat Nadal, it's great'.
"But the big thing today is that I cannot play, and this is the thing I have in my mind. It's not happy memories right now."
Despite suffering the injury early in the match, Darcis was able to inflict Nadal's first ever opening round defeat at a Grand Slam.
And the Belgian admitted the adrenaline of taking the attack to Nadal had probably helped mask the pain of his injury at the time.
"It happened in the middle of the first set when I fell down," he said.
"I started to feel it a little bit, like it was warm, but it was okay. I had no pain. After a few games, I was feeling great.
"A few hours after the match I started to feel so much pain, I couldn't sleep at night.
"I saw the physio and the doctor, yesterday. I have liquid in the joint, like inflammation everywhere. They tried to do an injection yesterday
"But there's no chance I can play. I cannot serve. Even on the forehand side, I cannot hit a ball.
"It makes no sense to go on the court to withdraw after two games."
Kubot will face either Benoit Paire or Stephane Robert for a place in the last 16, leaving Darcis to focus on recovering from his injury and then climbing back up the rankings.
It is not the first time Darcis has been hit by injury troubles causing his ranking to slip, but he believes he can return to the top 100 in time for next year's Australian Open.
"I have to see how it is after a few days," he said. "A little bit of rest, I guess, then maybe try to play a few Challengers on clay in Europe.
"In the long term, my aim is still the same. I'm trying to fight to come back in the top 100, try to be, if possible, in the main draw in Australia."