David Ferrer: A Stingray among Sharks
2.41K //
04 Dec 2012, 16:17 IST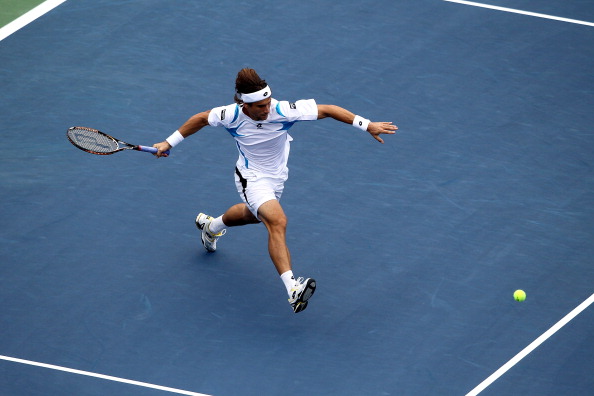 Contrary to popular belief, a cyborg does exist in this world today. While most of the world seems oblivious to the fact, the ATP circuit is well acquainted with Spain's success at mechanical excellence. Christened David Ferrer Ern, this Valencian ball machine sits safely at number five in the South African ATP rankings, tweaking its circuits for the forthcoming season.
It might astonish tennis fans, but Ferrer had actually locked his racket up at one point and tried his hand as a builder at a construction site. He, like many other gifted players before him, fell prey to the amount of effort required to be a tennis professional (other than the fact that his coach locked him in a ball closet – that could have cheesed him off a bit). Logic returned back to the Spaniard a week into the construction business, when David walked back for practice acknowledging that the perfect place for him would be the tennis court.
Since then Ferrer has moulded himself into one of the fittest athletes playing the circuit. In his thirties now, the man has a more 'relaxed workout' as compared to his prime where he cycles a mere 90 kms a day, occasionally cooling down with the usual 35 minute- four mile run. He finishes training by hitting with his left hand for twenty minutes, which he says helps him maintain balance on court. One must stress on the fact that twenty minutes worth of a rally by his standards would be anything close to a 500 ball hit, because Ferrer hasn't been taught how to miss a ball. It would send shivers down a person's spine to imagine how he would have worked out in his twenties. What tops all this is Ferrer smokes close to 15 cigarettes a day, as confirmed by students of the Juan Carlos Ferrero academy where he usually trains. His lungs could give a steam engine a run for its money.
Ferrer, along with Djokovic today enjoys the distinction of having the best return of serve. It's a nightmare playing him, because he returns almost 80 per cent of whatever is hurled at him. He grinds out each and every point, with opponents often attempting outrageous winners to get the better of him. His open stance and extraordinary footwork coupled with a defensive baseline game makes playing him a lengthy affair for any player. What Ferrer lacks is that extra punch to break into the top four. His match against Federer in the ATP Barclays World Tour Finals earlier last month illustrated how his game slowly dismantled under pressure from the Swiss veteran. He hasn't managed to overcome the mental block behind actually going broke in the final stages of tournaments.
Spain has produced some of the finest clay court specialists in the world. The achievements of Juan Carlos Ferrero, Carlos Moya and David Ferrer on the surface have been overshadowed by the dominance of Rafael Nadal on the same surface. Though Nadal takes the idea of owning a surface to a completely new level, more than half of Ferrer's 19 titles have been on the red dirt, which is by any player's standards, a huge achievement.
A Spanish Davis Cup home match on clay is more of a formality before they sign on the cup. At the same time, their dominance in the tournament over the latter half of the 2000's decade has been greatly dependent on Ferrer. While most players avoid playing the Davis Cup as it takes a physical toll on them after a gruelling year, he has always gone out of his way to play for his country. His heroic victory over Stepanek in November is testament to how inspired an athlete he becomes while representing Spain.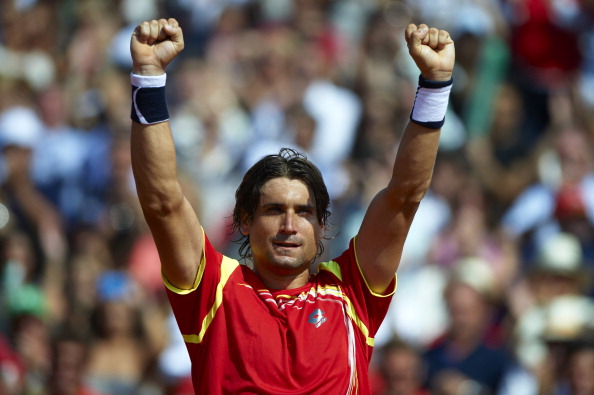 Nicknamed 'Iron Man', 'The Gladiator', 'Little Beast' and his most favourite 'Ferru' which he thinks suits him best (Ferru means 'made of iron' in his native Catalan), David has established himself as the fine line between the big four  and the rest of the top ten. Ferrer is a shade below the cream of men's tennis.
Yet, the man isn't jealous. He remains level headed and simple. He admitted that while living under the shadow of Rafael Nadal is hard, he remains perfectly happy to sit at No 5. He doesn't consider himself a superstar, and is more than happy with what tennis has given him.
Ferrer's breakthrough at the Paris masters has silenced a lot of questions. It would have hopefully taken away the huge pot of pressure on his head. The question remains however, does Ferrer have what it takes to win a major? Murray finally broke through in 2012, with victories at the Olympics and Flushing Meadows. Hopefully, 2013 may just be the year where the Iron man overcomes his past and goes all out in a quest to end the dominance of the top four.