David Ferrer: 'The Other Spaniard' no more
704 //
09 Nov 2012, 14:29 IST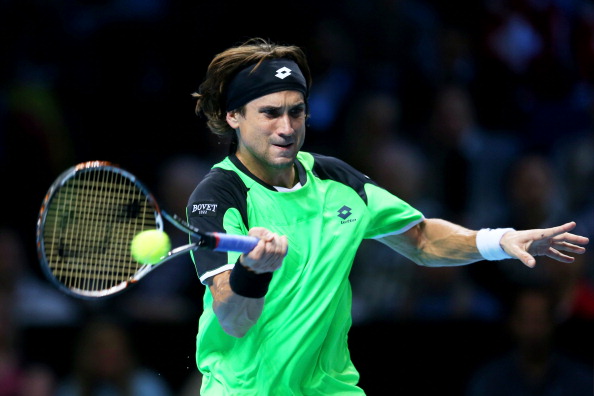 There seems to be nothing remarkable about David Ferrer at the first glance. He doesn't have a commanding stature nor does he have the rippling musculature that his other contemporaries seem to possess. And when he walks, he doesn't have the "shoulders held high" look that – again – most of his peers have. In the words of a cruel step-mother, the man could very well be The Other Spaniard.
But David Ferrer is not really The Other Spaniard, no more than tennis is an evil and cruel stepmother. He is an entity in his own right; a player who has carved his niche just by the sheer dint of tenacity. A tenacity that's quite evident when he plays – running his opponents ragged and agilely belting the ball back point-after-point, before finishing things in the subtlest of manners possible. And it's indeed this quality of persistence that has helped David Ferrer stay in the top 10 of the men's tour with such consistency, for so long, amidst the coveted Grand Slam champions.
His qualities speak for themselves, so much so that in spite of his lack of height and Grand Slam titles, David Ferrer is a force to be reckoned with. Never underestimated by his peers, Slam-winners or not, the Spaniard's match performances are never tasteless – each and every point he plays, he plays to win, and seldom does he concede any without battling it out till the very end. The 2012 tennis season stands testimony to this fact.
Whether facing the daunting task of defusing the power of Jerzy Janowicz in the finals of the Paris Masters a week ago, or being a break down in the deciding third set against Del Potro at these World Tour Finals, Ferrer has time and again proved beyond doubt that he can go toe-to-toe with any player and get the results turned in his favour. In a year where four different players dominated the tennis circuit for brief periods – not in terms of rankings, but in terms of their victories at Majors and Masters tournaments – Ferrer has calmly managed to stand tall and retain his professional individuality, whilst grabbing seven titles, 3000 ranking points and a fourth appearance at the World Tour Finals along the way.
It's positives like these that completely eclipse Ferrer's comparatively demoralizing statistics at the Slams, unlike the other way round as it is with certain other players. And it's positives like these that make Ferrer even more dangerous at all playing fields, no matter who his opponent might be.
If one were to customize tennis players as per a comic book's specifications, Ferrer would form the perfect supporting actor. Taking care of things, being there when things come to a head and most importantly, ensuring that the super-hero gets the job done. Never in the limelight, and if at all opportunities do come to bask in the glittering lights, getting obscured by the heroes winning and stealing the show.
The reality of sport, however, is far different than the realm of comics. Tennis is not about heroes or super-heroes or supporting casts. It's about unpredictability, variances and scintillation all rolled into one single package. Just as it's about those certain players who probably will never be the front-liners but will always be the sentries that set the fundamental standards of longevity of the sport.
And while so far Ferrer has been predictable in his sparkling quality of tennis while setting up mile-high standards of long-lasting playing aptitude, who knows – he might come out with an unexpected ace of variance somewhere down the line, just to shake and even things a little bit, .
But of course, the result of such a prospect could swing both ways. Either he could taste success like he did against Murray a few months ago at the French Open, or he might stumble like he did against Federer in their round robin match at the World Tour Finals yesterday.  But whichever way the result might tilt, it wouldn't take anything away from Ferrer. Not his passion or his commitment, and nor the uniquely heightened anticipation that only he can raise in certain hallowed tennis playing grounds.