Finding the elusive Sampras successor
1.00K //
14 Mar 2012, 16:45 IST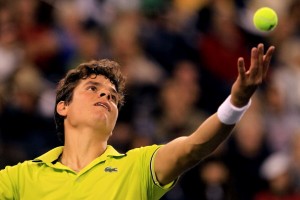 We've been eagerly awaiting the arrival of the 'next Roger Federer' for a while now. In our haste to convince ourselves of the signs of Federer-esque brilliance in upcoming players, we've even given the tag of 'Baby Federer' to a couple of young players (as it turns out, neither Richard Gasquet nor Grigor Dimitrov is likely to emulate Federer in any way other than mimicking his backhand, so the tag was ridiculously premature in both cases). But where's the next Pete Sampras? While it's all very well to move around the court elegantly and hit spectacular winners, there's something to be said about lording over your opponents with the one weapon in tennis that, on a good day, is completely unbreakable: the serve. If Federer turned art into success, winning scores of tournaments with his stylish brand of tennis, Sampras turned success into an art, using his thunderous offensive tools with unfailing accuracy on the biggest stages to win nearly every important final he played. If the arrival of the next Roger Federer will be a monumental occasion in the history of tennis, so will the arrival of the successor to Pete Sampras.
While no one has actually branded Milos Raonic 'the next Sampras', there have been more than a few comparisons made between the 21-year-old Canadian's game and that of the legendary American. The monster serve, the offensive mindset, the big forehand – pieces of the puzzle have been in place alright. Which is why I was so eagerly looking forward to Raonic's 3rd round clash against Federer at the Indian Wells tournament. This was the first time I was going to get a proper glimpse of Raonic's game, and if I was about to witness a match that evoked memories of the only Federer-Sampras match in history, I needed to watch every bit of the live telecast, even if it meant sacrificing my sleep (as far as I'm concerned, the tour can't move away from North America to IST-friendly Europe fast enough). And though Raonic ultimately lost the match, he did take the Swiss Maestro to 3 sets, which, coupled with the non-stop gushing of the commentators about the quality of the match, should have settled the debate about Raonic's future.
So Raonic IS the next Pete Sampras, right? Sadly, not even close.
Let's get the negatives out of the way first. Raonic's backhand, I'll be frank here, almost cries out to be exploited. While he struck it confidently and with a decent amount of accuracy in the first set, the way in which it unraveled over the next 2 sets was a little alarming. By the end he could barely keep it in the court, specially off the return, and Federer must have been beside himself with glee that, for a change, it wasn't his backhand that was being relentlessly pummeled. Raonic's movement is distinctly sub-par too. While you can't really expect a 6'5″ hulk of a man to be fleet-footed, players like Juan Martin del Potro and Marin Cilic have shown that it's not impossible for a big guy to move reasonably well. Today, almost every time that Federer tried to wrong-foot Raonic, the point was as good as over. The Canadian's lumbering moves along the baseline sometimes reminded me of John Isner, and there can be no worse indictment of your movement than that comparison. Raonic's volleying skills are not specially breathtaking either, although it must be said that there's scope for movement in that area.
Now for the positives. That serve. Just the sound that the ball makes as it is struck violently by Raonic's racquet is enough to send a shiver down an opponent's spine. That Federer, a player with some of the sharpest reflexes in history, had trouble even getting a racquet on Raonic's missiles in the first set should tell you all about the potency of the shot. Raonic's second serve is nothing to be sneezed at either; the man has been known to hit second serve aces with something resembling regularity. After one particularly blistering second serve, the commentator remarked that he had once seen Raonic hit a 138 mph second serve, which actually made me laugh out loud (or 'lol' – I never thought I'd actually use that phrase in its proper form) in amazement. Raonic's forehand can be a force of nature too; it is particularly deadly when has time to set up for it, and even his on-the-run forehands are appropriately eye-catching. The most important thing that Raonic has going for him, though, is probably his attacking mindset. He plays tennis with a first-strike mentality; he tries to take charge of every rally and play it on his terms, qualities which are sorely missing in many of the pros today. Raonic struck more winners than Federer on a day that Federer wasn't spraying shots all over the court, and I can't remember the last time a player managed something like that against the Swiss.
Ultimately, the positives seem to outweigh the negatives. While Raonic's game has limitations, it wouldn't be unthinkable for him to overcome those limitations by using the impressive strengths at his disposal. But Sampras was much, much more than just a big server who could mask the deficiencies in his game with first-strike tennis; the things that Sampras did well (the running forehand, the decisive net-rushing, the supernatural overheads), he did extraordinarily well. Yes, I know it's unfair to compare Raonic with Sampras at all. The Canadian is still only 21, and in any case, he's his own man – being the successor to Sampras was likely never his lifelong ambition. But this is the Golden Age of men's tennis, a super-athletic era dominated by Federer, Nadal, Djokovic and Murray. For a player severely lacking in defensive skills to harbor hopes of winning a Grand Slam in this day and age, that player has got to have more than just one Sampras-like offensive tool in his arsenal.
So far, Raonic has shown that he has a serve that is comparable with that of Sampras. But players like John Isner, Ivo Karlovic and Kevin Anderson have shown that too. To rise above this bunch of gigantic servers, Raonic will have to do something about that backhand. And those volleys too. It's a good thing that at 21, he still has time, maybe even a couple of years, to develop his game and establish himself as a legitimate Slam contender. Unfortunately though, that is not nearly enough time to produce the next Sampras. Will there ever be enough time for that?