Flashback: The Monica Seles tragedy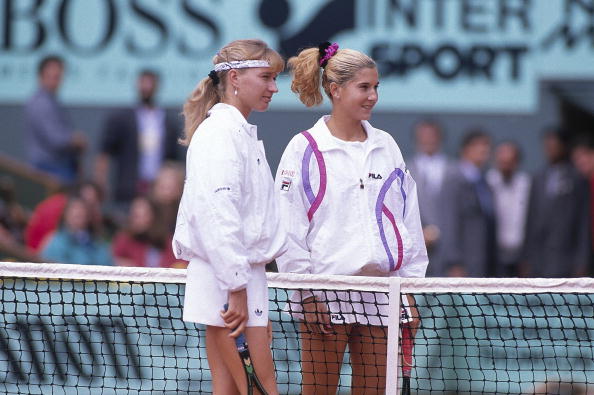 I used to love Steffi Graf! Just love! It didn't matter if she only sliced her backhand or ran around and converted them to forehands almost all the time. Didn't matter. Her razor sharp serves, athleticism, grace, attitude and personality were enough. As a mad fan of hers, I couldn't have been happier with the way her career was going. Until 1990…when Monica Seles entered the scene.
No, Seles had been around before that and had played Graf in many matches. But 1990 was when it became more of a one-sided affair. Seles, whose style of play was quite unique, had always bothered Graf a bit but it was just that. A bother. It didn't come in the way of many victories. But the Berlin Final in 1990 signalled the beginning of a new era – one where Graf would play second fiddle to Seles for some time.
I had a huge conflict in me – the Graf fan versus the tennis fan. One was not pleased but the other was happy to see not-so-one-sided matches. Most often though, the tennis fan would be shut out by the Graf fan. "Rubbish", it would say to the tennis fan. "Graf should be holding the trophy, not Seles"! I can't recall clearly now if the Graf fan in me ever had angry and hateful thoughts towards Seles. A small part of me feels like I might have, not for any other reason, it was simply because I loved Graf! If only I could…
And then it happened.
Seles was stabbed. On the courts, in the middle of a match…during a changeover! It was just unbelievable! Who? How? Where? When? Really? There were so many questions but not nearly enough answers. It was a first, too. An incident like this, where a player was injured in such a brutal manner, was unheard of, especially in tennis. It turned out to be a mad Graf fan…maybe someone like me who had actually carried through with the thought that many people might have had! Ok, maybe that's stretching it. I don't remember ever wanting to harm Seles but I did wish that something would change and that Graf would be back on top.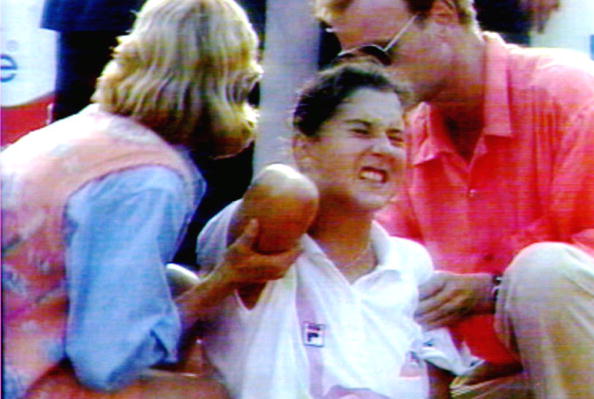 Alas, some wishes do come true. Seles' match was obviously halted at that point but the tournament wasn't. They went on, like nothing had happened. Graf apologized to Seles although it wasn't really her fault. The attacker was German and the attack had happened in Germany. So maybe Graf felt responsible or guilty. Someone somewhere must've had a weird sense of humour. Graf won that tournament and went on to win many more. She also regained the number one position that Seles had taken away from her in 1991.
Seles? She was at her prime when the attack happened. In 1991 and 1992, she produced some of her best tennis. She won the Australian, French and US Open tournaments both years and was a finalist at Wimbledon in 1992. She came back to the tour in 1995 after losing the 30kgs that she had gained and after beating the depression that she slipped into following the attack. She had some success, even going on to win another Grand Slam (Australian Open 1996) but it wasn't much. There was always that question.
What if.
What if the security had been better? What if she had got up sooner than she had at the changeover? What if she had not played that tournament in the first place? One can only wonder at the career Seles might have had and the battles that could've been.
In an interview in 2009, she talked about how her life changed after the attack and what all she had to deal with. She refused to think about the 'what ifs' that were constantly thrown at her either by others or more importantly, by her own mind. "I would have gone crazy a long while ago," she says, "if I had done that." Her biggest victory didn't come on the courts. It came far away from it.
Seles may not have won the Wimbledon but she has taken away something that is an integral part of Centre Court – the essence of a line etched at the entrance to the locker room from the famous poem 'If' by Rudyard Kipling. "If you can meet with triumph and disaster and treat those two impostors just the same", it reads.
She did. Hats off to her!