Andy Murray announced on Friday that he intends to retire after Wimbledon 2019, but also that the Australian Open could possibly be his last tournament ever. It was an emotional press conference and the news came as a shock to all the tennis fans around the world.
Murray had been suffering from a hip injury since the latter part of the 2017 season, and had undergone an operation in 2018 which had limited his tennis action that year. "The pain is too much, I need to think about the quality of my life. I need to have an endpoint because I am playing with no idea of when the pain will stop," an emotional Murray said in his press conference.
As the tennis world prepares to bid adieu to one of the greats of the game, let's have a look at the top 5 moments in his career:
#5 Davis Cup final win vs Belgium
In the 2015 Davis Cup final Great Britain defeated Belgium to win their 10th title. And Murray played a crucial part in the process; his role will likely never be forgotten.
Belgium were drawn as the home team and they opted for the match to be played on a clay court to unsettle Murray. Kyle Edmund lost the opener against David Goffin, a match in which he had a 2-0 lead.
Murray leveled the scores in the second match by defeating Rubens Bemelmans in straight sets. Belgium then gambled by playing Goffin in doubles in a bid to go ahead and then win the match in which Murray wasn't playing. But the tactics failed and Great Britain rushed to a 2-1 lead in the tie.
In the fourth match Goffin and Murray then went head to head, but Murray won in 3 sets with a fantastic lob shot on match point to seal the victory for his team.
#4 2012 Olympics gold medal match win against Federer
The 2012 London Olympics was a little extra special for all tennis players as it was being hosted at the All England Lawn Tennis Club. The whole of Britain was behind Murray as they hoped to see an Olympic male singles champion after a wait of 104 years and yes, Murray did manage to end this wait as he defeated Roger Federer pretty comfortably in straight sets.
By doing so he became the first British man to win an Olympics gold medal since Josiah Ritchie in 1908.
Murray had lost to Federer earlier that year in the Wimbledon final, but he managed to put that defeat behind him as he went on to win one of the most important titles of his career.
#3 2016 Olympics gold medal match win against Del Potro
If winning one Olympics gold medal is good, then winning two is even better. By defeating Juan Martin del Potro in the 2016 final, Murray became the first male tennis player to win two Olympics singles titles.
Del Potro had just returned to the ATP tour after a long absence due to a wrist injury. The Tower of Tandil did manage to put up a fight, but there was no stopping Murray as he eventually prevailed in four sets and successfully managed to defend his title.
#2 US Open 2012 final win against Djokovic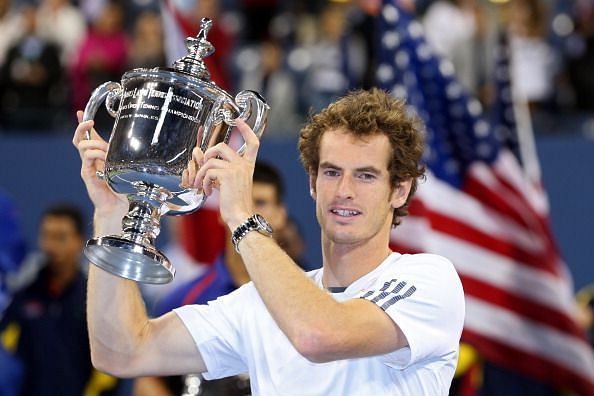 This win was easily one of the most important ones in Murray's career.
Having been on the losing side of four Grand Slam finals before this, the Scot was desperate to become the first British man since Fred Perry in 1936 to win a Grand Slam. But winning was not going to be easy as on the other side of the net was perhaps one of the most physical players that the game had ever seen - Novak Djokovic.
Djokovic was the favorite heading into the match but to everyone's surprise, Murray went ahead to a two sets to love lead. But Djokovic, as we know, can never be counted out and he managed to make a comeback to force the match into a decider.
It was looking like Murray would be on the losing side once again, but he managed to keep his cool this time around and prevailed in 5 sets in a match that equaled the record for the longest match in US Open history.
#1 Wimbledon 2013 final win against Djokovic
It is not difficult to understand why this win ranks as the most important one in Andy Murray's career.
Wimbledon is the most prestigious tournament on the tennis calendar and Murray being a Brit, was willed by the whole crowd to win it. The previous year, he had lost to Roger Federer in the final and was left heartbroken.
But Murray had gone on to win the Olympics gold medal later that year and was better prepared this time around. His opponent was not an unfamiliar foe as both Djokovic and Murray had been playing tennis together since the age of 11.
As expected the whole crowd was behind Murray from the get-go and this played a huge part in him taking an impressive two sets to love lead. The two players gave their everything in the final set but eventually, Murray served for the match at 5-4.
The final game was worth watching as Djokovic saved three match points after being 40-0 down, and then failed to convert three break points. There was no stopping Murray on the 4th championship point as he ended the 77-year wait of Great Britain to see a male singles champion.