Hard work meets opportunity for Rishika Sunkara in Pune today
836 //
06 Nov 2012, 11:00 IST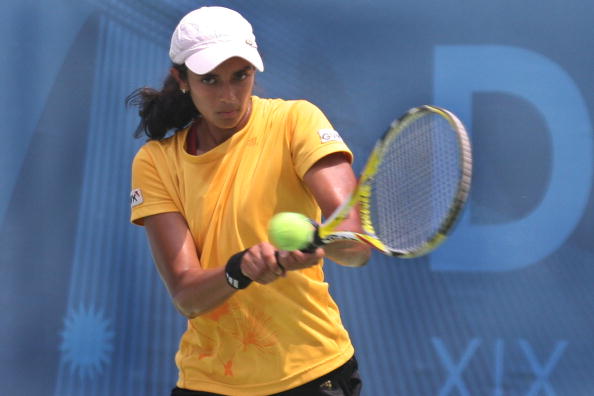 They say luck is what comes your way when hard work meets opportunity. For 19-year-old Rishika Sunkara, the hard work over the past few years provides her a big opportunity on Tuesday when she plays her biggest professional event yet at the WTA Royal Indian Open in Pune.
Rishika had to earn her spot in the 32 player main draw through the qualifying event, where she was given a wild card thanks to her runner-up finish at the National Championships in New Delhi. Rishika beat 18-year-old Ankita Raina to book her spot in the main draw after a tight straight sets victory that lasted nearly two hours.
Speaking to us after her first round win, Rishika said, "I am very happy that I qualified in my first WTA event I ever played. My match against Ankita was very close. She is a very aggressive player and I had to be really patient and I used a lot of variations to break her rhythm. The second set was very close and I was down a break at 0-3 and 3-5 but I fought my way back into the match. I am glad I could close down the match in 2 sets."
Unlike Kyra Shroff, there was no protest from Rishika for being overlooked for a direct entry into the main draw, in spite of being the second highest ranked Indian in the field. "I have no complaints for not getting a wild card. I had an opportunity in the nationals but because I lost in the finals so I got the wild card in the qualifiers. I had regretted it but I also got another chance to prove myself which I did and I am very happy."
And on Tuesday, Sunkara will meet 42 year old Japanese player Kimiko Date-Krumm in a marquee first round match. A win will earn the 19 year old 22 ranking points which will help her break into the top 500 in the world rankings. But beating Date-Krumm is not going to be easy.
By the time Rishika was born in 1993, Date-Krumm was already a top 20 player in the world. By 1996, Date-Krumm decided to walk away from the game having peaked at no. 4 in the world rankings. And in 2008, when a 15 year old Rishika was playing in her very first ITF event, Date-Krumm decided to make a comeback after 12 years away from the sport. The 42 year old is ranked no. 146 in the world, having been in the top 50 just two years ago at the remarkable age of 40.
Looking forward to her first round match on Tuesday, Rishika said, "About Kimiko Date, I was not aware of her till yesterday when I actually got to know her and I am really excited to play against her. I will give it my best.".
It's an exciting time for Indian tennis, which is now looking forward to Sania Mirza's successor in the singles game. 16 year old Rutuja Bhosale showed she is in contention with a fine win on Monday. And local fans will be hoping Rishika makes it a brighter Diwali with a win on Tuesday.