Can Samantha Stosur Go Far At The US Open?
775 //
30 Aug 2010, 15:25 IST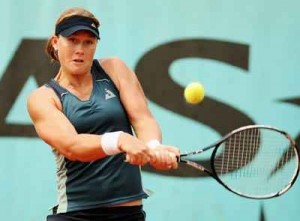 Samantha Stosur cuts a striking, even imposing figure on court with her trademark baseball cap and dark shades.
She brings to the tennis court her unique persona and style.
She started out as a doubles player and was ranked No. 1 in the world with Lisa Raymond.
Samantha Stosur is the Australian No.1. She goes into the US Open ranked No. 5, her highest ranking ever at Flushing Meadows.
If 2009 marked the rebirth of Stosur in her singles avatar, 2010 confirmed her status as a challenger to beware of.
2009 saw her reach the French Open semis and 2010 saw her go one better reaching the finals only to cave in to an uninhibited Schiavone. Ironically, it was Schiavone she knocked out in the first round at the 2009 edition of the French Open.
2010 has been her best year ever on the WTA tour. Her career high-ranking of five has come on the back of her stupendous showing at the French Open. This period also includes seven successive quarter-final appearances, a record of sorts.
Quote of the day:
Any woman who thinks the way to a man's heart is through his stomach is aiming about 10 inches too high. – Adrienne E. Gusoff
What can Sammy do at Flushing Meadows this year?
Her previous performances at the US Open has been second round exits at the 2004 and 2009 editions. Her other best hard court Grand Slam appearances have been 4th round exits at the Australian Open in 2006 and 2010.
Sammy believes that it would be a turnaround if she does well at the US Open.
In her own words:
"If I can get through my first match, then a couple more and if I'm still here in a week's time, then that's when I'll really start to feel good.
"The tournament's definitely wide open. It's shown in the lead-up tournaments – no-one has really dominated."
Can she do better this time around?
Samantha Stosur is supremely fit and hugely athletic as evident in her sculpted body and powerful legs. She personifies the word statuesque.
She moves with alacrity on the court and the transition from defense to offense - from the back of the court swooping into the rectangle – is often seamless.
Sammy has one of the best serves in the women's game and her favorite surface is hard courts. This is her chance to prove that it is really so.
Stosur has just returned to competitive tennis after a break from the game following a stress reaction to her serving arm. Though she lost in the quarter-finals to Nadia Petrova at the Palm Pilot Open ,New Haven, she is confident that her shellacking shoulder can stand the strain of a US Open campaign.
What are Sammy's chances at the US Open?
Her opponent in the first round happens to be another member of the Russian brigade, Elena Vesnina.Her career record against Vesnina reads 0-1 -  their only previous meeting a fourth round battle at New Haven in 2009 with Stosur losing in three sets 3-6 6-3 6-4. But this is a full year later and Stosur has displayed maturity, grit and willingness to reach this stage in her singles career. Round one to Stosur.
The second round will see her meeting either one of two unseeded opponents. (The guessing game about her second round opponents is left as an exercise for the intrepid reader *wink*). Round two falls Stosur's way too.
The earliest seed lurking in Stosur's draw is the Russian Alisa Kleybanova who is ranked 28. Klebyanova's best performances in a Grand Slam have been 4th round spells at Wimbledon 2008 and the Australian Open 2009. Stosur will have to mow her down to move into the round of sixteen.
Her fourth round opponent could be either the willowy Hantuchova, the returning former world No. 1, slinky Safina or the elegant Elena Dementieva. It is the quarter-final stage  that could spell the end of Stosur's run at the US Open.
Kim Clijsters is expected to sail through to the semis with token resistance either from the indelible Ana Ivanovic or the Frenchwoman Marian Bartoli.
It will take a super-human effort for Stosur to break down the Kim barrier  but it is very much within the realm of possibility. Sammy's stupendous run at the French Open is still fresh in our minds. Her successive demolition of Henin, Serena Williams and Jelena Jankovic is a feat that could well be repeated.
Assuming she beats Clijsters, she would likely face the other Williams in the semis.
Can Stosur take out the more error-prone Williams? Definitely more feasible than beating Serena once more!
She would then have to defeat either a stalwart Sharapova, a jockeying Jankovic or the No. 1 Danish pastry Caroline Wozniacki in the finals to round off a fan-tastic (funtastic, anyone?) tournament.
Possible, yes! Probable, no! But miracles can happen!
Here's to Samantha Stosur and a fabulous run at the Open!